In his hometown, fugitive Mexican drug lord 'El Chapo' is a hero to many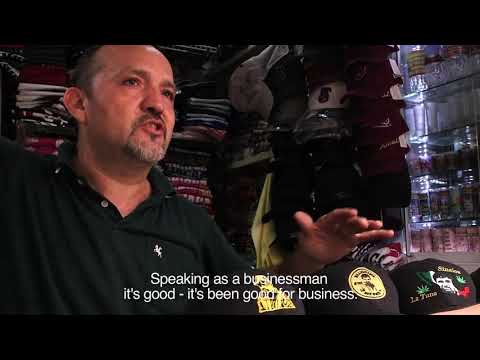 A new shipment of caps arrived at Isaias Rodriguez's Culiacan store less than a month ago. The caps feature Joaquin "El Chapo" Guzman – once again the world's most-wanted drug lord - embossed in gold.  
Reporting from CULIACAN, Mexico —
A new shipment of caps arrived at Isaias Rodriguez's Culiacan store, black canvas with the image of Joaquin "El Chapo" Guzman — once again the world's most-wanted drug lord — embossed in gold on the front.
The hats came in just a week or so after El Chapo escaped from a high-security prison in July, via a ventilated, well-lighted tunnel just under a mile long.
Rodriguez, 46, said this is the first time he has sold merchandise that depicts Guzman, who was born and made in Culiacan. The latter's escape has been good for business.
"But I wouldn't let my kids wear one of these," said Rodriguez, "and I wouldn't wear one either."
Underneath the image on the cap is embroidered "Billionario 701," referring to Guzman's place on the Forbes rich list. Here in Culiacan, the head of the Sinaloa drug cartel is admired by many and has a folkloric image among some as a bandit benefactor who has used his wealth to help those in need.
At the Jesus Malverde chapel opposite the state government headquarters, a steady stream of visitors file through, sweating in the 100-degree heat. They give thanks and ask favors of Malverde, a legendary figure now commonly known as the narco-saint.
During the 1980s and '90s, cartels embraced Malverde — an outlaw who is said to have stolen from the rich and given to the poor before being hanged in 1909 — in an attempt to give a Robin Hood touch to their criminal activities. The cult surrounding him grew (as did doubts about whether he ever existed).
Rodolfo, who sweeps the premises and did not want to be fully identified for safety reasons, thinks that Guzman and Malverde have much in common.
"El Chapo has helped lots of people so it would be good to have a monument or a chapel in his honor too. He's also a generous man who has helped a lot of people."
So legend has it. But much of El Chapo's Robin Hood-like reputation seems to be myth. In Badiraguato, the rural municipality where he was born and brought up, many were happy about his escape and spoke of his generosity. But none interviewed could point to a single public work, school or hospital built or funded by him.
However, Guzman's criminal enterprises have helped provide income for many of the people in the mountains who make a living producing poppies and marijuana for his cartel.
Even the mayor of Badiraguato, Mario Valenzuela, who is a member of President Enrique Peña Nieto's ruling Institutional Revolutionary Party, gave Guzman the nod for that.
"It's complicated but at the end of the day it generates jobs in the country, it moves money — and a lot of it," Valenzuela said in an interview. "We don't want to face up to the fact that our economies to a large extent depend on that. Sadly that's how it is."
Valenzuela also said he considered Guzman a very intelligent businessman.
Another factor for which Guzman has the respect of many is having made a fool of Peña Nieto and his administration. Not only was this his second escape — he fled a high-security Jalisco jail in 2001 in either a laundry basket or through the front door, depending on whom you ask — but after his (second) arrest in February 2014, Peña Nieto said any future escape would be "unpardonable."
The government scrambled to take journalists on a whistle-stop tour of Guzman's escape tunnel from the Altiplano prison in July, yet Mexicans are questioning the official version of events. His flight unleashed a barrage of mockery across the media and social networks, targeting Mexico's corrupt political system, which even federal officials have acknowledged had to have colluded, in parts, with Guzman's latest escape.
As she chopped up meat to fill flour tortillas, Simona, who runs a modest restaurant in Badiraguato and asked not to be fully identified out of concern for her safety, said that for many around here El Chapo is "el maximo" — the best. Her father, she said, used to be a cook for Rafael Caro Quintero, another of the area's famous drug traffickers. She's proud not only of Sinaloa's production of drugs, but also of the men who produce them.
"It's because they're REAL men!" she says with a chuckle.
The state of Sinaloa is widely considered to be the cradle of Mexico's drug-trafficking industry, and El Chapo is the most famous of numerous Sinaloan drug kingpins who are part of the vernacular of Mexican drug-trafficking legend. Others include Ismael "El Mayo" Zambada, Caro Quintero and the Beltran Leyva brothers.
Javier Valdez, a columnist and founder of the weekly Sinaloa newsmagazine Rio Doce, said that here "all roads lead to narco-traffic," and that the culture of drug trafficking has been in the state's DNA for a century.
"There are parts of society that are proud, they talk of narcos as being the biggest and the baddest — the idol or God or demigod.
"The night [Guzman escaped], people celebrated. Many people found out before we did. They had parties, there were gunshots."
Since Guzman went on the lam, there have been no official sightings — although photos of him in the passenger seat of a small airplane and another nursing a beer have circulated on social media. Many Mexicans, as well as the acting administrator of the U.S. Drug Enforcement Administration, Chuck Rosenberg, suspect that Guzman may have come home to Sinaloa, about 750 miles from where he was imprisoned.
And yet there is no sign of a major manhunt here — a few army patrol vehicles are stationed in sleepy Badiraguato, but there were no checkpoints on the hourlong drive on the highway between the town and Culiacan. Even Valenzuela, Badiraguato's mayor, doesn't see evidence of a government search and hasn't been informed of one by his superiors.
He doesn't have high hopes that if Guzman has come home, he'll be recaptured. His home turf encompasses about 3,600 square miles of mountains.
"El Chapo managed to escape through a tunnel of just [under a mile]. It was incredible. Do you think if he's here they're going to find him?
"Impossible."
Bonello is a special correspondent.
Cecilia Sanchez in Mexico City contributed to this report.
Sign up for Essential California for news, features and recommendations from the L.A. Times and beyond in your inbox six days a week.
You may occasionally receive promotional content from the Los Angeles Times.