Did a Mexican migrant leap to his death at the border minutes after deportation?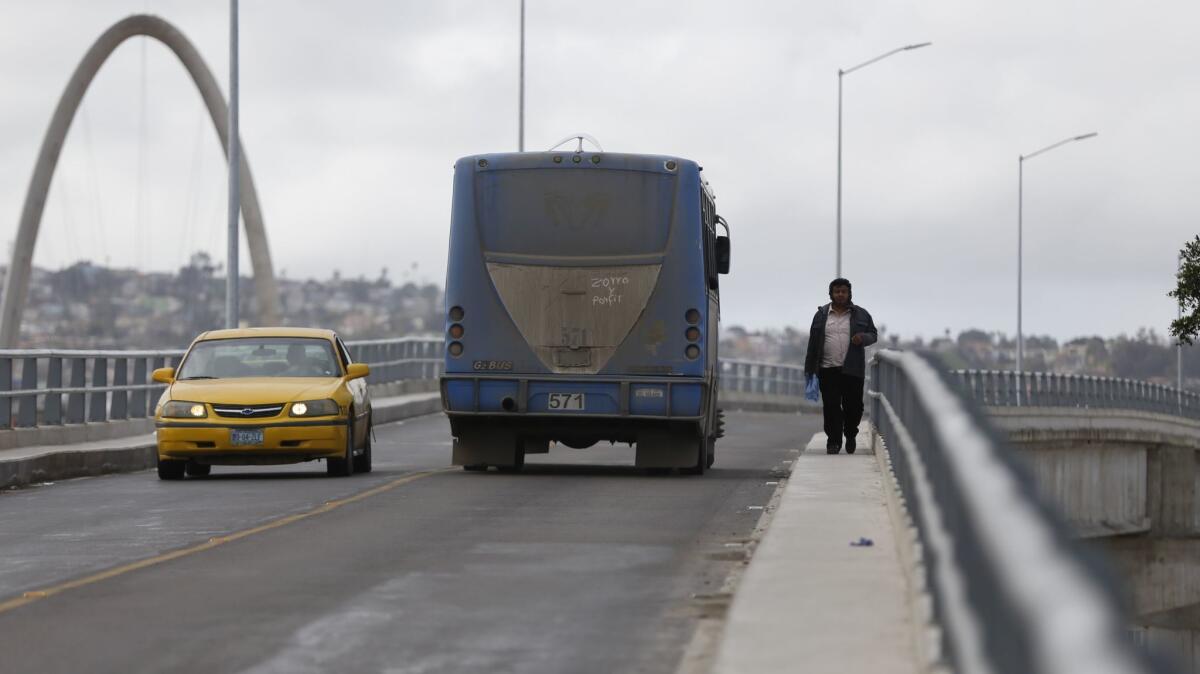 Reporting from Mexico City —
A Mexican man who had just been deported from the United States is believed to have leaped to his death Tuesday from a bridge near the Tijuana-San Diego border crossing.
The prosecutor's office in the Mexican state of Baja California said the death of Guadalupe Olives Valencia, 44, is being investigated as a suicide.

For the record:
11:54 p.m. Aug. 23, 2019An earlier version of this article said that Guadalupe Olives Valencia's wife died in 2104. She died in 2014.
News of the incident, which coincided with this week's announcement that U.S. authorities are planning a major crackdown on immigrants living in the country illegally, sparked outrage in Mexico, with some tying the incident to President Trump.
Olives, who spent years working illegally as a gardener in California before recently being deported, tried to cross back into the U.S. on Monday, according to a Mexican official who had knowledge of the case but was not authorized to speak to the media.
Olives was detained by U.S. immigration authorities, who deported him Tuesday morning.
Shortly after, Olives' body was found on the ground near the El Chaparral border crossing. Next to it was a plastic bag, issued by U.S. Immigration and Customs Enforcement, that contained some of his possessions. Olives was pronounced dead at a hospital.
At least one Mexican newspaper reported that Olives had screamed about not wanting to return to Mexico before leaping to his death. The website of the newspaper Excelsior ran a story on Olives on a page labeled "the Trump era."
In a telephone interview, Olives' aunt, Irma Delgado Rios, blamed Trump for dealing "psychological blows" to immigrants living in the U.S. illegally.
Olives' niece Yuriba Valles de Espinoza said he had worked in California to help provide for his three sons back in Mexico after his wife died in 2014.
Valles de Espinoza said she believed her uncle threw himself off the bridge "in desperation over the deportation" because he had had trouble finding work in Mexico.
"He was doing this to take care of his children," she said. "They were his entire life."
Another family member, who asked not to be identified, said Olives tried to cross into the U.S. not to find work but because he was fleeing problems in Mexico.
After being deported on Tuesday, Olives was debriefed by Mexican immigration agents, who offered him food and transportation to a migrant shelter. But Olives decided to leave the immigration office on his own, the official said. The agents who spoke to him said he showed no signs of distress or mental illness, the official said.
On Facebook, family members of Olives' mourned his death.
"We miss you so much," wrote a niece, Jennifer Diaz. "You're an angel."
Twitter: @katelinthicum
Cecilia Sanchez in The Times' Mexico City bureau contributed to this report.
ALSO
Here's what's happened under Trump this week
What you need to know about the Trump administration's new immigration rules
'You can't even walk anywhere without fearing you may get caught': Immigrants in U.S. illegally prepare for possible deportation
---
UPDATES:
3 p.m.: This article was updated with additional details and a quote from Irma Delgado Rios.
This article was originally published at 1:45 p.m.
Sign up for Essential California for news, features and recommendations from the L.A. Times and beyond in your inbox six days a week.
You may occasionally receive promotional content from the Los Angeles Times.