Actor Diego Luna was a Hollywood golden boy. So why did he go back to Mexico?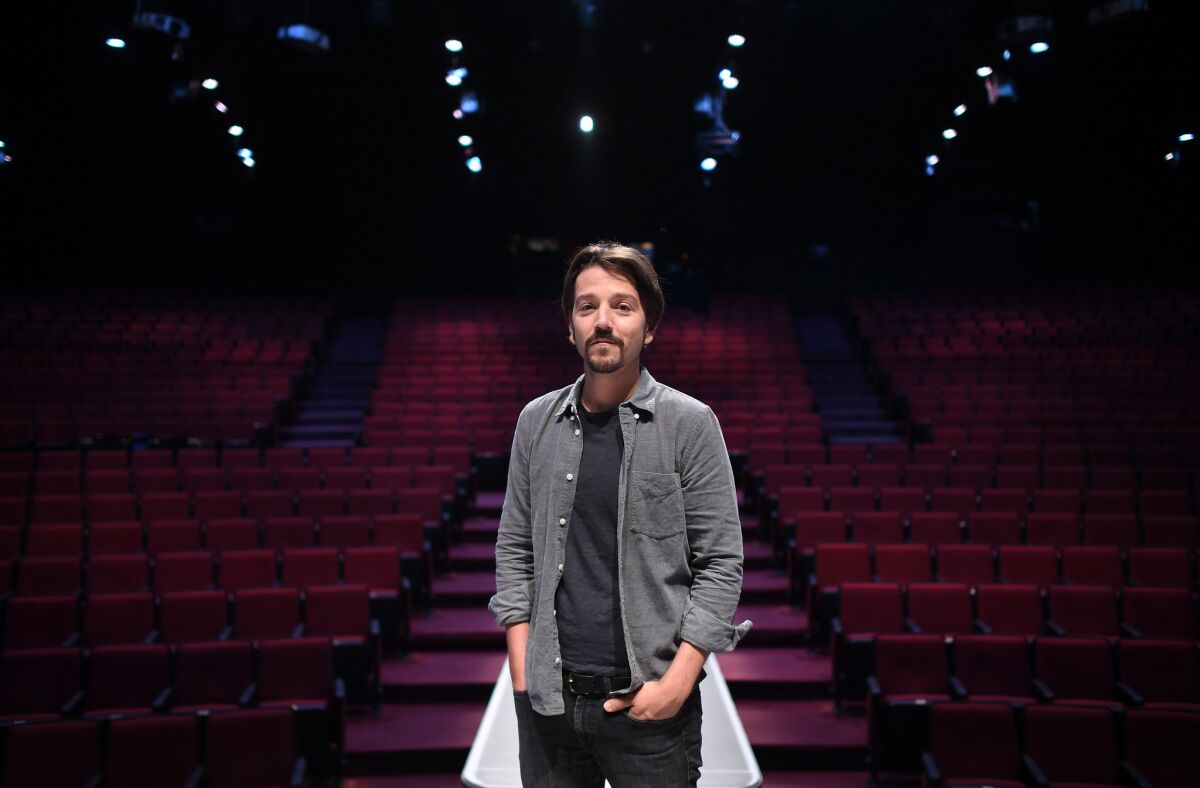 Reporting from MEXICO CITY —
Five years ago, actor Diego Luna was living the Hollywood dream. A house by the beach, a production company with his best friend and a glut of good parts in great films.
But there was something missing from his life.
Mexico.
Luna, 38, who first gained international acclaim for his role as a sex-crazed teen in the 2001 Mexican road trip movie "Y Tu Mama Tambien," and who went on to star in "Rogue One: A Star Wars Story," was watching developments back in his native country with a sense of longing but also unease. He was thrilled by exciting experiments in culture — the world-renowned chefs, musicians and fashion designers who found inspiration in the streets and Mexico's indigenous past. And he was infuriated by the politics — the brazen corruption, mass disappearances and seemingly unending drug war violence.
Modern Mexico was rife with contradictions, and Luna wanted to be a part of it. So he did the thing you're not supposed to do when Hollywood has embraced you, when you've been given a golden ticket most people will only dream about.
He left.
"I felt an urgency to be a part of what was happening in my country," Luna said on a recent morning, sipping green tea at home in a quiet neighborhood on the south side of Mexico City. "I don't want my kids to see me looking at the news from my living room in L.A., complaining about what's happening in Mexico. I want them to see me here, fighting for something I love."
Since Luna returned, he has kept a toe in the Hollywood waters. This year, he has small parts in Woody Allen's "A Rainy Day in New York" and a film by Barry Jenkins, the director of Oscar-winning "Moonlight," called "If Beale Street Could Talk."
But he has overwhelmingly focused his energy on projects here. He helps run a popular documentary film festival and is currently shooting the fourth season of the Netflix hit "Narcos," which is set in Mexico. Four days a week he stars in "Privacidad," or "Privacy," a play about internet surveillance that has resonated deeply in Mexico, where last year it was revealed that the government was spying on several prominent journalists and human rights defenders.
In a widely covered event after the play's 100th show last month, Luna screened a video interview he conducted with Edward Snowden, the former National Security Agency contractor who revealed the details of U.S. electronic surveillance programs. He invited some of the victims of Mexico's spying scandal onstage, and dedicated a plaque to them and to "the indirect" victims of the Mexican government's spying.
"We're all victims," Luna said, to robust applause. "We live in a country where those on the right side of history are persecuted and spied on, and there aren't the conditions to freely exercise the journalism that we citizens deserve."
Luna's evolution into an outspoken political activist and critic of Mexican President Enrique Peña Nieto has included public opposition to legislation that would further militarize Mexico, where more than 238,332 people have been killed since soldiers were first sent into the streets to fight the drug war about a decade ago. He also has repeatedly called for justice in the disappearance of 43 students at a college in Ayotzinapa in central Mexico in 2014.
After twin earthquakes struck the country in September, killing hundreds, Luna and his childhood friend and frequent collaborator Gael Garcia Bernal started a nonprofit that raised $1.5 million for relief efforts, a strategic move in a country where many citizens don't trust their leaders not to steal aid money.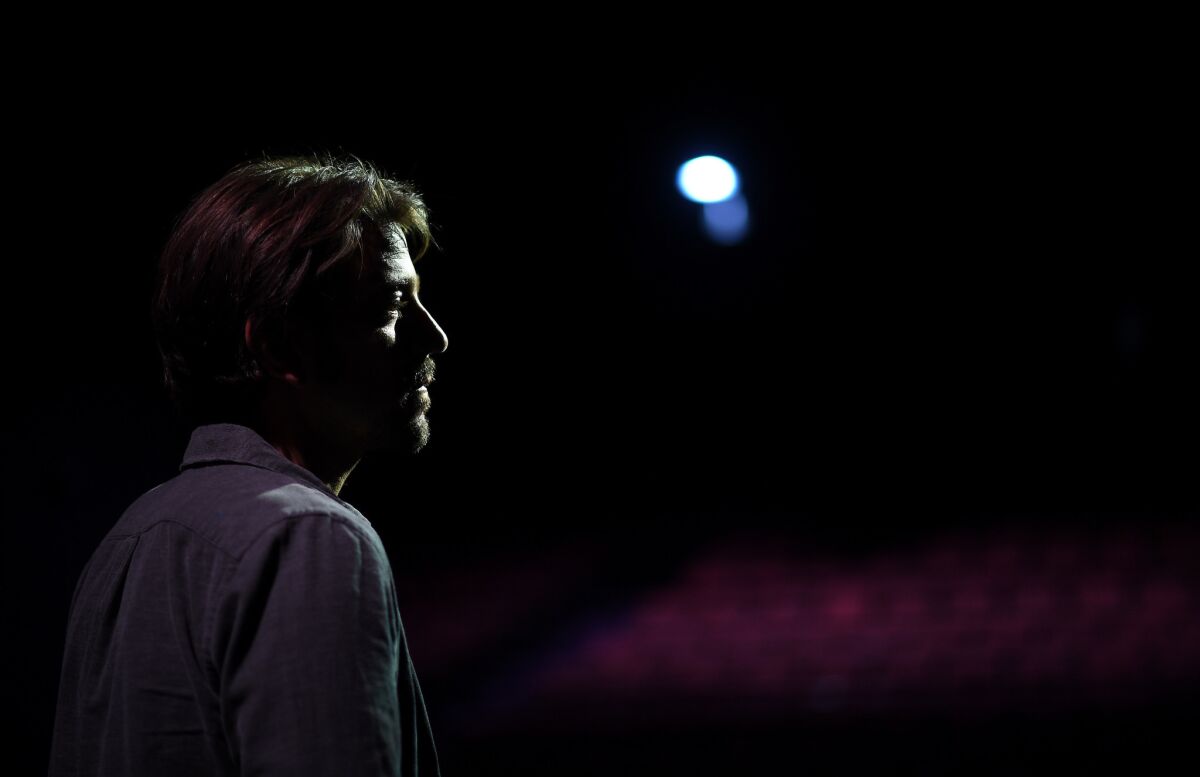 Ahead of this summer's presidential election, Luna has been courted by several opposition parties, including one that he said offered him the position of a senator (in Mexico, some members of Congress are chosen by political parties). But he says he'd rather maintain his role as a critic from outside the system. He says he may not endorse a candidate in the election.
Though some Mexican actors have been known to weigh in on elections and dabble in activism, it's much less common in Mexico than in the U.S. Luna links his passion for politics in part to the era in which he grew up, when the autocratic seven-decade rule of the Institutional Revolutionary Party, or the PRI, was beginning to come to an end.
He still remembers the outrage that gripped his left-leaning father and nanny when opposition leader Cuauhtemoc Cardenas lost to the PRI candidate in the rigged 1988 presidential election. He remembers the tumultuous events of the 1990s, including a devastating financial crisis, the assassination of a presidential candidate, the Zapatista indigenous uprising and the PRI's eventual loss of the presidency in 2000.
Luna's activism matters because he is one of the country's biggest stars. Everywhere he goes, he is mobbed by fans, mostly women, who approach with cellphones outstretched. He typically obliges selfies, flashing his famous boyish smile.
With his shaggy hair and thin frame, Luna still looks a lot like the kid from "Y Tu Mama Tambien."
His role in that film as Tenoch Iturbide, the pot-smoking son of a wealthy Mexican politician who shares a memorable menage a trois with an older woman and his best friend, played by Garcia Bernal, catapulted him to worldwide stardom. But Luna had already been famous in Mexico for years. He was just 7 when he starred in his first play, in part to be closer to his father, a prominent set designer who raised Luna after his mother died in a car accident.
"When other kids were being just kids, I was already trying to be an adult," Luna said.
By age 15, Luna had acted in a string of popular telenovelas and no longer relied on his father financially. By 18, he was working at Mexico's national theater company and had his own apartment.
"I had a fantastic life," he said. "I was very, very happy. It couldn't be better."
In 2008, he married actress and singer Camila Sodi and they decided to move to Los Angeles, where they had their first child. At first, he was most often recognized by Mexican immigrant restaurant workers or valets. The stint in L.A. helped Luna's career, but he felt a coldness. He missed the forced intimacy of a crowded metropolis like Mexico City.
"We were invited to events many times, but it was difficult to get into someone else's intimate world, which is kind of the point," he said.
He was doing more directing, including the 2014 biopic "Cesar Chavez," which he filmed in northern Mexico, and had noticed how much easier it was working at home, where government funding for movies means directors are less constrained by commercial limitations, and where filmmakers generally face less red tape.
"It's hard to find someone who will tell you no here, versus in the States, where it's no after no after no after no," he said.
Luna separated from Sodi in 2013. He came back to Mexico around the same time, returning to the same modernist house he had purchased when he was 21. Set behind high walls on a narrow cobblestone street, it's a haven of tranquility in a chaotic city. Art books are haphazardly stacked on tables and Polaroid photographs of Luna's friends and family adorn the walls. Out back, a lush garden is shaded by a majestic, ivy-covered tree.
One reason Luna wanted to return was so his kids could grow up in Mexico, and at a slower pace than his own frenetic childhood. He said he and Sodi had adopted a mantra: "Let's let them be kids for as long as they can."
On a recent late morning, his 9-year-old son, Jeronimo, ran around the house in underwear and a T-shirt. When he asked Luna if he could go down the street to buy a treat at the corner store, Luna nodded, but suggested he put on clothes and shoes first.
Luna thinks he's probably missed some good opportunities in Hollywood, but he doesn't care. "If they really need me, they'll come to me," he said in English, smiling. His Spanish accent had gotten thicker.
To read this article in Spanish click here
Twitter: @katelinthicum
---
Must-read stories from the L.A. Times
Get the day's top news with our Today's Headlines newsletter, sent every weekday morning.
You may occasionally receive promotional content from the Los Angeles Times.