Mexico didn't wait long after the earthquake to raze a building that housed low-wage textile workers. Neighbors want to know why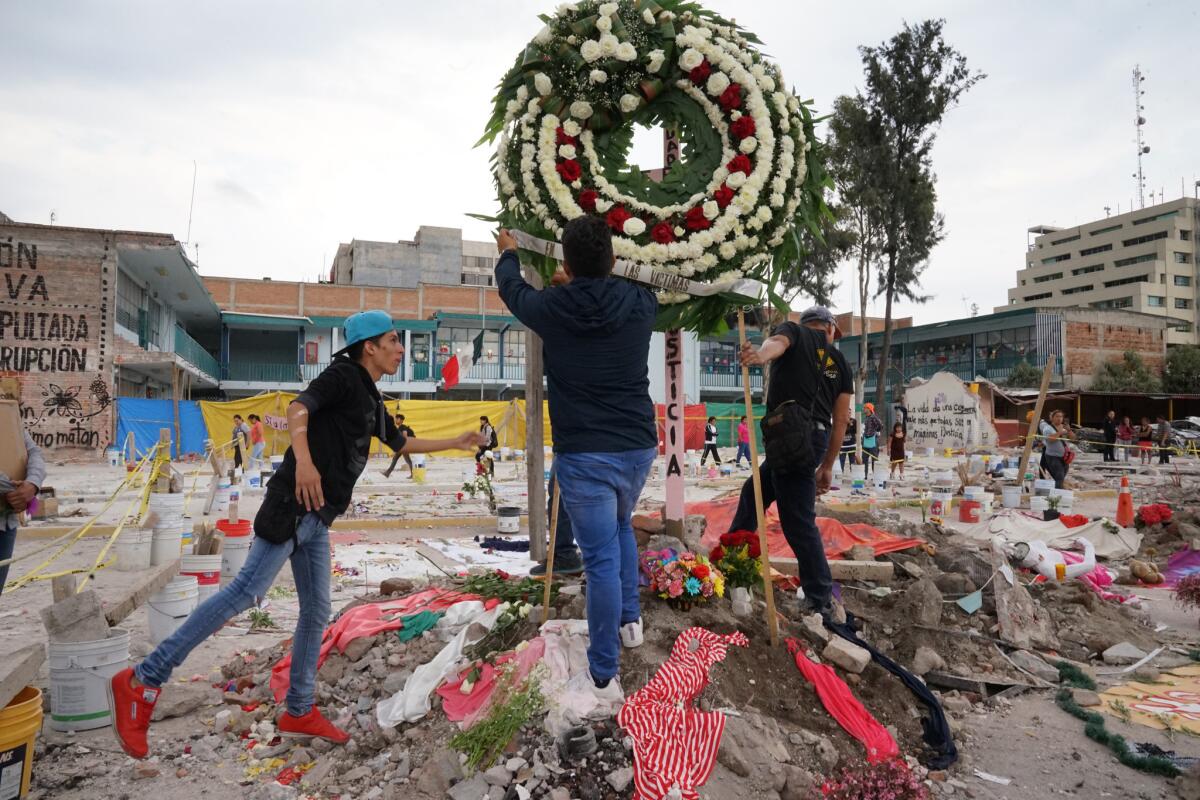 Reporting from MEXICO CITY —
Scraps of fabric, handwritten clothing orders, scattered beads and labels, a women's fashion catalog from summer 2016 — all are strewn across a mostly vacant lot that only a few days ago was a four-story factory and commercial building that housed low-wage textile workers.
Bulldozers have scraped away much of what was left after last week's magnitude 7.1 earthquake: the pancaked concrete, rusty strands of rebar, bits of lacy fabric — and anything else that was entombed under the rubble. On the site, mourners have left flowers and crosses, and expressions of outrage.
"Corruption and machismo kill," said one sign left at the site. "Alive or dead, our bodies are not to be discarded," read another.
Whereas searches were still underway Monday at many collapsed structures around the capital, the building here was quickly bulldozed last week, prompting protests that authorities did not search long enough for possible survivors.
The building in the capital's Colonia Obrera, or Worker's Colony, crumpled in a cloud of dust in the Sept. 19 earthquake, its demise captured in a dramatic cellphone video posted on YouTube.
Authorities say at least 21 people were killed, including five people from Taiwan, all of whom had apparent links to firms based in the building. A South Korean man also appears to have been among the victims.
To many of those asking questions now, the episode recalls the fates of hundreds of seamstresses who perished in the Mexico earthquake of 1985, which destroyed multitudes of apparel factories, including clandestine sweatshops that had no legal permits.
But the Mexican government's refusal to answer questions about the building — who operated it, how many worked there, whether the businesses operating there had legal permits, whether workers employed at the site were in the country legally — has spurred complaints that the hasty demolition foreclosed any such uncomfortable questions.
Almost a week after the earthquake struck, the case of the building on Chimalpopoca Street and its former occupants remain enveloped in mystery. Accusations about illegal clothing factories and official corruption are swirling on social media under the hashtag #Chimalpopoca, though they have been accompanied by no hard evidence.
The simmering dispute highlights something that is often true in Mexico: A lack of accurate information and an inherent distrust of officialdom combine into a combustible mixture, fueling confusion and speculation amid a crisis.
The now-controversial building site, next to an elementary school, was home to a number of businesses. Those reportedly included a textile factory, an importer of toys from China, a clothing wholesaler and a distributor of dash-cam video systems.
That many of those who died at Chimalpopoca were female has also touched a nerve in a nation where activists say that the killings of women — a phenomenon known here as feminicidio — often go unpunished.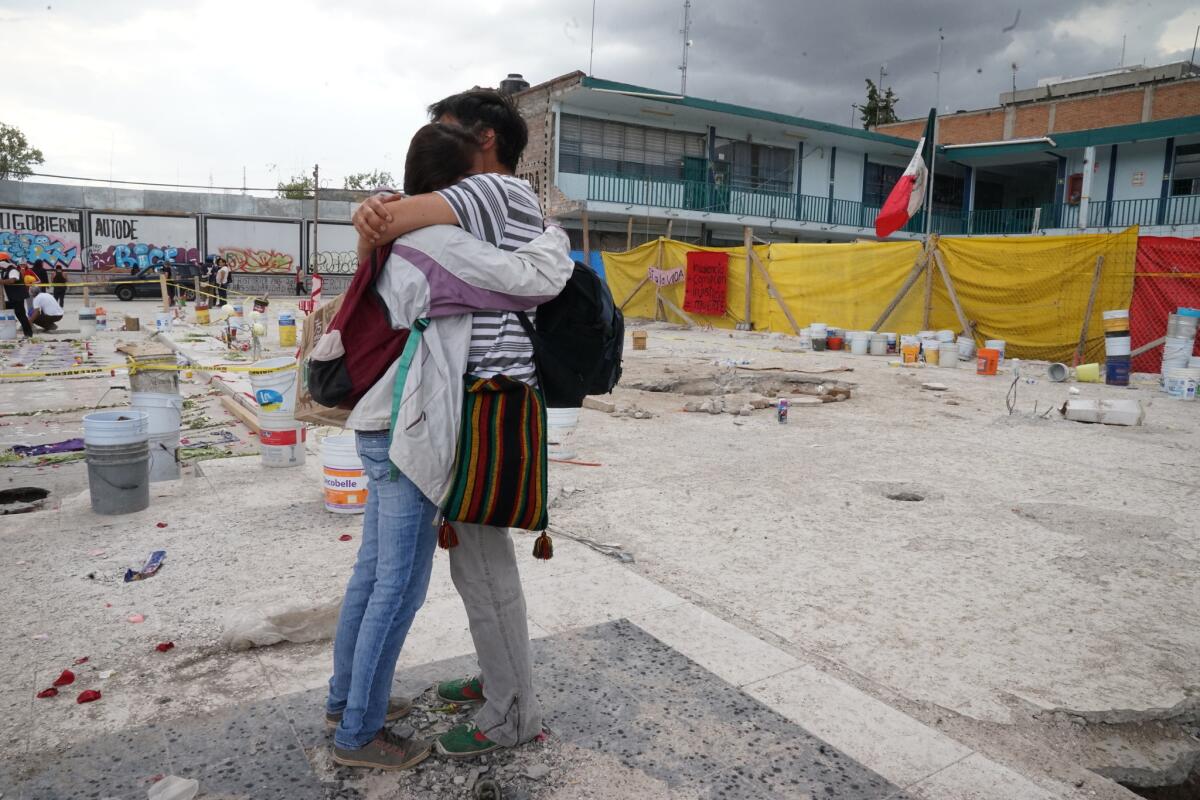 Today, cracked concrete walls and floor supports with rebar jutting from jagged edges have been pushed to the side of the site. A few partial walls remain standing, all now emblazoned with furious graffiti scribblings.
"The life of a seamstress is worth more than all of your machines!" blares one message. "Justice!" Sprayed on the brick wall of the adjoining school is another denunciation: "Not one more buried because of corruption."
Mexican authorities gave no public explanation for their decision late last week to clear rubble from the building site despite objections from volunteers who urged officials to continue the search for survivors. Many had been sifting through the ruins with picks and shovels, convinced survivors may be trapped in pockets in the basement.
"We all wanted to keep digging, looking for anyone who may have been alive," said Andres Hernandez, 32, a neighborhood resident and former volunteer at the site who was among the many who came to pay respects Sunday at a memorial. "Why was there such a rush to bring in heavy equipment?"
Helping to fuel the rumors was the fact that Mexican officials have not provided answers to some basic questions.
Among them: How many people were in the building at the time the quake struck? How many died? How many escaped? And how many companies operated there?
The names and owners of the firms based in the building have not been publicly released. Nor have authorities said anything about the structure's previous inspection and safety record.
"There was obviously a problem with this building," said Marvella Rubi, who was also among the many paying respects Sunday, as she surveyed nearby establishments. "The school is intact. The bank looks fine. The supermarket is still standing. But this building fell apart. What was wrong? ... It's the same old story in Mexico: corruption and exploitation of women. No one in the government cares."
Julian Andrade, a spokesman for Mexico City Mayor Miguel Angel Mancera, said he could not provide any details about the building except to say: "The information is being verified."
Some have suggested there were signs of a factory or work site in the basement. "All these constructions below ground, they seem strange to me," said Lina Kuhn Santillan, an architect who was among those paying homage here on Sunday. "There are electrical cables, hydraulic installations, it seems there may have been a work area here."
The owners of the site have not commented publicly. At least one may have perished in the collapse.
Ricardo Contreras Santana, who formerly worked in the building at a company that made ornaments for women's clothing, told the Mexican news site Animal Politico that he escaped on Sept. 19 but that six co-workers died. Among the dead, he said, was his boss, a citizen of South Korea. Contreras said he survived because, at the moment the quake struck, he had just left the building to fetch lunch for his boss.
"Upon leaving the door of the building, within [16 feet], it began to shake and I saw the building fall," Contreras said. "Everything happened very quickly."
Scattered about the site of the former building are many small pink beads, apparently meant to be sewn into garments. Also found were several items of women's apparel with the "New Fashion" label, including a turquoise blouse with a "suggested" price tag of about $52.
Several business cards from Chinese firms were also scattered about.
Mourners brought flowers, candles and a large wreath to honor the dead. A woman banged on a drum and another blew through a conch shell as a moment of silence was observed.
"It's terribly sad what happened here," said Rosy Izeahuitziall, 52, a neighborhood resident who said she knew three Mexican women who worked in the building — two of them died and one survived, she said. "They had families, they were hardworking. They didn't deserve this to happen to them."
Special correspondent Liliana Nieto del Rio and Cecilia Sanchez of The Times' Mexico City bureau contributed to this report.
Twitter: @mcdneville
ALSO
In Jojutla, near epicenter of Mexico quake, scenes of heartbreak, loss and survival
Rock band Elefante, Hilda Solis to attend event to raise support for earthquake victims in Mexico
Mexico earthquake crumbles concrete buildings, sending deadly warning to California
Sign up for Essential California for the L.A. Times biggest news, features and recommendations in your inbox six days a week.
You may occasionally receive promotional content from the Los Angeles Times.