Must Reads: El Chapo's twin daughters had a decadent Barbie-themed birthday. Mexicans aren't happy about it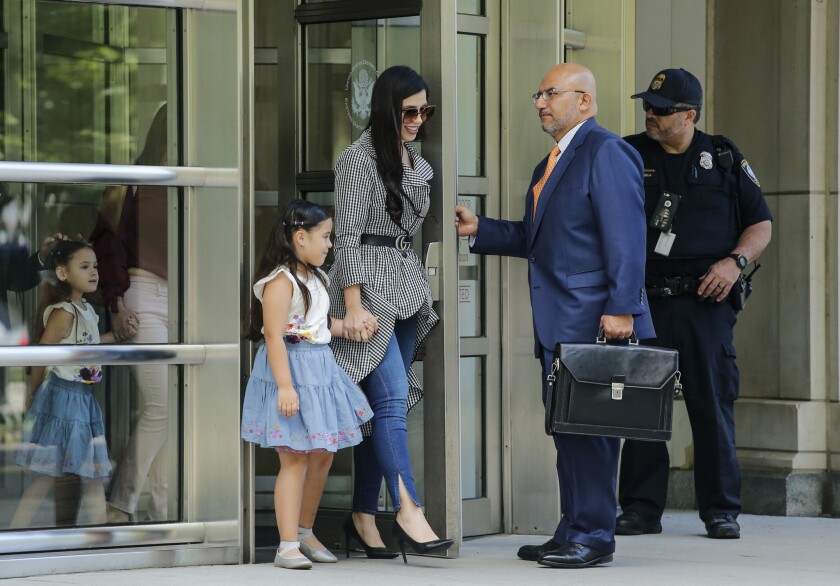 Reporting from Mexico City —
It was a Barbie-themed birthday party most kids could only dream about, with carnival rides, hundreds of pink balloons and a theater-worthy set featuring gold chandeliers and a rosé-colored throne.
The guests of honor were the 7-year-old twin daughters of the world's most notorious drug lord, Joaquin "El Chapo" Guzman.
Photographs and videos of the decadent bash showed up on Instagram this week, giving Mexicans a glimpse into the lives of some of the country's most controversial 0.1-percenters.
Guzman, the longtime leader of the Sinaloa drug cartel, was captured in Mexico in 2014 and three years later extradited to New York, where he is preparing to go on trial this fall on drug trafficking and murder charges. The federal indictment against Guzman also seeks the forfeiture of more than $14 billion in drug proceeds and other illicit profits.
Efforts by U.S. Treasury Department and Mexican law enforcement to find and seize Guzman's assets have largely failed. That seemed evident from the Instagram posts, in which his family looked quite comfortable.
RELATED: The saga of 'El Chapo,' one of the world's biggest drug kingpins »
The party was thrown by Guzman's wife, Emma Coronel, who was photographed in 4-inch-high heels in front of a fake pink mansion and a long table covered with flowers, desserts and a towering birthday cake.
Images from the extravaganza, which took place at what appeared to be a real mansion in Culiacan, the capital of Sinaloa state, were uploaded by the event photographer.
"Celebrating #MaximumElegance," photographer Antonio Tizoc wrote in one caption. In another, he praised the twins, Emali and Maria Joaquina, as "princesses."
Reactions to the images ranged from amused to incensed.
"Spectacular!" one person commented on Instagram. "Beautiful!" said another.
"Pure elegance!!" wrote a third. "Pity where the money came from."
In an interview, Tizoc said Coronel authorized him to publish images of the party, but he said he was prohibited from sharing other details, including who attended.
Tizoc, who is frequently hired to photograph the elaborate quinceañeras and weddings of Sinaloa's wealthiest families, said he was distressed that some had criticized his birthday pictures.
"They have attacked me," he said. "But in Culiacan it's really normal to have parties like this. Rich and poor, we like big parties."
Guzman's rise from rural poverty to leadership of Mexico's most powerful drug gang earned him folk hero status in his home state and beyond. He helmed the Sinaloa cartel for decades, even during long stints in Mexican prisons — from which he famously escaped twice, once through a mile-long tunnel.
But now that he is in solitary confinement in a high-security federal jail in Manhattan, Guzman, 61, is finally believed to have handed over the reins of his organization to his adult sons.
Alejandro Hope, a Mexican security analyst, said it is common for cartels to financially support the wives and children of leaders who have been killed or jailed.
Coronel, a 29-year-old former beauty queen who caught Guzman's eye at a pageant a decade ago, may also have her own family money. She is a niece of Ignacio "Nacho" Coronel, a onetime partner of Guzman who was killed in a July 2010 shootout with the Mexican army.
Emma Coronel, who was born in Los Angeles, gave birth to the twins in 2011 at a hospital in Lancaster.
The failure to seize Guzman's assets has not been for lack of trying by officials on both sides of the border, Hope said.
Drug kingpins are expert at laundering and concealing money — hiding it in real estate, small businesses and sometimes even holes dug in the ground. At the same time, Mexico's legal framework for seizing drug money is still under development and is less advanced than those of other nations, such as Colombia.
Chikinarcos, or narco juniors, as the children of Mexico's drug lords are called, have never been known for their modesty.
Damaso Lopez-Serrano, who is the son of another onetime Sinaloa cartel leader and believed to be Guzman's godson, famously posted photos on social media of his million-dollar jewelry, gold-plated guns and pet cheetah. Lopez-Serrano turned himself in to U.S. authorities last year and may testify against Guzman.
Curiously, expressions of wealth by Mexico's narco juniors are generally less reviled than those of mirreyes, or "my kings," a derisive term Mexicans use to refer to the children of the nation's political and business elite who show off their decadent habits without shame.
This year, the son of a general deleted his blog, titled "Golden life," after he came under fierce public criticism for his posts showing off designer shopping sprees and trips on private jets. The daughters of Mexican President Enrique Peña Nieto were similarly mocked after they posted photos of themselves at the presidential palace with a celebrity tattoo artist from New York whom they appeared to have flown in for a personal appointment.
Hope chalked it up to the same populist wave that helped anti-corruption and anti-poverty candidate Andres Manuel Lopez Obrador win the presidency in July.
"People get angry when it's a politician or a politician's family," Hope said. "When a narco flaunts his wealth, they get angry at the government."
Some people simply laughed when they heard about the party for Guzman's twins.
In a segment about the celebration, Telemundo newscaster Enrique Usales wondered what kind of precedent it set and how the girls would observe their 15th birthday, which in Mexico is generally marked with a blowout party.
"If they celebrated the seventh birthday this way," he said, "can you imagine the quinceanera?"
Twitter: @katelinthicum
---
Must-read stories from the L.A. Times
Get the day's top news with our Today's Headlines newsletter, sent every weekday morning.
You may occasionally receive promotional content from the Los Angeles Times.