Mexico blasts U.S. family separation policy as 'violation of human rights'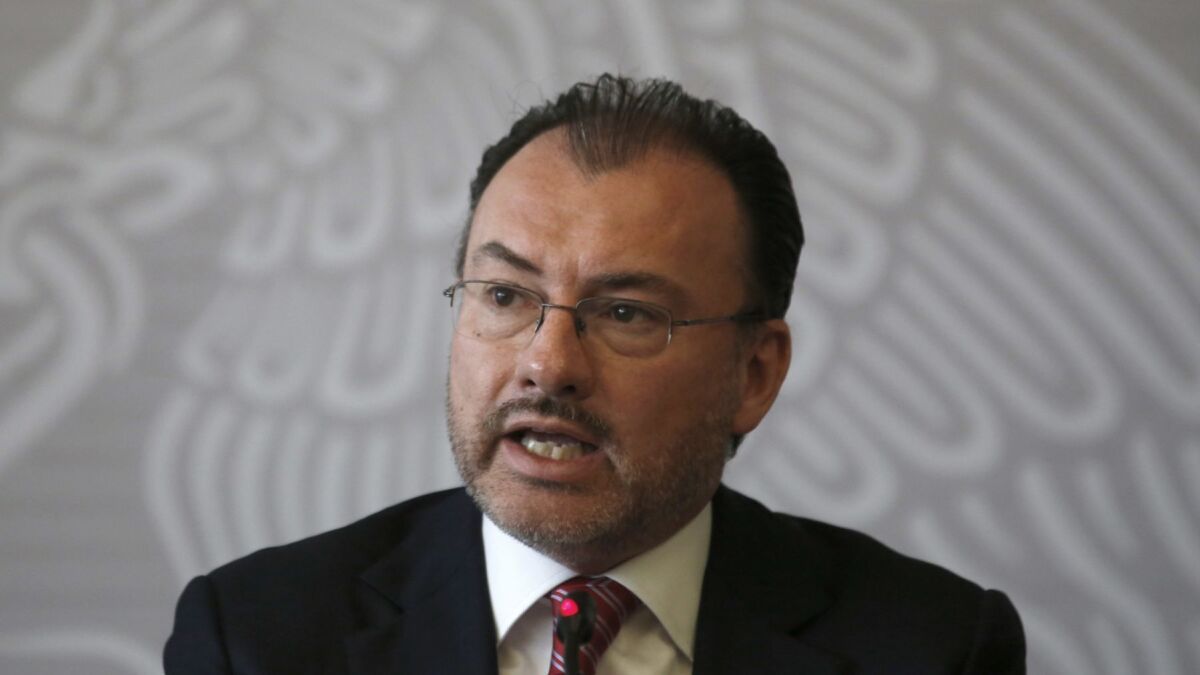 Reporting from Mexico City —
The Mexican government on Tuesday condemned as "cruel and inhuman" the Trump administration policy of separating immigrant families detained on U.S. soil.
Only 1% of all cases of children separated from their families — 21 cases — involve Mexican nationals, said Luis Videgaray, Mexico's foreign secretary, in the country's first formal comments on the controversial policy.
The vast majority of cases, Videgaray said, involve children from three Central American nations — Guatemala, Honduras and El Salvador.
Central Americans seeking to enter the United States typically travel through Mexico to arrive at the U.S.-Mexico border. Among the cases involving Mexican nationals, Videgaray said, is that of a 10-year-old Mexican girl with Down syndrome who was separated from her mother and sent to a detention center in Texas.
In his comments, Videgaray said Mexico City recognized "the sovereignty of the United States" and its right to set its own migratory policy.
He denied that the Mexican government "promoted" illegal immigration, a charge often leveled by U.S. activists seeking a more restrictive immigration policy.
"Nonetheless," Videgaray said in a statement, "we cannot be indifferent to something that clearly represents a violation of human rights and puts minor children, including some with disabilities, in a situation of vulnerability."
In the case of the 10-year-old with Down syndrome, she and her brother, also 10, were separated from their mother last week. The girl was now in a shelter in McAllen, Texas, said Videgaray, who did not specify the brother's whereabouts.
Her father, a legal U.S. resident, was seeking that the girl be reunited with him, the foreign secretary said.
Mexican officials have been in touch with their U.S. counterparts "at the highest level" about this case, Videgaray said.
In another case, Videgaray said, 12 Mexican children from various families were separated last week from their parents. The mothers and fathers were sent to a detention center in Seattle, he said. Seven of the 12 children, who were initially dispatched to various shelters, have since been sent back to Mexico, and the government is working to reunite the remaining five with their families, Videgaray said.
Mexican authorities were working to achieve the reunification of all of the families involved.
Of the 21 cases of family separation involving Mexican nationals, the foreign secretary said, most detained children have already been repatriated to Mexico, while seven remained in shelters in the United States.
President Trump and administration officials have repeatedly said that federal law compels them to separate families, but Republican as well as Democratic lawmakers have pointed out that's simply not true. The administration's "zero tolerance" policy of pursing criminal, rather than civil, cases against immigrants results in separating parents from children.
On Tuesday, Trump once again tried to blame Democrats for the family separation crisis and took a swipe at Mexico as well. In remarks before a business organization, he said Mexico allows smugglers of drugs and people to reach the U.S. border.
"Mexico, they do nothing for us," Trump said.
The family separation issue also triggered comments from Mexican presidential candidates.
Andres Manuel Lopez Obrador — front-runner in the July 1 election — charged that U.S. authorities were expelling the children in "inhumane conditions."
The candidate of the National Regeneration Movement asked that President Enrique Peña Nieto deliver a note of protest to the White House and that a team of "experts" be dispatched to the U.S.-Mexico border to assist repatriated children and their families. He also asked for a United Nations investigation of a policy that, Lopez Obrador said, "goes against the most fundamental human rights."
The current Mexican presidential campaign has elicited comments in support of Mexican immigrants in the United States from all the major candidates. All have assailed what is widely viewed in Mexico as Trump's anti-Mexico and anti-immigrant posture.
Twitter: @PmcdonnellLAT
Cecilia Sanchez of The Times' Mexico City bureau contributed to this report.
---
Must-read stories from the L.A. Times
Get the day's top news with our Today's Headlines newsletter, sent every weekday morning.
You may occasionally receive promotional content from the Los Angeles Times.