Mexican president tells motorists not to panic over gasoline shortage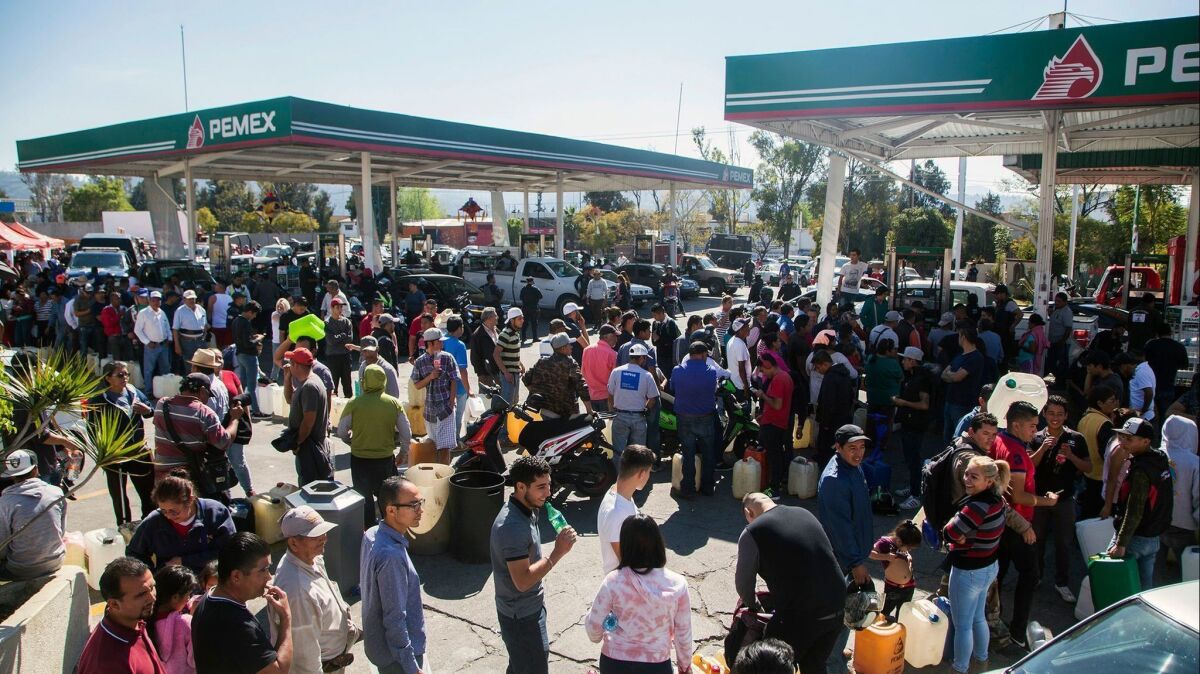 Reporting from Mexico City —
Amid shortages of gasoline and long lines at the pumps, Mexican President Andres Manuel Lopez Obrador said Wednesday that citizens should not "fall into panic" and tried to reassure them that the availability of fuel would soon return to normal.
Motorists lined up for blocks to fill their tanks as more and more gas stations closed because of shortages that began when authorities shut down certain pipelines in a concerted operation to eliminate rampant theft of fuel.
The effort is part of a major anti-corruption campaign by Lopez Obrador, who took office last month vowing to do away with institutional graft — including the pilfering of gasoline from state-owned pipelines and tanker trucks. Fuel theft is a multibillion-dollar criminal enterprise involving corrupt Mexican officials.
But the gas shortages have drawn fierce criticism of the new government from motorists, business leaders and opposition politicians.
"In some gas stations there are going to be lines," Lopez Obrador said at a news conference. "If there is gasoline available in automobile tanks, please don't go to the gas station in these days because we are in the process of normalizing the supply."
But the president would not be pinned down on a timetable as to when fuel supplies would return to normal — even as business leaders issued warnings about the perils of prolonged shortages.
"We are already hearing reports of concern and disquiet from companies," Juan Pablo Castanon, who heads Mexico's main business chamber, told the Milenio news outlet. "Some are beginning to envision … economic impacts."
The shortages emerged this week in half a dozen states, including the auto-manufacturing hub of Guanajuato and the Pacific state of Jalisco, home to Guadalajara, the nation's second most-populous city.
By Wednesday, some Mexico City gas stations were experiencing long lines as word of potential shortages spread on social media and motorists rushed to fill their tanks.
"I need my car to take my children to school, to move around this city," said Martha Trejo Castano, 43, who waited for more than two hours at a station in the capital's southern Santa Catarina district. "And please don't tell me — as the supporters of Lopez Obrador suggest — to use public transport, because public transport in this city is a terror, with robberies, attacks on women and the like."
The government's insistence that there is no gasoline shortage — just a short-term distribution issue — has outraged many here.
"I passed by five gas stations today and all were closed," said Alfredo Flores Garcia, 47, a doctor who was also waiting for gas in the Santa Catarina district. "If there is no gasoline, there is a shortage. That is clear."
Officials said the problem stems from a decision to shut down some pipelines long tapped by gasoline thieves known as huachicoleros. Criminal networks — many believed to be linked to drug cartels — distribute the stolen gasoline to regional suppliers, who sell the discounted gas openly in many parts of Mexico.
While the closed pipelines are evaluated for vulnerability to theft, more fuel is being transported by much slower tanker trucks, according to the government.
Pemex, the state oil company, lost about $3 billion to fuel theft last year, according to the government.
Lopez Obrador, who said some Pemex employees and officials of the previous government were probably complicit, unveiled a plan last month to send about 4,000 soldiers and marines to guard petroleum facilities in a bid to combat fuel theft.
McDonnell is a Times staff writer and Sanchez a special correspondent.
Twitter: @PmcdonnellLAT
Must-read stories from the L.A. Times
Get the day's top news with our Today's Headlines newsletter, sent every weekday morning.
You may occasionally receive promotional content from the Los Angeles Times.