Protests erupt across Mexico over a sudden spike in gasoline prices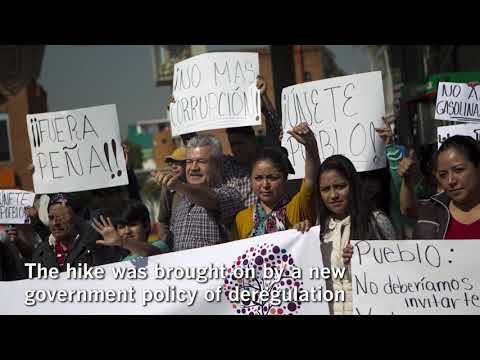 On Dec. 31, a gallon of standard-grade unleaded fuel cost roughly $2.60. On New Year's Day, as a new policy took effect, it jumped more than 14% to about $2.95.
Reporting from Mexico City —
The bus packed with holiday travelers ground to a halt. Up the highway, on the outskirts of Mexico City, protesters were blocking the lanes, brandishing sticks, burning debris and waving banners that read: "Enough!"
"It's chaos," said the bus driver, looking out at a traffic jam that extended as far as he could see.
An hour passed, then five. Passengers were getting hungry. From the windows, they could see travelers who had abandoned their vehicles and were dragging luggage along the dark highway.
The blockade — one of at least 21 that brought traffic to a halt across Mexico on Monday — was staged in response to a sudden hike in gasoline prices brought on by a new government policy of deregulation.
On Dec. 31, a gallon of standard-grade unleaded fuel cost roughly $2.60. On New Year's Day, as a new policy took effect, it jumped more than 14% to about $2.95. The price of premium fuel rose by as much as 20%.
The protests began after Jesus Zambrano of the leftist Democratic Revolution Party and other opposition leaders called on Mexicans to oppose the hikes by staging a "peaceful revolution."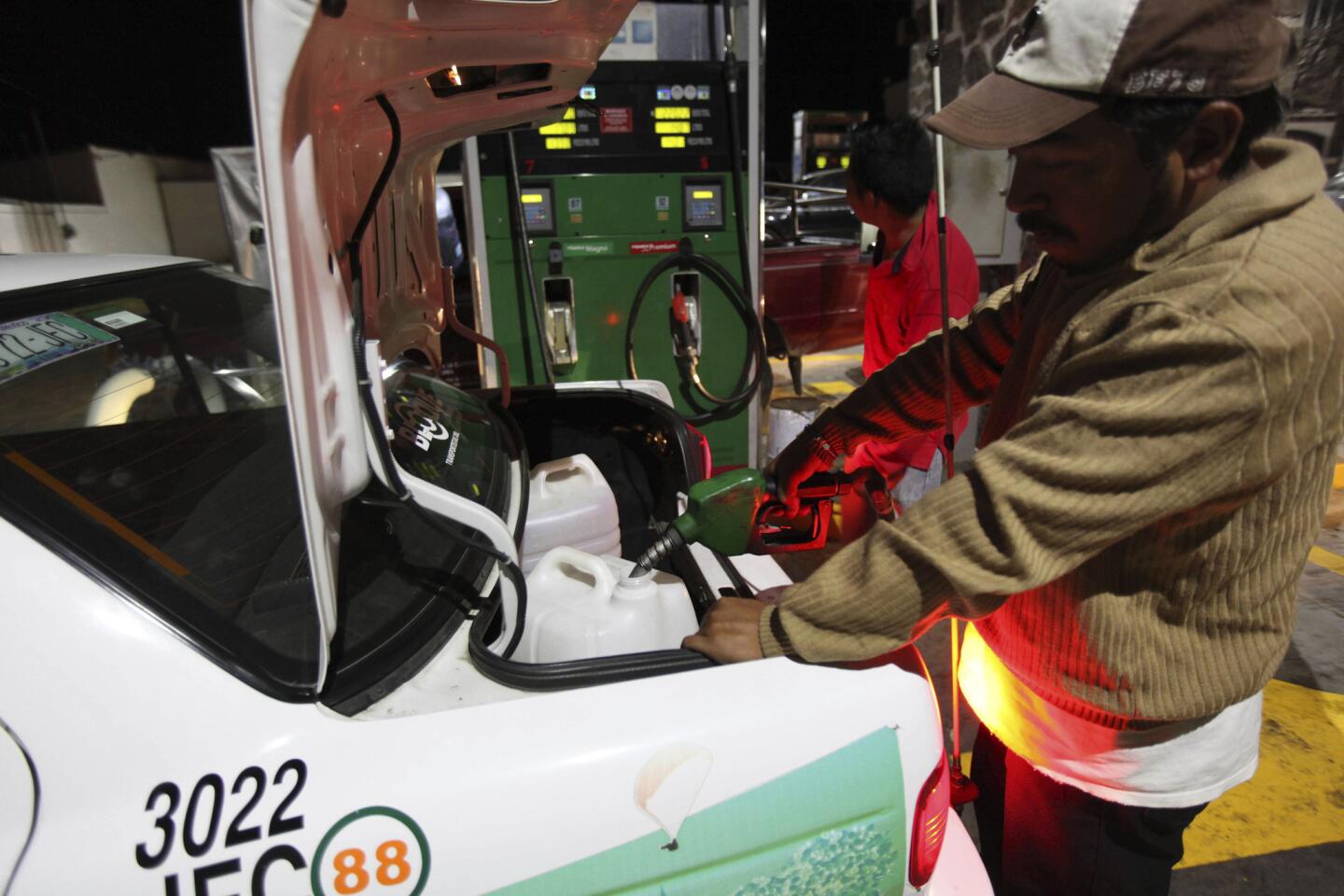 A taxi driver fills containers in his trunk with gasoline after waiting for hours at a fuel station in Valle de Bravo, Mexico.
(Marco Ugarte / Associated Press)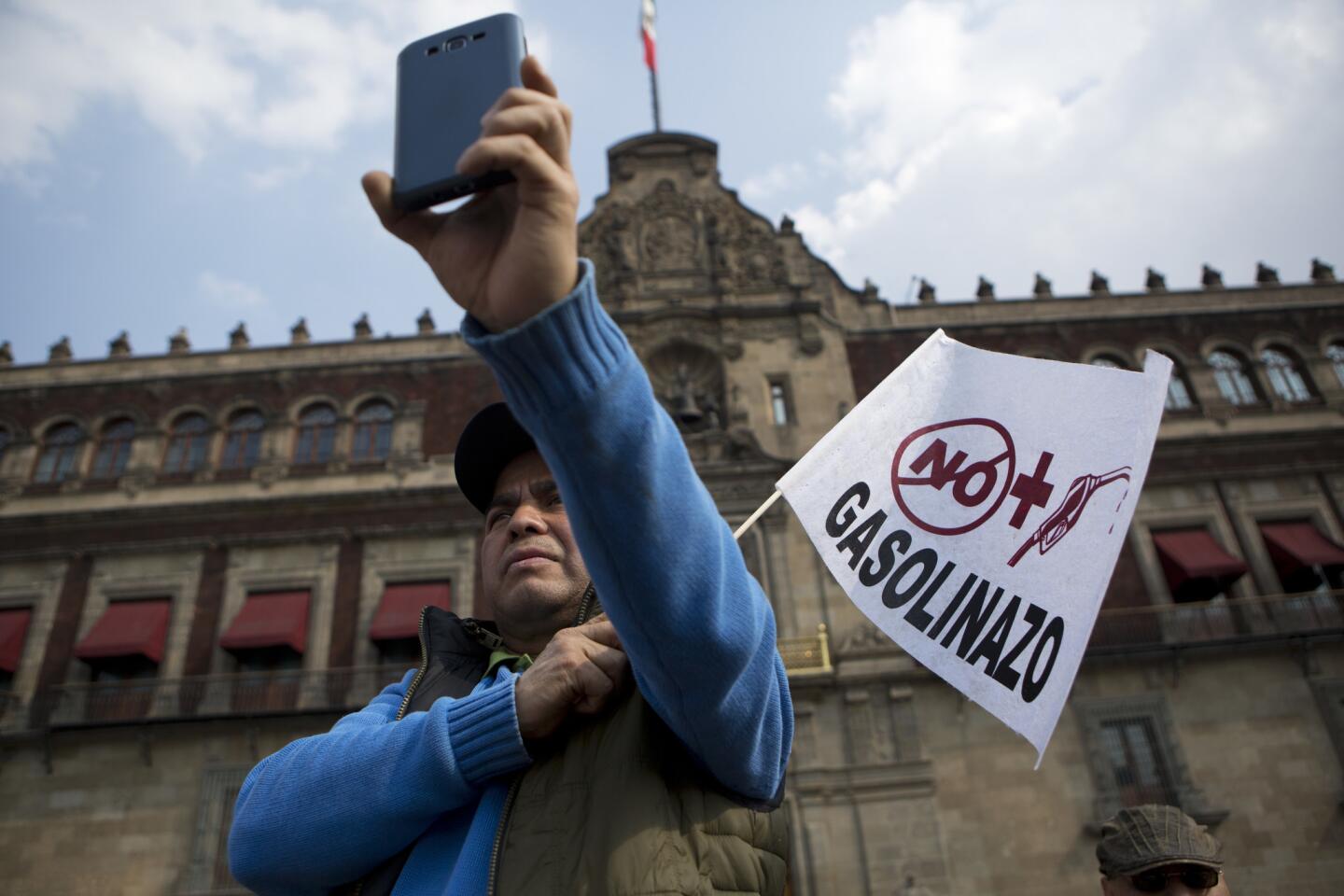 A man holding a flag that reads "No more gasoline price hikes" films other protesters as they chant anti-government slogans in front of the National Palace in Mexico City.
(Rebecca Blackwell / Associated Press)
Drivers wait in line to fill up at a gas station in Valle de Bravo in the state of Mexico. Most of the city's fill-up stations were closed because they were out of fuel.
(Marco Ugarte / Associated Press)
Protesters block Insurgentes Avenue during an hours-long blockade at one of the city's oldest gas stations in Mexico City. Protesters are blocking roads and stations to protest a government price deregulation that sent the price of fuel up by as much as 20%.
(Rebecca Blackwell / Associated Press)
People form a human chain to block access to a gas station as they protest against gasoline price increases in Mexico City. Gas station employees, alerted to the protesters' plan to shut down the station, suspended operations before their arrival.
(Rebecca Blackwell / Associated Press)
A protester holds a flag that says in Spanish, "No more gasoline price hikes," during an hours-long blockade of one of the city's oldest gas stations, at a main intersection in Mexico City.
(Rebecca Blackwell / Associated Press)
On Tuesday, blockades were still snarling traffic on some highways, and authorities were on the hunt for several people accused of hijacking a fuel tanker near Mexico City and siphoning off gasoline.
The state oil giant Pemex called on the organizers of the blockades to cease their activities, warning in a statement Tuesday that "if these blockades and aggressions continue, the supply of gasoline and diesel to the population will be seriously affected."
For decades, the government had set fuel prices, often kicking in a healthy subsidy. Pemex was nationalized in 1938 and was long a symbol of Mexican pride and autonomy. But it has become a source of scandal in recent years, with some Pemex officials facing charges of corruption.
Deregulation of gas prices, which was announced Dec. 27, is part of a larger effort by President Enrique Peña Nieto to end the state monopoly of the oil industry. The overhaul allows foreign companies to begin oil exploration in Mexico, and later start importing and distributing gasoline there.
The president promised at the beginning of the energy sector overhaul that fuel prices would go down, not up.
Many economists say they believe deregulation will benefit the economy and consumers in the long run. But the sudden change in gas price policy comes at a difficult moment, coinciding with rising world oil prices and the peak holiday travel season as well as rising inflation, a steep decline of the value of the peso against the dollar and U.S. President-elect Donald Trump's threats to pull out of trade deals and slap taxes on imports from Mexico. Some economists suggested the deregulation was timed to give the Mexican government a much needed infusion of cash.
The Mexican economy took another hit Tuesday as Ford announced it is cancelling plans to build a new $1.6-billion factory in Mexico, investing $700 million in Michigan instead.
"It's a perfect storm," said Jorge Piñon, an energy expert at the University of Texas in Austin. "When you compare the cost of gasoline with the average salary in Mexico, versus in the U.S., it costs a lot more, so the increase in cost has a much a higher impact on them."
A Bloomberg study of 59 countries found that Mexicans, along with South Africans, spend the largest portion of their incomes on gasoline — and nearly twice as much as Americans.
Structural problems with Mexico's oil refinery and distribution system have compounded the problems, leading to fuel shortages at some gas stations in recent days and spawning a black market for fuel in some states, Piñon said.
"They don't have the capacity to meet demand," he said.
Pemex, which has been forced to import oil because its refineries cannot process Mexican crude oil quickly enough, has seen its oil imports from other countries bottlenecked at crowded Mexican ports.
Mexico's oil pipelines have also been hit by an increase in thefts. More than $1 billion in gasoline is stolen by criminal networks each year, the government has estimated.
Some political analysts speculated that the controversy could benefit the opposition parties hoping to take the presidency in the 2018 elections.
Ricardo Anaya, president of the National Action Party, used the controversy to criticize Peña's energy reforms for coming too late. He blamed a "lack of investment in strategic areas that today make it necessary to import most of the gasolines we consume in the country."
Many Mexicans are worried that rising transportation costs will drive up the cost of everything, including food. Even those stranded by the blockades on Monday night were sympathetic to the cause. On the bus stranded on the way to Mexico City, the driver lamented Mexico's economic fortunes as passengers shared loaves of bread and passed around a single bottle of Coke.
"Everything is going up, the price of tortillas, the price of beans, and it's going to rise even more," he said.
"They just better not touch the price of beer!" someone in back responded.
"President Peña," one woman cried out. "Where are you?"
Cecilia Sanchez in the Times Mexico City bureau contributed to this report.
Twitter: @katelinthicum
ALSO
Ford cancels Mexico factory and will invest in Michigan in 'vote of confidence' for Trump plans
Quake swarm near the California-Mexico border gets scientists' attention
Two countries, one economy: A Mexican town whose chief earners are in the U.S. worries what happens if they're sent home
Sign up for Essential California for the L.A. Times biggest news, features and recommendations in your inbox six days a week.
You may occasionally receive promotional content from the Los Angeles Times.