Mexico seeks extradition of yet another ex-governor facing criminal charges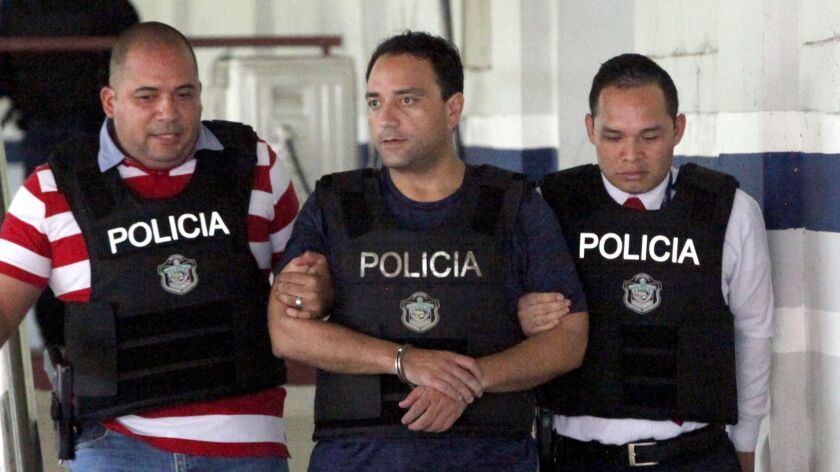 Reporting from Mexico City —
Mexican authorities moved Monday to extradite an ex-governor on corruption charges, making him the eighth former Mexican governor facing criminal charges or already convicted.
Roberto Borge, who served from 2011 to 2016 as governor of the state of Quintana Roo, which includes Cancun, the country's major tourist destination, was arrested Sunday in Panama City's Tocumen International Airport as he was about to board a Paris-bound flight, the Mexican attorney general's office said in a statement.
Mexican authorities had issued an arrest warrant for the 37-year-old Borge, prompting the international police agency Interpol to post a "red notice" alerting other nations of his wanted status.
On Monday, Mexico began the process of seeking Borge's extradition from Panama on money-laundering and other corruption charges, Alberto Elias, assistant attorney general for international matters, told the Televisa network.
Of the eight ex-governors facing charges or convicted, six — including Borge — served under the banner of the ruling Institutional Revolutionary Party, known as the PRI.
Borge is one of three being held abroad and facing extradition. Javier Duarte, who served as governor of Veracruz from 2011 to 2016, was detained in April in Guatemala after six months on the run. Tomas Yarrington Ruvalcaba, who served as the governor of Tamaulipas from 1999 to 2004, was arrested in Florence in April. Currently in custody in Italy, he faces drug trafficking-related charges in both Mexico and the United States.
Two more are currently jailed. Mario Villanueva, who governed in Quintana Roo from 1993 to 1999, is serving a 22-year sentence on a money-laundering conviction. Andres Granier, who served in Tabasco from 2007 to 2012, is fighting corruption charges.
Still being sought by Mexican authorities on corruption charges is Cesar Duarte, who was governor of Chihuahua for the PRI from 2010 to 2016 and is now a fugitive. Authorities suspect that Duarte made his way to the United States.
The remaining two governors facing criminal proceedings were members of the rival National Action Party.
Guillermo Padres, who served in Sonora from 2009 to 20015, is fighting corruption charges from jail. Luis Armando Reynoso Femat, who was governor of Aguacalientes from 2004 to 2010, was convicted of illegal diversion of funds and sentenced to six years in prison. He remains free on bond.
Critics of the Mexican political system have long charged that being a governor or other high-ranking lawmaker amounted to a license to steal. Mexican authorities have regularly vowed to cut down on the country's woeful history of political representatives and law enforcement authorities succumbing to corruption.
The Republic of Mexico includes 31 states and Mexico City, seat of the federal government.
Twitter: @mcdneville
Cecilia Sanchez of The Mexico City bureau contributed to this report.
---
The stories shaping California
Get up to speed with our Essential California newsletter, sent six days a week.
You may occasionally receive promotional content from the Los Angeles Times.