The sordid record of former Mexican governors: 3 in prison, 3 under investigation and 4 wanted by authorities
Reporting from MEXICO CITY —
Earlier this week, when Mexican authorities issued an arrest warrant for the former governor of the border state of Chihuahua, he joined a long list of former governors from across the country who have run afoul of the law, usually on charges of corruption.
Some former governors are serving time in prison; some are facing criminal charges. Four are being sought by authorities. It's quite a record for a country with just 31 states.

For the record:
11:58 p.m. Aug. 23, 2019An earlier version of this article said that Mexico has 22 states. It has 31 states.
Here's a guide to Mexico's ex-governors with legal issues.
Wanted
Javier Duarte
Governor of Veracruz (2010-2016)
Duarte stepped down from the governor's post Oct. 12, six weeks before the end of his six-year term. He then disappeared, and Mexican authorities announced a reward of 15 million pesos (about $730,000) for information leading to his arrest. He is accused of money laundering, involvement with organized crime and various acts of fraud, including setting up shell companies to divert public funds for his private use.
Cesar Duarte
Governor of Chihuahua (2010-2016)
Duarte is wanted on corruption charges. The current governor of the border state has called him a fugitive and said it's likely that Duarte fled across the border to El Paso, Texas. (He is no relation to fellow fugitive Javier Duarte from Veracruz.)
Eugenio Hernandez Flores
Governor of Tamaulipas (2005-2010)
Hernandez is a fugitive in the eyes of U.S. law enforcement. Along with his brother-in-law, Hernandez was named in a 2015 federal indictment in Texas that accuses him of money laundering. He has called the charges baseless and lives openly in Mexico, where there are no charges against him.
Tomas Yarrington Ruvalcaba
Governor of Tamaulipas (1999-2004)
Hernandez's predecessor as governor of the state bordering Texas is wanted in the U.S. on a federal racketeering indictment, which charges that he engaged in money laundering and received bribes from traffickers.
Imprisoned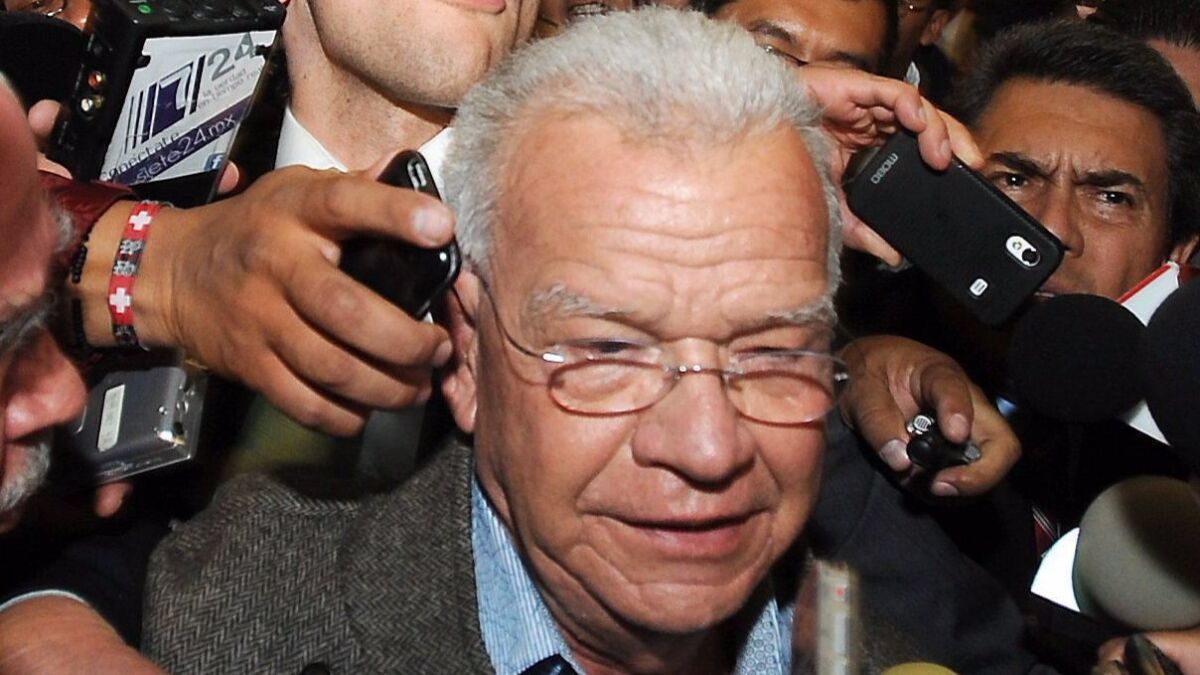 Andres Granier
Governor of Tabasco (2007-2012)
He has been jailed since 2014 on corruption charges. After flying from Miami to Mexico in 2013 to face trial, he told reporters at the airport, "I come to clear my name. I have no reason to run."
Luis Armando Reynoso Femat
Governor of Aguascalientes (2004-2010)
He was arrested in 2015, convicted of fraud and sentenced to six years in prison.
Mario Villanueva
Governor of Quintana Roo (1993-1999)
He is serving a 22-year sentence in a Mexican prison after serving 3 1/2 years in a federal lockup in the United States after he admitted conspiring to launder money.
Under suspicion
Guillermo Padres
Governor of Sonora (2009-2015)
Padres turned himself in to authorities in Mexico City in November and has denied graft charges leveled against him. As governor of the state bordering Arizona, Padres served under the banner of the opposition National Action Party. He and Reynoso Femat of Aguascalientes, who also belongs to the National Action Party, are the only former governors known to be in legal trouble who were not members of President Enrique Peña Nieto's Institutional Revolutionary Party (PRI).
Rodrigo Medina
Governor of Nuevo León (2009-2015)
He is under investigation for corruption.
Roberto Borge
Governor of Quintana Roo (2011-2017)
He is under investigation for corruption.
ALSO
Manhunt launched for former Mexican governor charged with corruption
The Mexican attorney general who declared his state would never be home to narcos is now under arrest in the U.S. for drug trafficking
He defended the sacred lands of Mexico's Tarahumara people. Then a gunman cut him down
Must-read stories from the L.A. Times
Get the day's top news with our Today's Headlines newsletter, sent every weekday morning.
You may occasionally receive promotional content from the Los Angeles Times.