Mexican columnist is stabbed 21 times in front of family, underscoring deadly risks faced by journalists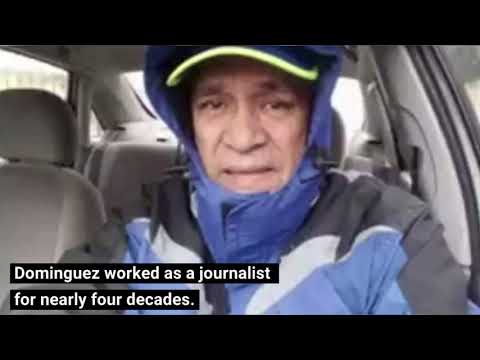 The day before his death, Carlos Dominguez wrote a column lamenting the growing political violence ahead of Mexico's July presidential election. (Jan. 17, 2018)
Reporting from Mexico City —
Carlos Dominguez was waiting at a traffic light in the northern Mexico border city of Nuevo Laredo with his son, his daughter-in-law and his grandchildren when men armed with knives flung open the car door.
Dominguez, a 77-year-old opinion columnist who had worked as a journalist for nearly four decades, was stabbed 21 times, according to Mexican authorities. They said he was attacked by at least three men who remain unidentified and at large.
The killing Saturday afternoon underscores the lethal risks faced by journalists in Mexico and the growing wave of violence gripping the nation.
Officials said they were investigating to determine whether the attack was connected to Dominguez's work. He wrote frequently about politics, organized crime and occasionally their intersection — a perilous beat in a country that was second only to war-torn Syria in the number of journalists killed last year.
Eleven journalists were slain across Mexico in 2017, with no culprits arrested in most of those cases. Dozens of reporters have fled the country or gone into hiding.
In the Gulf Coast state of Tamaulipas, where Nuevo Laredo is located, 15 journalists have been killed since 2000, according to Mexico's National Human Rights Commission. The commission, an independent government watchdog, has sent investigators to Nuevo Laredo to look into Saturday's attack.
The organization Reporters Without Borders said it believed Dominguez was targeted because of his controversial columns.
The day before his death, in a column published on a news website called Horizonte de Matamoros, Dominguez lamented growing political violence ahead of Mexico's July presidential election, calling out the federal government for its "failure on the matter of public security." He also took aim at a local mayor, one of several Tamaulipas politicians he frequently criticized, complaining that she "lashes out against journalists who expose her flagrant faults."
"For Carlos' colleagues, there is no doubt that his assassination is linked to his journalistic work," Reporters Without Borders said in a statement Monday.
Jan-Albert Hootsen, Mexico representative for Committee to Protect Journalists, another nonprofit press freedom group, said his organization was still investigating the motive behind the slaying. But he said that in Tamaulipas, threats of violence and bribe-paying have created a "silence zone" in which many reporters opt against publishing specific information about crimes and their perpetrators.
"It's very, very dangerous to be a journalist in Tamaulipas," Hootsen said. "There's a lot of self-censorship of journalists who are often too afraid to report on what's really going on for fear of reprisals. Doing serious investigative journalism in that state can cost you your life."
So many journalists have stopped reporting on what is happening in the state that news about killings and other crimes often comes from Twitter and Facebook posts by ordinary citizens. In 2014, a cartel killed one of them, a doctor in the city of Reynosa, and then tweeted from her account about her murder.
While Dominquez frequently antagonized public authorities and often decried cartel wars in Tamaulipas, he had not applied for a protection program offered to Mexican journalists and human rights activists who have received threats, said Irving Barrios, the attorney general of Tamaulipas. He said Dominguez's relatives had been placed under state protection.
In Tamaulipas, the bloodshed is being driven by fighting between two long-dominant drug gangs — the Zetas and the Gulf Cartel — that experts say have begun to splinter in recent years. Tamaulipas leads the country in kidnappings and is home to rampant extortion.
Violence has been on the rise throughout Mexico, where last year the murder rate hit a 20-year high.
Last week, the U.S. State Department warned its citizens not to travel to Tamaulipas and four other Mexican states. "Violent crime, such as murder, armed robbery, carjacking, kidnapping, extortion and sexual assault, is common," the U.S. travel advisory said, adding that "local law enforcement has limited capability to respond to violence."
Jan Jarab, the Mexican representative for the United Nations High Commissioner for Human Rights, said Monday that "the terrible murder of Mr. Dominguez confirms the risk of being a journalist in Mexico and in particular in Tamaulipas."
In November, a U.N. team urged authorities in Tamaulipas to adopt measures to protect journalists after an investigation into attacks on free speech there and in four other Mexican states.
Twitter: @katelinthicum
Cecilia Sanchez in the Times' Mexico City bureau contributed to this report.
Sign up for Essential California for the L.A. Times biggest news, features and recommendations in your inbox six days a week.
You may occasionally receive promotional content from the Los Angeles Times.