'Where is Marco Antonio?' A Mexican teen vanished — and ignited a movement
Reporting from Mexico City —
A skinny 17-year-old from a middle-class neighborhood in Mexico City, Marco Antonio Sanchez is an unlikely cause celebre.
But his name has become a rallying cry across Mexico since he mysteriously vanished last week after being detained by police. On Sunday, Sanchez was discovered many miles from home, bruised, disoriented and missing a shoe.
Mexicans uneasy about surging violence and high-profile corruption scandals are demanding answers in the case. In street protests and on social media, tens of thousands of them have asked: "Where is Marco Antonio?"
While city officials have touted his safe return as a rare happy ending in a country where more than 34,000 people have disappeared without a trace since 2006, his relatives and many others want to know why he was detained in the first place and what role if any the police played in his five-day absence.
"Someone reappeared who should never have disappeared," tweeted economist Gerardo Esquivel.
Between August and October, a person went missing every 90 minutes in Mexico, according to the National Registry of Data of Missing Persons. Criminal groups or corrupt officials are often to blame. Sometimes, it's a combination of the two.
Disappearances have become so common that the media here usually ignore them, leaving families and friends to mourn alone. But occasionally a case resonates with a wide audience. That's what happened when 43 students at a teachers college in the town of Ayotzinapa went missing in 2014, and that's what happened with Sanchez.
A high school student and budding artist who had won a prize from one of the nation's top art museums, Sanchez was detained by police officers in Mexico City's Azcapotzalco neighborhood. A friend present at the time told local media that Sanchez had noticed a stranger walking past an interesting mural and asked to take his photograph.
Suddenly, police approached Sanchez and accused him of assaulting the man, according to the friend, who said one of the officers had once asked him for a bribe.
As tensions mounted, Sanchez turned and ran. Officers quickly caught up and proceeded to beat and handcuff him before loading him into a patrol car, the friend said. A photo taken during the incident shows Sanchez on his back with his eyes closed as a police officer appears ready to strike him from above.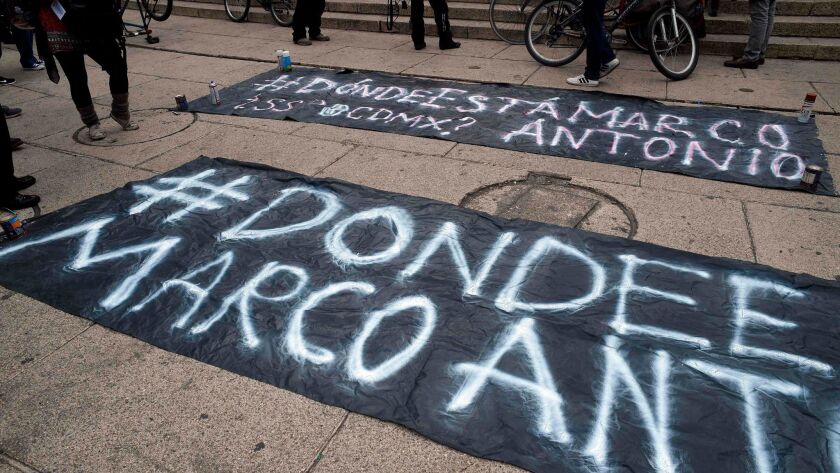 That evening, the teen's relatives tried to find him at police stations, but were told he was never brought to one and could not be located. Soon after they filed a complaint with Mexico City's Human Rights Commission, and #WhereIsMarcoAntonio became a trending topic on Twitter.
The four officers who arrested Sanchez told city investigators that they freed the teenager shortly after detaining him. Two of those officers were put under "provisional custody" but have not been charged with crimes. Hiram Almeida, Mexico City's secretary of public security, denied police were to blame for the teen's absence, telling Reforma newspaper: "There was no forced disappearance."
On Sunday morning, protesters gathered at Mexico City's famed Independence Monument, holding pictures of Marco Antonio and signs that said: "Enough with the abuses of authorities." The Mexico representative of the Office of the United Nations High Commissioner for Human Rights put out a statement, demanding answers in the case.
The good news came that evening: Sanchez had been found. The teen had first been spotted in the city of Tlalnepantla, just outside Mexico City, capital Mayor Miguel Angel Mancera announced. Police there had taken him into custody because he appeared disoriented. Video images taken by police show Sanchez walking unsteadily, his right cheek heavily bruised. He was taken to a hospital.
Sanchez and his family have not spoken publicly since they were reunited. Some Mexicans have opined that Sanchez may have been attacked by criminal groups, suffered a mental breakdown, or simply gone on a bender. Others continued to vent their anger.
"When I was a child, they told me that if you get lost, go find a police officer," opinion writer Leon Felipe Sanchez tweeted. "Today you are told to never approach a policeman. That is the Mexico of today."
Twitter: @katelinthicum
Cecilia Sanchez in The Times' Mexico City bureau contributed to this report.
---
Must-read stories from the L.A. Times
Get the day's top news with our Today's Headlines newsletter, sent every weekday morning.
You may occasionally receive promotional content from the Los Angeles Times.