Mexico's World Cup star is accused of helping a drug lord
Reporting from Mexico City —
At a recent World Cup warm-up match at the Rose Bowl in Pasadena, Mexico's national soccer team was missing one of its biggest stars: Rafael Marquez, the team's captain and a legendary defender.
Marquez, a four-time World Cup veteran, was sanctioned by the U.S. Treasury Department last year for allegedly aiding a powerful Mexican drug trafficker. His bank accounts were frozen in the U.S. and Mexico and he was placed on a blacklist that bans Americans and U.S.-based companies from doing business with him.
The sanctions also bar him from playing in the United States, his lawyer told ESPN last year.
Marquez, 39, who is affectionately known as Rafa, has denied allegations that he and two associates used several businesses to hold assets for Raul Flores Hernandez, a drug lord allied with the notorious Sinaloa and Jalisco New Generation drug cartels.
But his presence on Mexico's national team has raised eyebrows, with some saying it is unseemly for Mexico, a country plagued by corruption and historic levels of drug-related violence, to employ a player accused of laundering cash for a drug kingpin.
"It is incredible that the authorities are allowing a person who is accused of money laundering to go and play a World Cup as if nothing happened," said Raúl Rodriguez, a 32-year-old chef in Mexico City.
"That impunity only happens in Mexico," Rodriguez said. "If you or someone who is not famous had cheated, they would put you in jail."
For the most part, though, Mexicans have embraced Marquez, who is poised to become one of only a handful of players to play in five World Cups on Sunday when Mexico takes on Germany in its first match.
At a ceremony at Mexico's presidential palace two weeks ago, Marquez personally presented one of the team's green World Cup jerseys to President Enrique Peña Nieto — who himself has been accused by Mexican journalists of corruption.
Supporters of Marquez emphasize that he has not been convicted of any crime — or even charged — and should not be prematurely penalized.
"Rafa is the soul of the national team, and if he is in trouble with the United States, we don't care," said Armando Diaz, a 43-year-old salesman in Mexico City.
"If he has problems with authorities, he can solve them later," Diaz said. "Now he has to concentrate on the World Cup and play well so Mexico can win its games."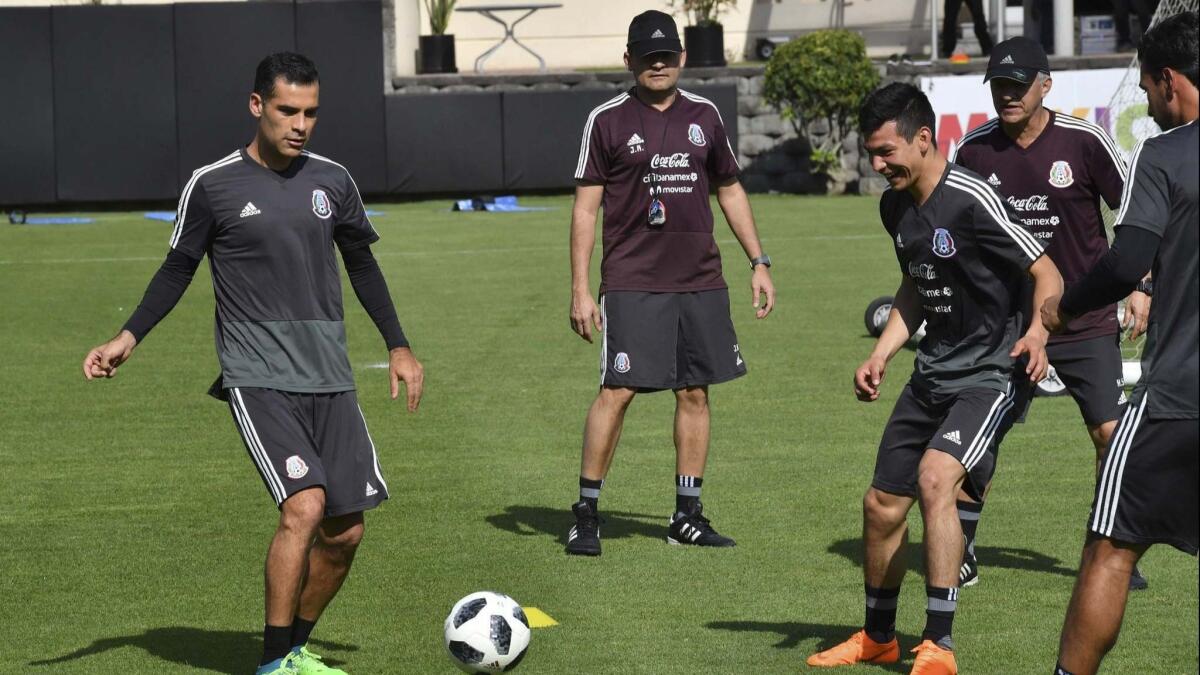 Still, the sanctions have resulted in awkward moments, including Marquez's absence during last month's friendly against Wales, which ended in a draw.
The companies that sponsor Mexico's national team appear alarmed by his inclusion on the roster, and have taken steps so that they don't seem to be doing business with Marquez.
At practices this week in Russia, while the rest of the team wore jerseys featuring the logos of Coca-Cola and other sponsors, Marquez sported a plain version without any of the brand names.
A statement from the Mexican team explained that the logos were removed "in order to have Rafa Marquez focused 100% on sports" and that the team made the decision after consulting with experts.
Marquez was one of 21 Mexican nationals sanctioned by the Treasury Department last August for alleged ties to Flores, who is accused of smuggling drugs and laundering money from his base in Jalisco state since the 1980s.
Among those who also saw his assets frozen was Julio Cesar Alvarez Montelongo, a norteño band leader once praised by Peña Nieto as "a great example for Mexican youth."
Several businesses associated with Marquez were sanctioned, including a soccer school that bears his name. The sanctions were a fall from grace for Marquez, whose stints with Barcelona, the New York Red Bulls and the Guadalajara club Atlas made him Mexican sports royalty.
He had a reputation as a philanthropist in Jalisco and in his native state of Michoacan, and had been working on creating a union for players in Mexico's national soccer league. Many thought he had a future in Mexico's soccer federation, or even in politics.
José Contreras, a 37-year-old architect, said he thought Marquez was allowed to play because the Mexican team needed him. It has not been performing well and earlier this month lost 2-0 in a friendly with Denmark.
"The national team is playing so badly that surely the managers did the impossible for him to play," Contreras said. "The accusations against him are a shame because people in Mexico love him a lot."
Twitter: @katelinthicum
Cecilia Sanchez in the Times' Mexico City bureau contributed to this report.
Sign up for Essential California for the L.A. Times biggest news, features and recommendations in your inbox six days a week.
You may occasionally receive promotional content from the Los Angeles Times.