Mexico captures Sinaloa drug cartel leader Damaso Lopez, a former associate of 'El Chapo' Guzman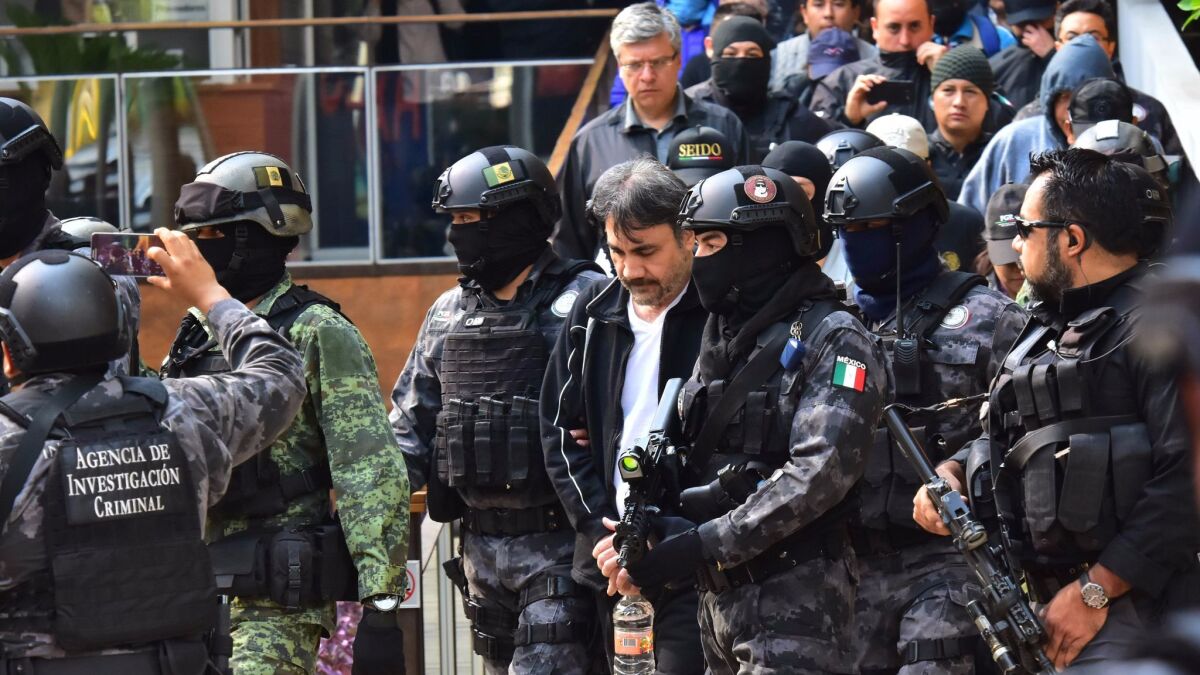 Reporting from Mexico City —
He was for a time seen as the right-hand man of Joaquin "El Chapo" Guzman, once the world's most notorious drug kingpin, now jailed in the United States.
More recently, Damaso Lopez Nunez has reputedly been at the center of a bloody, multi-sided turf battle for the control of the powerful Sinaloa cartel long headed by Guzman.
Early Tuesday, though, authorities at least temporarily ended the battle for Lopez, 51, known as "El Licenciado" — roughly, "the Graduate," a reference to his legal studies and time spent as a lawyer in his home state of Sinaloa in northwestern Mexico.
Mexican authorities said officers arrested Lopez — who is also wanted on drug charges in the United States — at his 11th-floor suite in a swank apartment complex near downtown Mexico City.
Mexican television showed Lopez, dressed in a track suit and grasping a plastic bottle of water, being escorted into custody outside the high-rise among a phalanx of heavily armed soldiers and federal police donning body armor and ski masks.
A photo distributed by authorities showed Lopez, unshaven and in a white T-shirt, sitting on a couch flanked by lawmen. The image was apparently taken before he was whisked away.
The administration of President Enrique Peña Nieto, under fire for a series of high-level corruption cases and the perceived impunity of armed gangs, extolled the arrest as a major breakthrough.
In a Twitter message, Peña Nieto lauded "the detention of another key objective in the battle against criminality."
Authorities said Lopez's arrest was part of a broad operation that involved raids on three residences in the capital and the apprehension of at least one other alleged associate of Lopez, identified as Geovanny Gonzalez. Authorities called Gonzalez a financial advisor and logistics chief for Lopez.
In 2013, the U.S. Treasury Department named Lopez a "drug kingpin" and called him a "top lieutenant" of Guzman, then chief of the Sinaloa cartel. Lopez could soon be joining his former boss in U.S. custody.
Federal prosecutors in the United States are expected to seek the extradition of Lopez, who was named with several alleged confederates in a 2011 indictment in U.S. District Court in Virginia. Lopez was accused of money laundering and smuggling cocaine to the United States since at least 2007 from Mexico, Peru, Panama and elsewhere.
The U.S. indictment also sought the forfeiture of about $280 million in alleged illegal proceeds from criminal activity.
Lopez was suspected of aiding in Guzman's breakout from Mexico's Puente Grande prison in January 2001, the first of Guzman's two sensational prison escapes, according to Mexican media reports. Lopez formerly headed security at the prison, reports said.
Guzman was recaptured in January 2016 after his second prison breakout and was extradited to the United States on Jan. 19 this year. Guzman faces charges at U.S. District Court in New York including murder, drug trafficking and money laundering.
In recent months, Lopez was reported to have been involved in a bloody dispute with Guzman's sons. The war for the cartel's myriad holdings in the absence of Guzman has led to gunfights in Sinaloa.
Analysts were generally doubtful that Lopez's arrest would stem the intensity of the gang war in Sinaloa, where various factions are fighting for Guzman's former domain.
Some analysts have said the arrests or deaths of high-profile cartel leaders tend to increase drug-related violence, as rivals move to muscle in on perceived power voids. The Mexican government's more than decade-long war on drugs has failed to stem rampant violence despite numerous arrests, extraditions and deaths of top capos.
Two of Guzman's sons recently publicly accused Lopez of trying to kill them, said Ricardo Ravelo, a writer on the Mexican drug trade.
"I don't believe this arrest will reduce the violence, at least in the short term," said Ravelo, who added that at least five groups were seeking to control of Guzman's former realm. "The violence will continue as long as there are all these various fronts vying for control."
twitter: @mcdneville
Cecilia Sanchez of The Times' Mexico City bureau contributed to this report.
---
UPDATES:
6:15 p.m.: This article was updated with more details and analysts' views.
1:40 p.m.: This article was updated with additional background on Lopez and other details.
11:10 a.m.: This article was updated throughout with Times reporting.
This article was originally published at 10:35 a.m.
---
Must-read stories from the L.A. Times
Get the day's top news with our Today's Headlines newsletter, sent every weekday morning.
You may occasionally receive promotional content from the Los Angeles Times.