Why teachers have been occupying one of Mexico's most alluring public spaces since May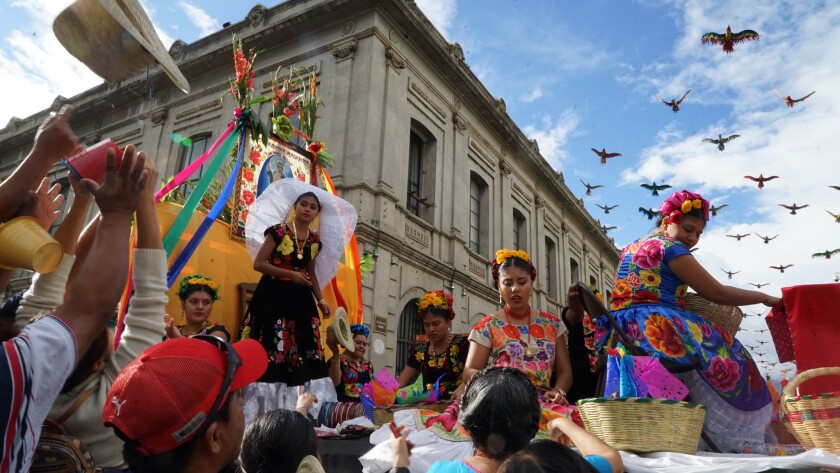 Reporting from Oaxaca City, Mexico —
With its towering cathedral, stately trees and many cafes, the central plaza here usually exudes a sense of peace and elegance — a place to dine, reflect or listen to the marimba bands that perform on the ornate, wrought-iron bandstand.
But sit-ins, roadblocks and violence linked to Mexico's roiling conflict between teachers and the federal government have cast a pall over Oaxaca City and the Guelaguetza, the signature annual celebration of the indigenous and mestizo heritage of this culturally rich state.
The plaza, or zocalo, has become a desolate eyesore, a tent city of sleeping bags and plastic mats topped with a jagged array of plastic tarps thrown up as protection against daily thunderstorms.
Teachers enraged at federal education reforms have occupied the plaza since May, stranding thousands of pupils and transforming one of Mexico's most alluring public spaces into something resembling a ramshackle refugee camp. Street vendors have set up shop alongside the tents.
The Guelaguetza starts Monday and hotel bookings are down 50% or more in the heavily tourism-reliant capital of the state also called Oaxaca. Key routes to town remain shut or subject to long delays after protesting teachers, many wearing masks, erected barricades of earth, tree trunks and assorted debris.
"We won't leave until our demands are met," vowed Nelly Ruth Vicente, one of a number of teachers posted at a blockade at the crossroads town of Asuncion Nochixtlan, on the main federal toll road linking Oaxaca City and Mexico City.
On June 19, eight people were killed and more than 100 injured when Mexican police opened fire in a botched effort to dismantle the barricade at Nochixtlan.
The killings have since become a rallying cry for the teachers union and allied activists.
The unrest has discouraged many potential visitors, both Mexicans and foreigners, from venturing to Oaxaca, and the disorder has exacted a heavy economic toll on one of Mexico's poorest states, officials say.
"By now, Oaxaca is normally busy as an ant colony," lamented Mayor Javier Villacana Jimenez, in his city hall office six blocks from the zocalo in the sublime Plaza de la Danza, where teachers last week set ablaze promotional signs for the Guelaguetza and roughed up a local newspaper photographer documenting the vandalism. "We're very concerned about what could happen."
The teachers appear to have garnered little popular support for their threat to boycott the Guelaguetza, which dates back to pre-Hispanic indigenous celebrations and is a source of pride statewide.
Each year, thousands descend on the state capital from the countryside for the event, often after weeks of arduous practice for dancers, musicians and those assigned to bear giant, handmade puppets and revolving globes that are hoisted above the crowds.
To the mayor and other critics of the powerful teachers union, the protests have little to do with improving public education, the avowed goal of the teachers.
We won't leave until our demands are met.
Nelly Ruth Vicente, protesting teacher
"This is all about politics," asserted Villacana, a member of the ruling Institutional Revolutionary Party, whose standard-bearer is President Enrique Pena Nieto, architect of the controversial education overhaul package and chief villain of the protesting teachers.
Many here are keen to prevent a repeat of the violent events of 2006, when teacher protests escalated into months of running battles with police that left as many as 21 dead, including a U.S. journalist. So far, police have mostly refrained from interfering with the zocalo sit-in.
"They will accuse us of attacking them," Villacana said.
For their part, the teachers say they have no plans to pull back until the government modifies its sweeping blueprint for an education overhaul, especially a new call for mandatory evaluations of teachers. The teachers, from a union called the National Coordinator of Education Workers that is largely based in Oaxaca state, also are demanding the release of several union leaders arrested on money-laundering and other charges.
"What the government wants is not reform of education, it's control of the schools and destruction of education in our communities," said Pedro Ariel Aparacio, a 26-year veteran teacher from rural Oaxaca.
Aparacio spoke from the zocalo as he hand-tied frayed ropes securing the educators' labyrinth of tents and plastic canopies to the iron bars fronting the statehouse building, now cut off by protesters.
"Pena Nieto want to fire teachers and take over education of our children," Aparacio continued. "That's' what this is about."
At an alternate pre-Guelaguezta procession, hundreds of teachers and their allies lampooned an effigy of Pena Nieto. A banner called for "the defense of public education and labor rights."
Union activists scoffed at the notion that their actions were harming the regional economy and hurting the working-class and poor Oaxacans who provide much of the staff for hotels, restaurants and other businesses dependent on tourism.
"These are mostly bourgeois establishments," said Aparicio, pointing to shuttered or near empty restaurants along the zocalo. "The real people of Oaxaca are with us."
One celebrated zocalo eatery, La Casa de la Abuela, shut down for three weeks because of the protests. It reopened recently, but few clients came to enjoy the once sublime view of the zocalo, now a maze of tents and canopies.
Teacher-led marches, road blockades and sit-ins have become a national phenomenon in recent months, engulfing not only Oaxaca but the capital, Mexico City, and other regions, including the southernmost state of Chiapas — where on Wednesday state police and masked security men violently ousted teachers from a road blockade outside the city of San Cristobal de las Casas.
There is widespread agreement that Mexico's public education system is dysfunctional and widely corrupt, representing a major barrier to social mobility for generations of Mexicans — many of whom have chosen to migrate to the United States.
"Unfortunately, education in Mexico has not been the ladder to social improvement and betterment that it should be," noted Marco Antonio Fernandez, a professor at the Monterrey Institute of Technology and Higher Education who has criticized both the teachers unions and the government for its approach to reform. "This situation in Oaxaca in particular is a tragedy."
Both the government and the unions share responsibility for the dismal state of Mexican public education, experts agree.
Many critics have cited unions' traditional near total control of the educational system, from hiring of teachers to deciding on curriculum. But the main teachers union, the Mexican National Educational Workers Union, was long a pillar of the Institutional Revolutionary Party, which collaborated with the union in a mutually beneficial relationship that did little to advance the quality of education.
The teachers union's ex-president, Elba Esther Gordillo, famed for her power and extravagant lifestyle, was jailed in 2013 on charges of embezzling more than $200 million in union funds. She remains in jail as her prosecution continues.
Caught in the middle of the current conflict are tens of thousands of students who lost up to six weeks of classes since the teachers walked out in May. Teacher strikes have become an almost annual event in Oaxaca, where students regularly score near the bottom on nationwide standardized tests.
See more of our top stories on Facebook »
In some areas, parents and teachers opposed to a strike agreed to continue classes. Elsewhere, though, students were left without school, angering many parents appalled at the teachers' actions.
"I never had the chance of education, since I had to work, but I want my children to go to school and have the opportunities that I never had," said Leandra Martinez, 49, a mother of four from Santa Maria Zacatepec, an ethnic Mixtec community.
Martinez, who crafts embroidered cotton blouses, was one of many indigenous artisans who came to the capital to sell their wares for the Guelaguetza. Many noted the lack of clients this year.
Her daughter, Itzel, 13, missed two months of school because of the walkout, said Martinez, whose son, among other family members, has emigrated to New Jersey. She said she hopes her daughter does not choose to follow her older brother's footsteps but notes that opportunities are few in her town.
"I don't understand. Aren't the teachers paid by the government to work?" asked Martinez as she stood at her stand here, neat piles of embroidered blouses laid out before her. "In my community, all the women work and we don't ask anything from the government. To me it's an injustice that my daughter missed school."
Twitter: @mcdneville
Cecilia Sanchez of The Times' Mexico City bureau and special correspondent Liliana Nieto del Rio in Oaxaca contributed to this report.
ALSO
Raised in the U.S. without legal status, he attains the American dream — in Mexico
A California 'Dreamer' goes home to Mexico. But 'home' proves elusive
The pendulum swings: Here's how Latin America has shifted politically over the years
---
Must-read stories from the L.A. Times
Get all the day's most vital news with our Today's Headlines newsletter, sent every weekday morning.
You may occasionally receive promotional content from the Los Angeles Times.