Trump's angry tweet about a common border incident prompts a Mexican investigation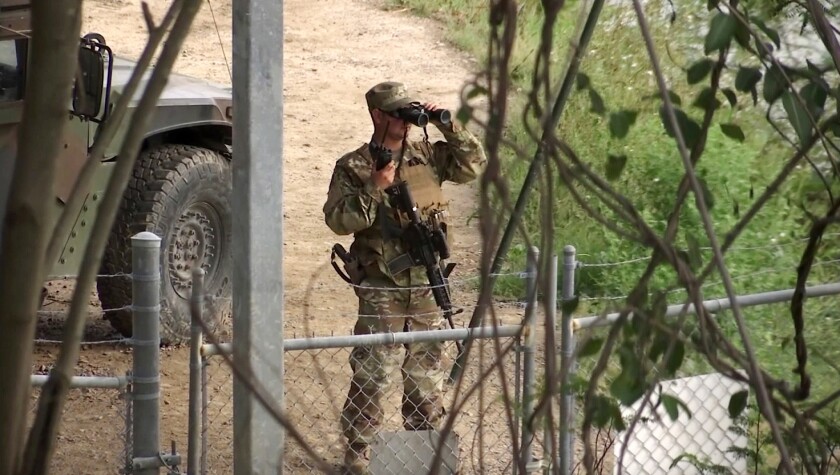 Reporting from Mexico City —
On April 13, a Mexican military patrol spotted an unmarked vehicle on the south side of the border fence outside El Paso, and confronted the two people inside.
They turned out to be U.S. Army soldiers, and the spot where they were parked was U.S. territory.
The two sides talked, the Mexican military contingent left, and the U.S. soldiers went on their way.
That's the story according to official statements from Mexico and the United States.
Then there is President Trump's version.
"Mexico's Soldiers recently pulled guns on our National Guard Soldiers, probably as a diversionary tactic for drug smugglers on the Border," he tweeted early Wednesday.
He went on: "Better not happen again! We are now sending ARMED SOLDIERS to the Border."
Mexican President Andres Manuel Lopez Obrador, eager to avoid any confrontation with the country's northern neighbor, vowed Mexico would investigate.
"We are going to analyze this incident … and will act in conformity with the law, within the framework of our sovereignty," Lopez Obrador told reporters here.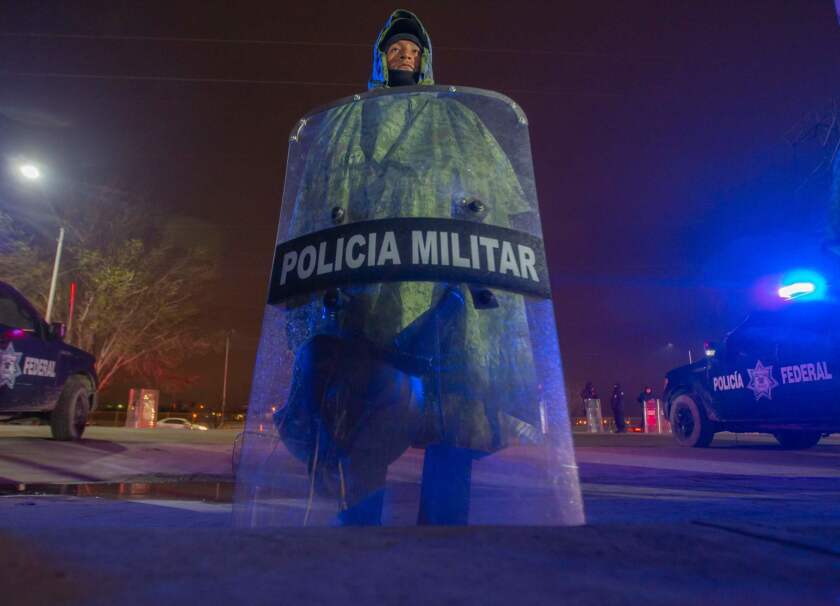 In separate statements, officials of both Mexico and the United States described the incident as a misunderstanding that was quickly corrected — and made no mention of weapons being drawn or any link to drug smuggling.
Mexican military members confronted two U.S. soldiers driving on U.S. territory "in a zone where the limits of the border are not clear," Mexico's foreign ministry said in a statement on Wednesday.
The incident was "common … [and] without consequences for both governments, which maintain permanent and fluid communication," the statement said.
After a "brief discussion" between soldiers from the two countries, the Mexican military members "departed the area," Maj. Mark R. Lazane, a U.S. military spokesman, said in a statement. "Though they were south of the border fence, U.S. soldiers remained in U.S. territory, north of the actual border."
U.S. border fences and barriers are often situated somewhat north of the actual international boundary line.
Since last fall, U.S. active-duty service members and National Guard units along the southwestern border have aided in installing concertina wire, erecting barriers and monitoring the border. Their deployment has added to an ongoing militarization of the almost 2,000-mile border, including beefed-up law enforcement and troop presence on both sides of the line.
In other tweets Wednesday, Trump renewed threats to close part of the border and "call up the Military" and called on Mexico to stop a "very big Caravan of over 20,000 people."
The Mexican media has reported that a widely dispersed caravan of 3,000 migrants from Central America is traveling north through Mexico.
The Mexican government has come under intense U.S. pressure to halt the flow of migrants, who often intend to seek political asylum in the United States. Trump has alternately assailed and praised Mexican enforcement efforts, and has periodically threatened to shut down the U.S. ports of entry along the border.
Mexico has been caught between the Trump administration's demands and Lopez Obrador's desire to respect the "human rights" of migrants by providing them with visas to remain in Mexico.
On Monday, Mexican authorities in southern Chiapas state raided the current caravan, detaining 367 migrants in the largest such enforcement effort to date against the caravans. It was unclear whether the roundup heralded a longer-term crackdown.
Mexican authorities have reported a surge in the number of migrants entering the country from Guatemala.
Some 300,000 migrants — mostly Central Americans but including Cubans, Haitians and people from Africa and Asia — have entered Mexico this year with the aim of crossing into the United States, Mexican Interior Secretary Olga Sanchez Cordero told reporters this week.
Staff writers David Cloud and Molly O'Toole in Washington and special correspondent Cecilia Sanchez in Mexico City contributed to this report.
Twitter: @PmcdonnellLAT
---
Must-read stories from the L.A. Times
Get all the day's most vital news with our Today's Headlines newsletter, sent every weekday morning.
You may occasionally receive promotional content from the Los Angeles Times.