In Panama, corruption inquiries grow after president's tenure ends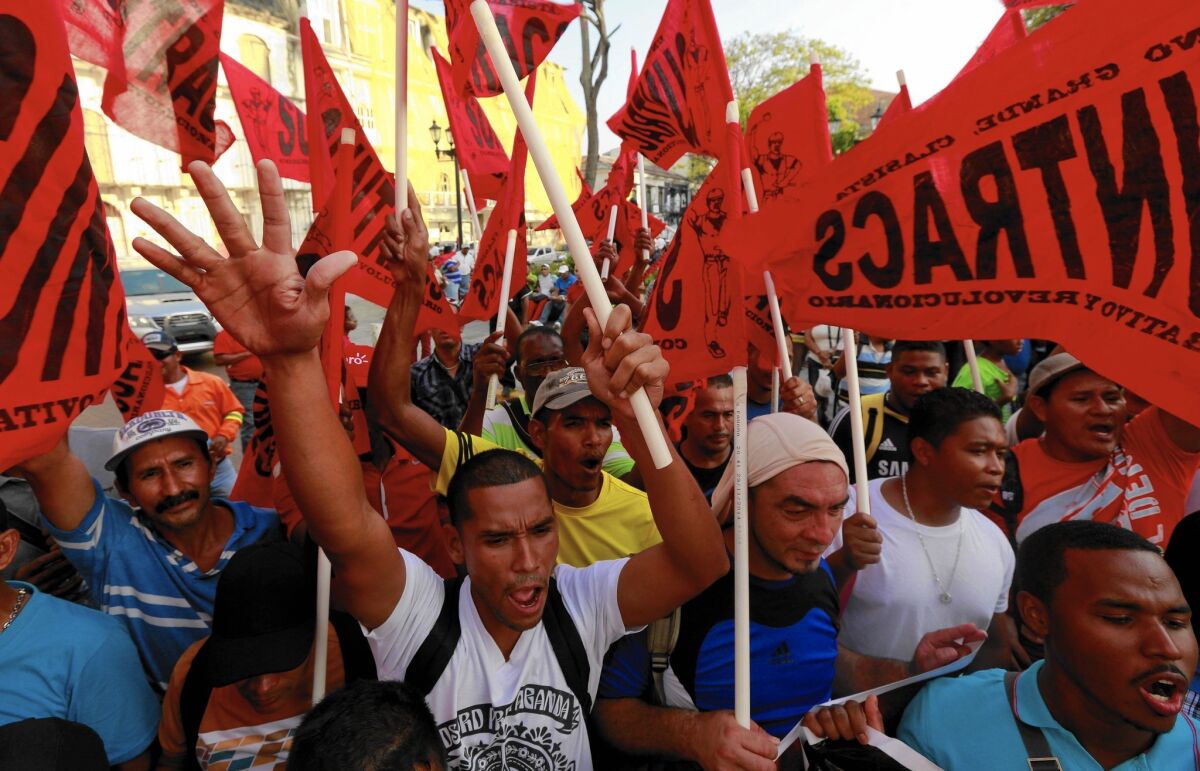 Reporting from Panama City —
Sometimes it seems that to find your way around today's Panama City, you must look up.
Like the canopy of a forest, about 300-odd skyscrapers have redefined the city's skyline. The relentless construction has helped fuel the highest growth rate in the Americas, year after year.
But now that boom may result in a bust — several busts, in fact, of prominent Panamanian figures under criminal investigation, perhaps including former President Ricardo Martinelli.
Corruption has long been seen as a way of life in little-regulated, intrigue-drenched Panama, the skinny canal-bisected country that links the two American continents. Yet the cases mounting in the aftermath of the Martinelli administration, which concluded in July 2014, are mind-boggling.
A passel of "megaprojects" that Martinelli pushed, such as sprawling hospital complexes, highways and Central America's first metro, routinely resulted in a cut of about 15% to the government, according to business groups, activists and politicians.
Where that money ended up is anyone's guess. Martinelli, a multi-millionaire supermarket tycoon, managed to accrue a public debt larger than all Panamanian presidents before him combined since the toppling of the military dictatorship a quarter of a century ago. (According to official stats, the debt stands at $23 billion in a country of 4 million people.)
Martinelli was stripped by Panama's electoral tribunal of his constitutional immunity last month and criminal charges may be forthcoming. His close ally, former Supreme Court President Alejandro Moncada Luna, was sentenced to five years in prison this year for illicit enrichment and document falsification, and several aides have been arrested.
Construction was only one area in which potentially illegal actions are now roiling the power structure. Martinelli also used an extensive system of wiretaps to spy on his enemies and friends alike.
Targets included politicians and activists, as well as priests, diplomats, trade unions, indigenous leaders and businessmen. The spying took place from boardrooms to bedrooms, according to revelations in the Panamanian press and a criminal investigation opened by Atty. Gen. Kenya Porcell.
The victims reportedly included Zulay Rodriguez, a leftist congresswoman and Martinelli critic. She found this out when a recording of a private conversation with her husband — a bitter argument, in fact — was made public in social media. She said an aide to the president also threatened to publicize a video of her having sex.
"First he tries to buy you," she said, "and then they try to humiliate you.... You could be Mother Teresa and they'd invent a scandal."
Martinelli attempted to enlist the help of the U.S. Drug Enforcement Administration to expand his wiretaps, according to leaked diplomatic cables. But the U.S. government demurred: "He made reference to various groups and individuals whom he believes should be wiretapped, and he clearly made no distinction between legitimate security targets and political enemies," said a cable written by then-U.S. Ambassador to Panama Barbara Stephenson, according to the anti-secrecy website WikiLeaks.
"His penchant for bullying and blackmail may have led him to supermarket stardom but is hardly statesmanlike."
Rebuffed, Martinelli bought sophisticated surveillance equipment from an Israeli company run by former Mossad and other intelligence agents, investigations revealed.
Martinelli "was a man who needed to know gossip," said Aurelio Barria Jr., a businessman and one of the leading civic opponents of Gen. Manuel Noriega, ousted by a U.S. invasion in 1989. "He would brag he knew things that no one knew. He would say that controlling information is power. He would let people know he knew things about them."
Like many, Barria initially supported Martinelli, who won election with 60% of the vote, and thought that because he was already so rich that he would not be tempted to stick his hand into the till. Wrong, Barria and others have now concluded; politics was big business for Martinelli, these critics say.
Martinelli also stacked the courts and other key government institutions in a bid to shield himself from scrutiny and change the constitution to allow him to run for reelection. Although his attempt to make it possible to run for reelection failed, he did handpick his party's candidate, who lost to Juan Carlos Varela, the president now pushing for many of the corruption inquiries.
"With all their excesses, the last presidents in Panama cared about appearances," said Ana Matilde Gomez, the attorney general ousted by Martinelli in 2010 who now is Panama's only independent member of Congress. Martinelli "didn't even care how it looked," she said.
Martinelli's lawyer did not respond to requests for comment. Martinelli is somewhere abroad, in the United States at last report, avoiding, so far, an accounting at home. He has said efforts to prosecute him are purely political. At a news conference in January, he denied ever stealing a penny. Then he boarded his private jet and flew to Italy.
Italy was an appropriate destination. One of the scandals dogging Martinelli involves allegations of $875 million in bribes paid to Martinelli associates by members of the Italian government of then-Prime Minister Silvio Berlusconi, according to testimony in a corruption trial in Naples. The money was reportedly intended for greasing several contracts for Italian companies to provide security equipment and jail construction in Panama.
Several other apparent abuses under investigation or raising eyebrows include:
A plan to provide schoolchildren with backpacks that cost about three times what it should have. Food to be provided to the poor that cost millions and was found to be tainted with glass shards. A public social security hospital left unbuilt when contractors absconded with their hefty advance. A highway extension with a $60-million cost overrun.
"It was craziness," said Adolfo Quintero, an economist and official with the Panamanian Assn. of Business Executives. "Or maybe something well-planned and intentional. "
Among many Panamanians, the view on Martinelli remains mixed. A common refrain: "He did a lot, he stole a lot."
"Whatever they might say about him, at least he put on his pants and built something for the country," Dioselena Vinegas, a hospital administrative employee, said as she emerged from the immaculate and efficient metro, which she and other travelers said shaved hours off their commute.
Martinelli built Central America's first subway for $1.7 billion. It opened just before he left office last year. More lines are planned.
Some who consider themselves victims of the rampant construction under Martinelli are the residents of Ciudad Radial, a community on the eastern edge of Panama City bordering critical wetlands that are home to, or a migratory stopping point for, as many as 2 million birds of various species.
The community is a collection of small 50-year-old homes belonging to working-class Panamanians who have watched from a distance as the capital is taken over by skyscrapers. One community over is Costa del Este, a new, fancy development of gated communities, with pseudo-Spanish homes and golf courses.
Under Martinelli ally Moncada, the former Supreme Court justice, a law protecting environmentally sensitive areas from development was suspended. That cleared the way for the construction of a 232-acre industrial park of 55 eight-story buildings as well as 20 other similar monster projects — right in the middle of the wetlands.
"This is a radical change that has brought environmental and pollution chaos," said Rosabel Miro, executive director of the Panama branch of the Audubon Society.
Standing on the edge of the wetlands, she ticked off the bird species she observed flying by. In 45 minutes, she spotted the black-bellied whistling duck, the fork-tailed flycatcher, the ruddy ground dove, the orange-chinned parakeet and numerous great white egrets.
Ciudad Radial resident Ricardo Mejia Miller, 47, remembers as a child walking out his front door into mud flats and marshes, where he saw monkeys, raccoons and storks frolicking among the forests of native panama jipijapa trees and mangroves. He and his siblings would fish for fresh clams and crab.
Developers have walled off what was the wetlands area with cracked concrete slabs and built a porous canal that causes the Ciudad Radial neighborhood to be flooded, routinely, with the lightest rainfall, even in the dry season. The developers' earth-moving machines grind on day and night.
Neighborhood resident Ricardo Mejia Miller thinks flooding is the developers' design to drive the residents away. He leads a grass-roots protest movement to stop construction.
Under the new post-Martinelli government, residents have been granted a temporary reprieve while the project is re-studied. But the build-build-build climate is entrenched, no matter whom it might hurt.
"They are the upper class," Mejia Miller said of the tightly aligned government and the builders. "We here are the blacks, the indigenous and the poor. They think they can just walk all over us."
Twitter: @TracyKWilkinson

---
Must-read stories from the L.A. Times
Get the day's top news with our Today's Headlines newsletter, sent every weekday morning.
You may occasionally receive promotional content from the Los Angeles Times.