The Paris climate accord is about to be signed. Here's what happens next
Global climate rehab begins with a three-step process: Adopt. Sign. Join.
Four months after adopting the historic Paris climate accord, almost all of the nations of the world are expected to sign it at a ceremony at the United Nations headquarters in New York. Secretary of State John F. Kerry will represent the United States.
Yet for all the attention given the events on Friday, it is only step two in the process. It could be many more months or longer before the accord has the force of international law. That requires completing step three.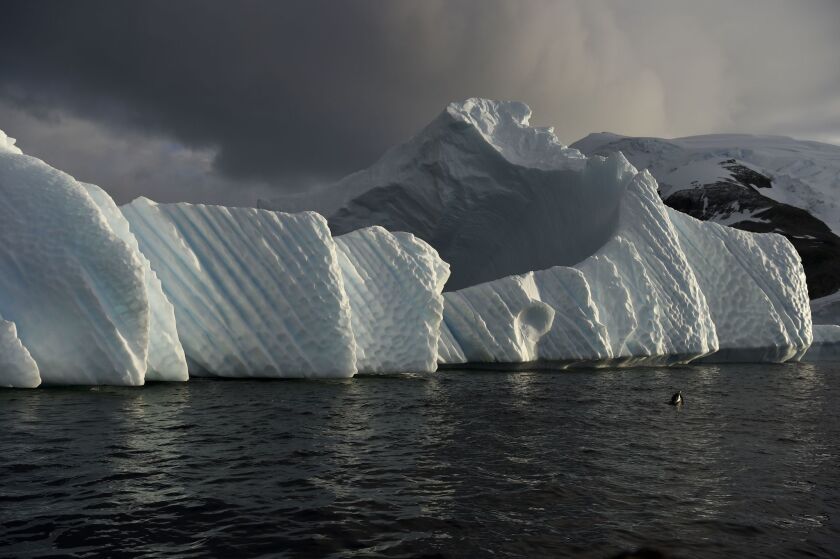 What needs to happen next for the accord to become law?
Signing the accord is not the same as "joining" it. For it to become law, at least 55 countries representing at least 55% of global emissions have to formally join it by ratifying or approving it within their national governments.
There is no fixed timeline for how this happen, but at a minimum it is expected to take several months. The United States and China, which represent about 40% of all emissions, have said they intend to join this year. The European Union, which accounts for about 12%, has met delays in its effort.
A senior State Department official told reporters Wednesday that, based on informal conversations, "more than a dozen" nations are prepared to join soon, "but we don't have confirmation really precisely. Part of what I think we'll get on Friday is that understanding."
See the most-read stories this hour >>
Different countries have different ways of approving the accord. The United States is among the countries that will enter it through executive action. China's centralized government is expected to approve it quickly.
India, whose participation is regarded as crucial because it is one of the world's fastest-growing economies, may need approval from its Parliament. Some other countries require legislative approval as well.
"Entry into force in some sense is the difference between 'I'm interested in doing it,' 'I'm going to try to do it,' and 'I will do it, I am doing it,'" the State Department official said.
"That's a non-trivial distinction to draw for a country as it develops its policies and measures and its plans. And to me, the issue here – and the reason Friday's a big deal – it's a signal of intent. And the reason that the entry into force is yet a bigger deal, it's the change in the intent and the action and the reality."
If congressional approval is not required, could a new American president pull out of the agreement?
Yes, though some experts view that as unlikely.
Democrats Hillary Clinton and Bernie Sanders support the accord. Republicans Donald Trump and Ted Cruz question climate science and have criticized the accord.
If Trump or Cruz is elected and decides he wants to withdraw from it, the terms of the accord would require them to wait four years before doing so. Some experts say public support for the accord at home and among other nations would prevent that from happening.
Elliot Diringer, a top aide to former President Clinton who is now executive vice president of the Center for Climate and Energy Solutions, said backing out of the agreement would make it harder for the United States to win support for its other international priorities.
"To renounce it would undermine United States credibility and influence and the very significant progress made in Paris," Diringer said in a conference call with reporters Thursday.
Are the United States and other countries on track to meet their obligations?
This is probably a more important question than whether the agreement will hold up and, in short, the answer is no.
The stated goal of the accord is to keep global temperatures well below 2 degrees Celsius, or 3.6 degrees Fahrenheit, above preindustrial levels. That is a level scientists have said could avert the most damaging effects of climate change. Yet other scientists say 2 degrees is too much, prompting a continuing effort to strengthen the goal to 1.5 degrees.
This is one goal of nations that feel most threatened by climate change, including island nations facing rising seas.
If all countries honored the commitments they have made so far, warming may be limited to only about 2.7 degrees, according to various estimates. The World Resources Institute has an interactive map that allows users to tally the emissions by different countries – and what would happen if they reduce emissions.
The good news is that the Paris agreement spurs countries to increase their goals over time. The next target is in 2018. Many supporters of the accord point to the decline of coal and the rise of low-cost forms of renewable energy as evidence that momentum is shifting markets toward clean energy, which could make it easier for nations to be more ambitious in their goals.
See more of our top stories on Facebook >>
The United States may need to increase its goal. Although it has said it will reduce its greenhouse gas emissions by 26% to 28% below its 2005 level in 2025, the plans it has in place fall short of that target, according to some estimates.
Adding a complication, meeting that goal depends on the Obama administration's Clean Power Plan to reduce emissions from power plants. The plan helped position the United States as a leader at Paris, but in February it was temporarily stayed by the Supreme Court while a lower court considers a challenge by some states and industries that say the Environmental Protection Agency lacks the authority to enforce it.
The high court may not rule in the case for more than a year.
ALSO
Happy Earth Day! 6 places to celebrate in California this weekend
The world's trash crisis, and why many Americans are oblivious
Obama poised for triumph with Paris pact, but his environmental agenda faces obstacles at home
---
Must-read stories from the L.A. Times
Get the day's top news with our Today's Headlines newsletter, sent every weekday morning.
You may occasionally receive promotional content from the Los Angeles Times.