In Peru, an agonizing wait to learn who will be president
Reporting from Lima —
Alicia Perez Gomez is on edge, waiting nervously for the results of Peru's closely contested presidential election between Keiko Fujimori and Pedro Pablo Kuczynski. On Tuesday morning, two days after the balloting, votes were still being counted and the race was still too close to call.
"What's the matter with ONPE? Maybe they don't know how to do their job," said Gomez, referring to the Spanish initials of the electoral commission that is tallying the votes. She stood vigil Tuesday with dozens of others outside the commission's Lima headquarters. "We're going to sleep here until it's done."
Many Peruvians share Gomez's anxiety as the results of the historically close presidential race trickle in. No violent clashes between partisans have been reported, as both candidates urge followers to remain calm until a winner is declared. But tensions are running high.
A Kuczynski win would demonstrate the depths of Peruvians' fears about electing another Fujimori. Although Keiko has built a solid career as party leader and congresswoman, her father Alberto, an authoritarian who served from 1990 to 2000, is currently serving a 25-year jail sentence for corruption and human rights abuses.
See the most-read stories this hour >> »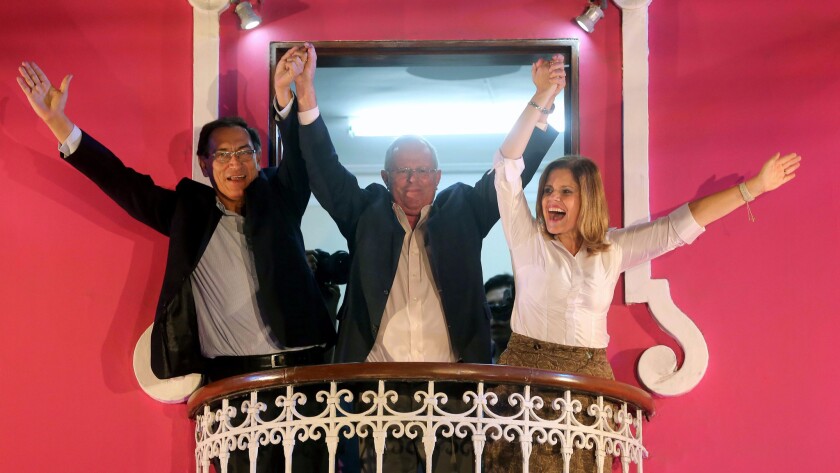 Fujimori supporters, on the other hand, see her as the mano duro, or strong hand, that Peru needs to combat sharply rising violent crime and drug trafficking. She also campaigned on promises to bring more roads, schools and clinics to remote rural areas, as her father did when he was in office.
Although both are centrists, Kuczynski, 77, framed his candidacy as that of an experienced elder statesman with a steady hand on the nation's commodities-driven economy. Fujimori directed a more populist campaign, promising evangelicals that she would oppose same-sex marriages, and law and order proponents that she would build more prisons.
Fujimori remained quiet as the votes were being counted, issuing a brief statement Monday from the headquarters of her party Popular Force: "We are waiting with prudence."
Her opponent expressed a similar sentiment. "We are waiting with patience and tranquillity," said Kuczyniski, a former finance minister, in comments from his balcony to followers outside his house Monday evening.
With 97% of the votes counted, Kuczynski claimed 50.1% of votes counted versus Fujimori's 49.9%, for a 47,000 vote lead. ONPE president Mariano Cucho said it may be Thursday before all outstanding votes can be counted and a definitive result can be declared.
About half the remaining votes come from rural areas where Fujimori enjoys much support, while many of the rest are from foreign countries where Kuczynski is thought to have an advantage among expatriates. Analysts said Tuesday they thought Fujimori would collect a majority of remaining votes but possibly not enough to overtake her opponent.
NEWSLETTER: Get the day's top headlines from Times Editor Davan Maharaj >> »
"For Fujimori to achieve a tie, she would have to have 73% of the remaining votes. Given where the remaining votes [to be counted] are coming from, she should be able to make up some ground, but just a little," said Ivan La Negra, a political science professor at Catholic University in Lima.
Interviewed outside ONPE, Fujimori activist Alberto Tudela said he wasn't giving up on his candidate. "We can still win. We lack the rural vote where she is strong. We won't accept defeat until 100% of votes are counted."
If Kuczynski maintains his razor-thin margin, it may well be thanks to Veronika Mendoza, a socialist congresswoman who finished third in the first round of presidential voting held in April. (As the top two vote-getters, Fujimori, with 40%, and Kuczynski, with 20%, advanced to the runoff.) Mendoza swung her support to Kuczynski in the final week of the campaign, which seems to have helped him win majorities Sunday in several southern states where Mendoza won in the first round, said David Scott Palmer, a Boston University international relations professor who is in Lima to observe the election.
"The south was not expected to go his way. The 1% to 2% of votes that he picked up as a result of her endorsement are why he is ahead," Palmer said.
Special correspondent Leon reported from Lima and special correspondent Kraul reported from Bogota, Colombia.
MORE FROM WORLD
The biggest worry in crisis-ridden Venezuela: crime
Can another Fujimori win Peru's presidency? Surge by opponent makes race a toss-up
Early results show major losses for Mexico's ruling party in nationwide elections
---
Must-read stories from the L.A. Times
Get all the day's most vital news with our Today's Headlines newsletter, sent every weekday morning.
You may occasionally receive promotional content from the Los Angeles Times.