Another former Peruvian president is sent to jail, this time as part of growing corruption scandal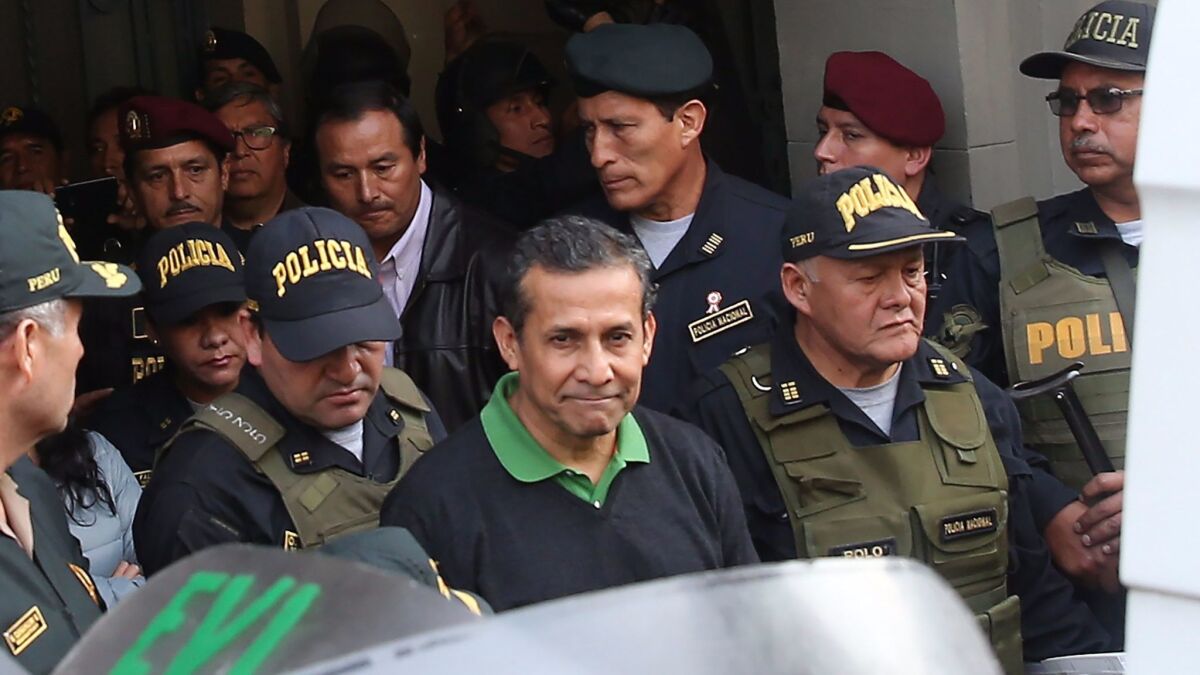 Lima, Peru —
Former Peruvian President Ollanta Humala and his wife were in jail Friday after a judge ordered the couple detained for up to 18 months while prosecutors pursue money laundering and other charges against them.
Their detention means that two former Peruvian presidents are currently incarcerated — Alberto Fujimori is serving a 25-year sentence for human rights violations and corruption stemming from his autocratic rule in the 1990s.
A third ex-Peruvian president, Alejandro Toledo, is a fugitive from justice on corruption charges, reportedly having fled to the United States.
Humala, a former military officer who held office from 2011 to 2016, turned himself in to authorities in Lima on Thursday.
Humala and his wife, Nadine Heredia, both denied wrongdoing, and Humala denounced the allegations as an "abuse of power" in a Twitter message before being locked up. The couple is expected to appeal their pre-trial confinement, arguing that neither of them is a flight risk.
Humala and his wife were jailed a day after former Brazilian President Luiz Inacio Lula da Silva was sentenced to almost 10 years in prison in his own graft scandal. Lula remains free on appeal.
Humala and Lula were both leftists whose respective governments were once seen as part of a left-wing tide sweeping through South America. But Humala completed his term an unpopular figure, accused by many former supporters of betraying his proclaimed social justice agenda. His Nationalist Party movement is in tatters.
Humala is also under investigation for allegedly receiving cash illegally from the late Venezuelan President Hugo Chavez, a one-time mentor of Humala's.
Both ex-Presidents Humala and Toledo, the latter a centrist who governed from 2001 to 2006, have been caught up in the cascading scandal engulfing the Brazilian construction conglomerate Odebrecht, which, authorities say, liberally doled out bribes and kickbacks as it won major construction projects throughout Latin America.
Last December, the U.S. Department of Justice charged that Odebrecht and a linked petrochemical company used what prosecutors labeled a "Department of Bribery" that "systemically paid hundreds of millions of dollars to corrupt government officials on three continents."
Odebrecht agreed to pay a fine of some $2.6 billion to resolve charges with authorities in the United States, Brazil and Switzerland, U.S. authorities announced last year.
In Peru, Odebrecht has been involved in major transit, highway, energy and other construction projects dating back more than a decade.
Officials in Peru say the investigation into the activities of the Brazilian construction conglomerate is continuing. Humala and his wife stand accused of receiving some $3 million in bribes, while Toledo allegedly pocketed $20 million. Toledo, like Humala, has denied the charges.
As for Fujimori, current Peruvian President Pablo Kuczynski has said he may issue a pardon in what is seen here as a bid to win support among Fujimori's supporters. Fujimori's daughter, Keiko Fujimori, who heads the right-wing Popular Force party, narrowly lost the 2016 presidential race in a runoff against Kuczynski.
Special correspondent Leon reported from Lima and staff writer McDonnell from Mexico City.
twitter: @mcdneville
ALSO
A year after failed coup, a Turkish newspaper is in the crosshairs of an increasingly powerful president
Israel built a wall. But Palestinian laborers continue to sneak through daily
Chinese Nobel laureate Liu Xiaobo's death sparked an outpouring of grief online. Then came the censors
---
Must-read stories from the L.A. Times
Get the day's top news with our Today's Headlines newsletter, sent every weekday morning.
You may occasionally receive promotional content from the Los Angeles Times.