Peru's president survives impeachment vote on corruption charges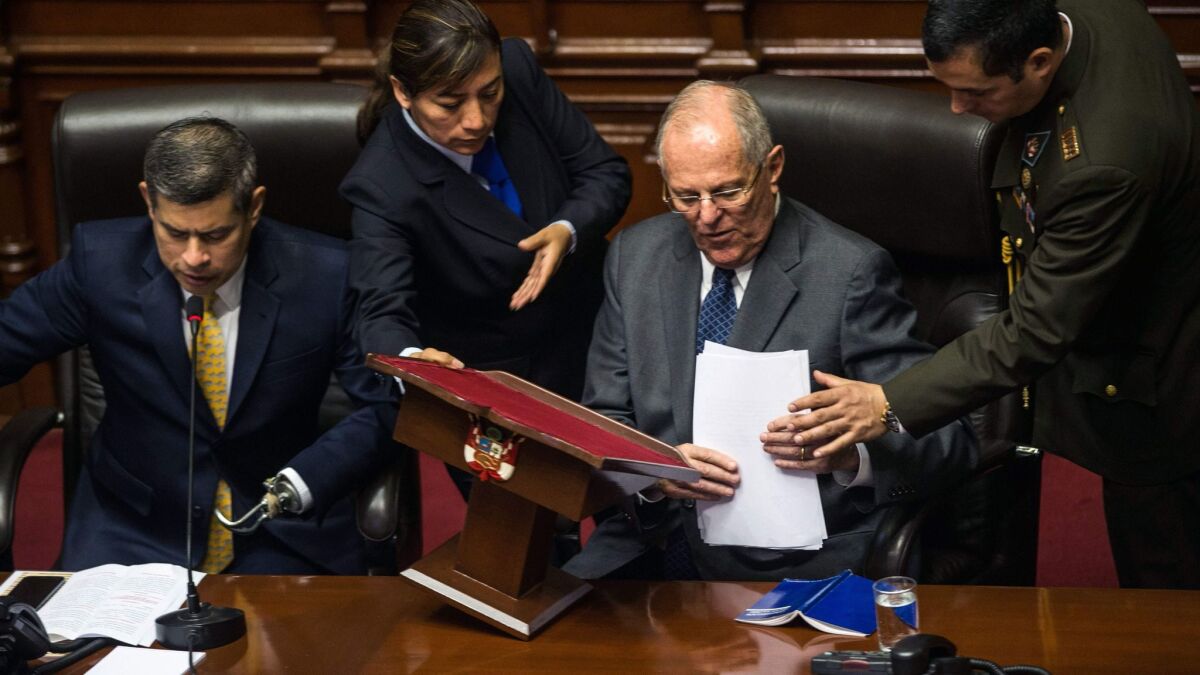 Reporting from Lima, Peru —
Peruvian President Pedro Pablo Kuczynski late Thursday survived an attempt by congress to remove him from office as lawmakers fell short of the two-thirds majority required. After hours of debate, the president's opponents could summon only 78 votes to remove, instead of the 89 needed.
The president had gone before congress earlier in the day to refute corruption charges related to business dealings with a Brazilian construction company accused of bribing officials in several Latin American countries to secure contracts.
Kuczynski told Congress he was innocent of any "moral incapacity" charges, while apologizing for not being more attentive to business issues.
"But that doesn't make me corrupt.… What is at play here is not the issue of removing a president, but a democracy," Kuczynski said.
After the president's comments, the legislature began debating whether the charges warrant removing Kuczynski as president. The measure finally came to a vote with 78 voting to remove, 19 against and 21 abstentions.
Analysts considered Kuczynski's chances of losing the presidency high because a majority of seats are controlled by opposition leader Keiko Fujimori, whom Kuczynski defeated in the 2016 presidential race.
Fujimori, the daughter of disgraced former President Alberto Fujimori and twice a losing candidate for president, also faces accusations of having taken illegal contributions from the same company, Odebrecht. Kuczynski's supporters say she was engineering the president's firing to distract attention from still undetermined sums her campaign allegedly received from Odebrecht in 2011.
Cynthia McClintock, a Peru expert and professor at George Washington University, described the fast-moving impeachment process as a rush to judgment, especially in light of the fact that the much older corruption case against Keiko Fujimori has proceeded at a snail's pace.
"That is the question, why Kuczynski and not Keiko? It's the source of all the cynicism and disillusion," McClintock said. "What is worse is the inconsistency in the application of the law."
The Congress voted Nov. 14 to bring charges against the president and force Thursday's hearing and a vote.
Fujimori supporters hold 71 seats but said they had formed alliances to gain the two-thirds required for removal.
Recent Peruvian media reports indicate that an investment firm co-owned by Kuczynski called Westfield Capital received $787,000 from 2004 to 2007 when he was economy minister under then-President Alejandro Toledo.
The impeachment process is being held against a backdrop of enormous public discontent, evidenced by the tens of thousands of angry protesters who participated last Saturday in organized anti-corruption marches in Lima and 12 other cities. The theme of the marches emblazoned in banners was: "All the Crooks Must Go."
The so-called Car Wash scandal centered around the Brazilian construction giant Odebrecht and its payment of millions of dollars in bribes to high level officials in a dozen Latin American countries has taken a huge toll in Peruvians' confidence in public officials.
Not only have Kuczynski, Toledo and Humalla all been stained by the scandal, but another former president Alan Garcia also has been mentioned by Brazilian prosecutors as having received illegal payments.
Kuczynski on Thursday told legislators that his firm received money from Odebrecht but said he knew nothing about the dealings, having left the company under the control of partner Gerardo Sepulveda when he became a government minister and building a "Chinese wall" to shut himself off from all company matters.
"I do not enjoy the presumption of innocence, as many of you have already said you favor my removal," said Kuczynski, insisting he never used his office to favor a person or business during his time as minister.
In a televised speech Wednesday, Kuczynski denounced the impeachment process as amounting to a "legislative coup d'etat" and a rush to judgment. He said his two vice presidents would resign if he was booted from office, leaving unclear who would succeed Kuczynski as president.
But Marco Arana, a leftist congressman from the Broad Front party, told reporters after Kuczynski's speech Wednesday that, although he was receptive to parts of Kuczynski's defense, he would vote for the president's removal to avoid the stain of "institutionalized corruption, the privatization of the state."
"One day he is a businessman, the other a minister," Arana said. "The president has shown how the state submits to private interests.… He doesn't think there is anything wrong, that since [Westfield finances] are accounted for, there is no conflict of interest."
Special correspondents Leon and Kraul reported from Lima and Bogota, Colombia, respectively.
---
UPDATES:
11:10 p.m.: Updated with the vote result.
3:25 p.m.: This article was updated to indicate the legislature's debate on Kuczynski's status was ongoing into Thursday evening.
This article was originally published at 10:40 a.m.
Must-read stories from the L.A. Times
Get the day's top news with our Today's Headlines newsletter, sent every weekday morning.
You may occasionally receive promotional content from the Los Angeles Times.