More violence reported as Pope Francis visits the homeland of Chile's indigenous Mapuche
Reporting from Temuco, Chile —
Pope Francis brought a message of peace and reconciliation Wednesday to a picturesque area of central Chile that has experienced a rash of violence attributed to indigenous Mapuche activists struggling to reclaim ancestral lands.
In the third day of his swing through Chile, Francis flew to the city of Temuco, 420 miles south of the capital, Santiago, in Chile's heavily forested Araucania region.
"We have to insist that a culture of mutual esteem may not be based on acts of violence and destruction that end up taking human lives," Francis said at a somber Mass. "You cannot assert yourself by destroying others, because this only leads to more violence and division. Violence begets violence; destruction increases fragmentation and separation. Violence eventually makes a most just cause into a lie."
The Mass — which featured indigenous themes and mixed European and indigenous melodies — was held on the sprawling grounds of an airfield that was previously a military base.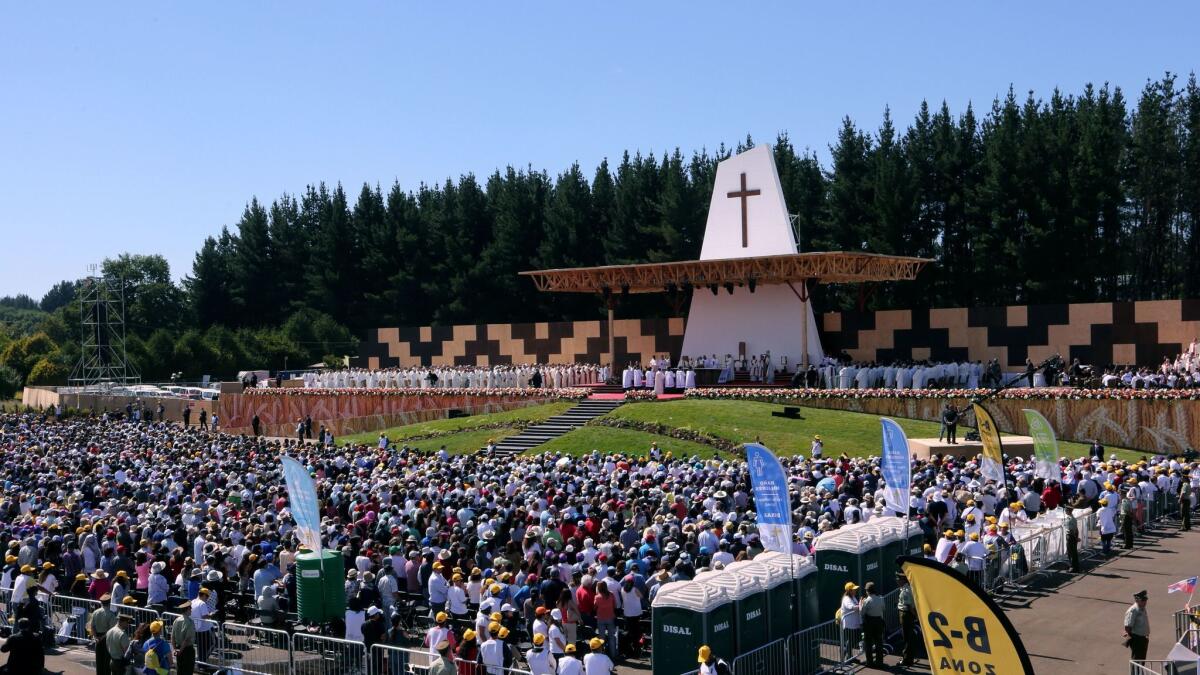 Activists say the land where the airfield is situated was taken from the Mapuche, part of what the group calls more than a century of land grabs that have left its ancestral terrain greatly reduced.
The base also reportedly served as a detention and torture center during the military dictatorship of Gen. Augusto Pinochet that ruled Chile from 1973 to 1990.
The Araucania area "has a sorrow that cannot be silenced, the injustice of centuries," the pope said.
Francis' visit has seen an uptick in attacks on churches and other targets in Araucania and in Santiago.
A number of new attacks were reported overnight Tuesday in Araucania, including the shooting of a police officer, the torching of two Roman Catholic chapels and the destruction of two stationary helicopters belonging to a forestry company. The police officer, who was wearing body armor, was not seriously injured, said authorities, who vowed a brisk response to the violence.
"There will be no weakness" toward those engaged in such attacks, Gen. Bruno Villalobos, head of Chile's national police force, the Carabineros, told reporters.
The pope began Wednesday's Mass reciting some words in the Mapuche language.
The Argentine-born pope, the first pontiff from the Americas, has long been an advocate for indigenous groups and has highlighted their struggles.
During a 2015 visit to Bolivia, Francis apologized for the "grave sins" committed by Roman Catholic authorities against indigenous peoples during the colonial era.
The long fight of the Mapuche people at times has turned violent »
The Mass on Wednesday featured various indigenous themes. At least one speaker addressed the crowd at length in the Mapuche language. People in Mapuche and other indigenous dress were prominent participants.
The Araucania region, where roughly a third of the population claims Mapuche roots, has seen vast tracts of trees felled for commercial development.
In his comments during the Mass, Francis deplored the "deforestation of hope," a reference to the marginalization of much of the indigenous community in the region.
After his speech, the pope met with a number of community representatives, including Mapuches, a Haitian immigrant — one of a growing number of Haitians who have settled in Chile — and a prominent member of the Chilean-born community of German and Swiss origin.
Tensions between Mapuches and the descendants of European settlers, mostly Germans and Swiss, some of them prominent landowners and businessmen, have risen dramatically in recent years in the Araucania area.
Public reactions to the pope's visit were generally positive.
"Francis brought an injection of spiritual power," said Alex Hund Diethelm, a prominent agricultural engineer and businessman who is of German ancestry. "He listened carefully to everyone's point of view. He is a man of reason."
Juan Carlos Reinao, an area mayor of Mapuche origin, told a local radio station that he met in private with Francis. "We were happy when Chileans were not around," he said.
People of indigenous background represent about 9% of the Chilean population, authorities say. The Mapuche are the nation's largest indigenous group, numbering some 1.4 million, mostly in the Araucania region.
Many of the Mapuches' grievances date from the 19th century, when the Chilean state, settlers and others took over much of the group's ancestral lands. The group lost additional land during Pinochet's rule.
The return of democracy in 1990 has seen successive governments give land back to the Mapuche. But many indigenous activists call the land returns insufficient. Meantime, local land owners who are not Mapuche say they have been in the area for generations and are not responsible for past land thefts.
The Araucania is one of the poorest areas of Chile, which boasts one of Latin America's most dynamic economies. Many Mapuche communities live on small agricultural plots, farming potatoes and wheat, or make their living in the coastal fishing industry.
After the Mass, the pope was scheduled to meet with community leaders. Authorities say a minority of Mapuche activists has engaged in violence.
In recent days, attackers have firebombed a number of churches in Santiago and near Temuco in apparent protests of the pope's visit. No one has been injured, and damage has been minor in the crude attacks, which typically feature gasoline placed in bottles and ignited. The strikes resemble other attacks in recent years in the Araucania region.
Authorities have not publicly named any suspects in the series of church bombings.
The pope's South American visit continues Thursday in Peru.
ALSO
Pope Francis begins visit to Chile and Peru with apology for sexual abuse by priests
"People will have to decide whether hiding from immigration agents is better than hiding from MS-13."
At the busiest airport in South America, a cat-and-mouse game to catch cocaine smugglers
Jorge Poblete in Santiago and Liliana Nieto del Rio in Temuco contributed to this article.
Twitter: @PmcdonnellLAT
---
UPDATES:
4:20 p.m.: This article has been updated with details of the pope's speech and reaction to his visit.
This article was originally published at 9:50 a.m.
Sign up for Essential California for news, features and recommendations from the L.A. Times and beyond in your inbox six days a week.
You may occasionally receive promotional content from the Los Angeles Times.