"People will have to decide whether hiding from immigration agents is better than hiding from MS-13."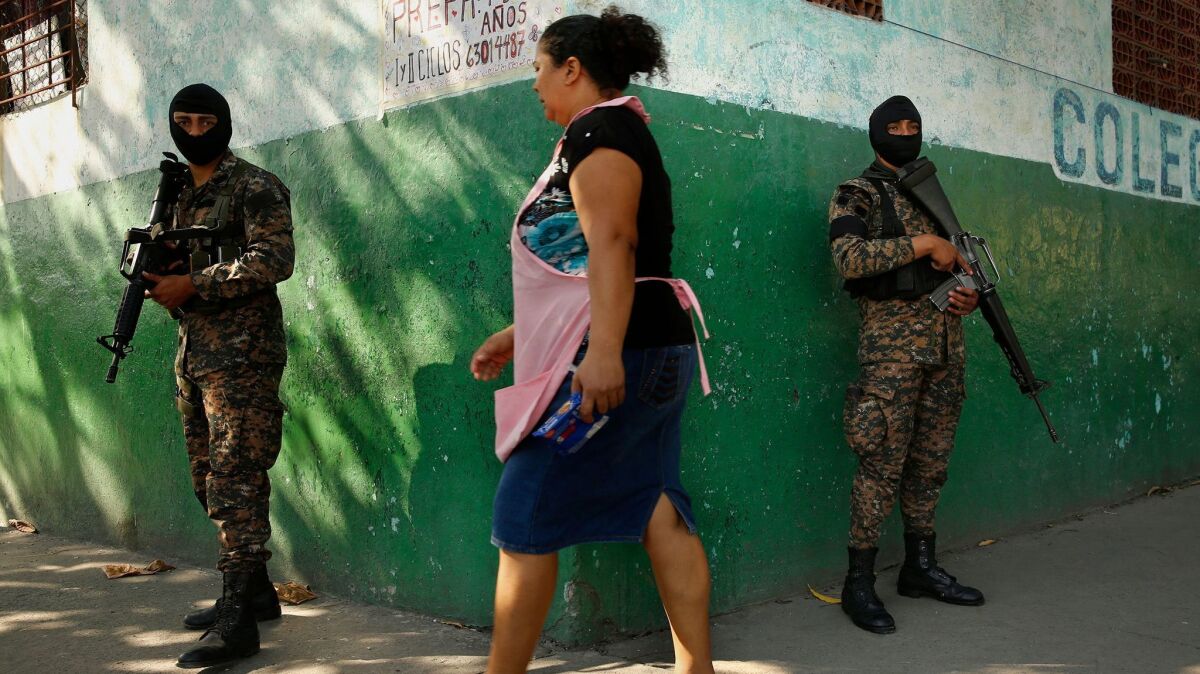 Reporting from Mexico City —
Nearly 17 years ago, twin earthquakes rocked El Salvador a month apart, killing more than 1,200 people, displacing 1.3 million and damaging 1 in 5 homes.
The destruction was so vast that then-President George W. Bush decided to help some Salvadorans living in the United States by granting them temporary protected status, which shielded them from deportation and allowed them to work legally. El Salvador, U.S. officials said at the time, was unable "to handle adequately the return of its nationals."
On Monday, the Trump administration reversed that decision, announcing that it will cancel temporary residency permits for more than 260,000 Salvadorans. The Department of Homeland Security said in a statement that El Salvador has sufficiently recovered from the natural disasters and that "the original conditions caused by the 2001 earthquakes no longer exist."
But critics of the decision say El Salvador is in many ways worse off than it was in 2001, and is not at all prepared for an influx of returning citizens.
While most buildings damaged by the earthquake have been repaired, many people who lost homes still lack adequate housing, experts said. Meanwhile, the country has become engulfed in violent street warfare fueled largely by the mass deportations of gang members from the U.S. Soaring homicide rates have scared off investors — imperiling an already fragile economy — and have turned El Salvador into one of the most dangerous nations on Earth.
"This is really bad news for our country," Nayib Bukele, the mayor of San Salvador, said in a phone interview Monday. "Our country doesn't create opportunities for the Salvadorans who live here. Imagine what we're going to do with 200,000 more coming in."
Bukele said El Salvador is even less prepared to receive deportees and returnees than it was in 2001.
Last year's homicide rate of 60 per 100,000 inhabitants was nearly 60% higher than in 2001. One in 3 people live in poverty, and each day hundreds of Salvadorans leave the country to seek opportunity or safety in Mexico or the U.S. "Even our credit rating is much worse now," said Bukele, a candidate in next year's presidential election.
Jeannette Aguilar, who runs a public polling center at Central American University in San Salvador, pointed out that the Salvadoran economy depends heavily on remittances from the U.S., with money from abroad making up about 17% of the country's gross domestic product.
Mass U.S. deportations would cripple El Salvador's economy and worsen security, she said: "Without a doubt this will be a crisis of grand dimensions."
Trump officials argue that the U.S. has been deporting migrants to El Salvador for years, and that temporary protected status was always supposed to be temporary. Last year, the administration ended the program for two other countries, Haiti and Nicaragua. Recipients from those nations, like those from El Salvador, will have an 18-month grace period to leave the U.S. or apply for other forms of immigration relief, officials said.
The broad attack on the program suggests that the Trump administration's decision on El Salvador was motivated more by ideology than a close examination of living conditions in the country, said Lucas Guttentag, who served as a senior advisor at the Department of Homeland Security under President Obama and who now teaches law at Stanford University.
"There is a clear hostility toward this program," said Guttentag, who said he believes the administration should have considered a range of factors, including El Salvador's economic and security situations, before telling hundreds of thousands of migrants to return home.
Bush and then Obama issued 18-month extensions of the program for Salvadorans nearly a dozen times after it was first issued, citing the country's fragile economy and rampant gang violence. In 2016, the Obama administration said El Salvador was unable to handle the return of its citizens because "the government continues to struggle to respond adequately to increasing levels of crime, and there is little confidence the security situation will improve."
Violence has skyrocketed in the country, in part because of the large-scale deportation of MS-13 gang members to El Salvador beginning in the 1990s. A crackdown by El Salvador's government has reduced the homicide rate from its peak of 104 killings per 100,000 residents in 2015, but the decrease has been accompanied by allegations of extrajudicial killings by police and soldiers.
The violence resulted in a surge of migration northward. More than 200,000 Central Americans — many of them from El Salvador — were detained at the border in fiscal year 2016. Last year, 17,512 Salvadoran children were apprehended at the border.
The U.S. has invested hundreds of millions of dollars in aid in El Salvador and neighboring Honduras and Guatemala in an attempt to build prosperity, reduce violence and slow migration from those countries. U.S. officials say they take partial credit for the decrease in killings in El Salvador.
But critics say President Trump has backed policies that could undermine that work. Last year, his administration ended an Obama-era program that granted temporary legal residence to Central American children who could prove they were under threat of violence. The program allowed children to apply for the help in their home countries — and was seen as a safe and legal alternative for children who might have otherwise sought to migrate alone.
Adriana Beltran, an expert on Central America at the think tank Washington Office on Latin America, said Trump's latest decision represents "a complete contradiction to what the U.S. government has said it is trying to do in the region."
Despite losing protections, many Salvadorans may not leave the U.S. on their own accord, preferring to live without papers rather than return to a home they barely know.
"The vast majority aren't going to go back on their own, they're just going to go back to clandestine lives," said Pablo Alvarado, an immigrant from El Salvador who had temporary protected status before he married an American and became a U.S. citizen.
"People will have to decide whether hiding from immigration agents is better than hiding from MS-13," he said.
Alvarado, who heads the National Day Laborer Organizing Network, a labor union for migrant workers, estimated that about 125 people from his rural village back home have been living in the U.S. legally with temporary protected status. He is afraid many of them will eventually be deported.
"The emotional impact is immeasurable," he said. "Imagine leaving your family and going to a place you haven't seen in 15 years, amid all that violence, amid all that poverty.
"When I think about what's going to happen in that little village, my stomach turns."
Twitter: @katelinthicum
---
UPDATES:
6 p.m.: This article was updated with comments from Pablo Alvarado, an immigrant and labor organizer.
This article was originally published at 5:15 p.m.
Must-read stories from the L.A. Times
Get the day's top news with our Today's Headlines newsletter, sent every weekday morning.
You may occasionally receive promotional content from the Los Angeles Times.