Armed supporters of Venezuela's government clash with opposition lawmakers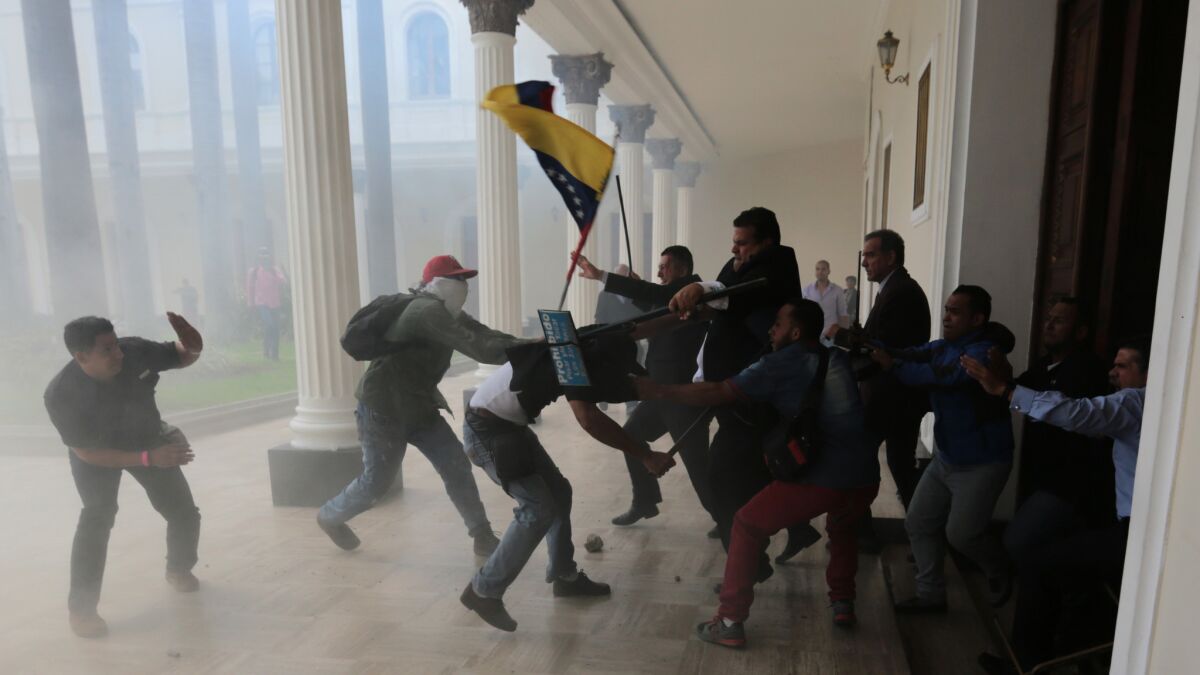 Reporting from Caracas, Venezuela —
Armed supporters of President Nicolas Maduro invaded the National Assembly complex in Caracas on Wednesday and attacked opposition deputies with metal tubes and stones, injuring at least six legislators and several assembly staff members.
The attack, which occurred during Venezuela's independence day observances, added to mounting tensions ahead of a July 30 vote to authorize a new constitutional convention.
Backed by Maduro, the measure is opposed by a majority of Venezuelans, according to polls. Critics describe the vote as a maneuver to neuter the opposition-controlled congress.
The invasion, which went unimpeded by national guard officers tasked with providing security, further illustrated the ongoing problems in the increasingly polarized country. Since late March, Venezuela has been convulsed with protests that have left 91 dead and 2,500 injured.
In almost daily marches often led by opposition members of the assembly, Venezuelans are protesting food shortages, violent crime, a collapsed economy and an autocratic government. Maduro has responded with increasingly repressive measures to contain the marchers, including more than 3,000 arrests.
While the floor of the assembly has been the scene of partisan violence in recent years, past incidents usually involved fights between opposing legislators or with security staff. The Wednesday clash was stunning for its breach of security of congress, observers said.
Opposition member Tomas Guanipa showed reporters what he said were shell casings of bullets fired at the assembly from the street. He described the attack as part of a terror campaign by Maduro "using disproportionate violence to maintain himself in power."
On June 27, a video circulated in social media of assembly President Julio Borges being manhandled and pushed by national guard unit commander Bladimir Lugo when Borges complained of rough treatment by members of security staff.
The assembly's press office identified the injured deputies as Armando Armas, Juan Guaido, Americo de Grazia, Jose Regnault, Nora Bracho and Luis Padilla. All are members of parties that oppose Maduro.
"We will defend Venezuela, which is why we were elected," said Armas, who suffered a head wound. "We will continue, whatever the cost."
The attacks came a day after the Supreme Court heard arguments by Maduro's lawyers to fire special prosecutor Luisa Ortega Diaz for alleged abuse of power. Earlier, she had moved to disqualify 13 members of the Maduro-controlled Supreme Court and voiced her opposition to the new constitutional assembly, which she has described as illegal. She is the highest level critic of Maduro left in the government.
The Supreme Court is expected to rule by the end of this week on whether to fire Ortega. Meanwhile, she has been forbidden to leave the country.
Hours prior to the attacks, Maduro's Vice President Tareck El Aissami and other officials broke protocol by holding a ceremony at the assembly hall to honor the 1811 independence declaration. Normally, all powers participate in the traditional ceremony.
The armed invaders were described by local media as members of so-called colectivos, as the shock troops who back Maduro are described.
In a symbolic gesture, opposition assembly members will convene a nationwide "consultative referendum" on July 16 at which Venezuelans will vote on whether they approve of the constitutional assembly and whether Maduro should stay in power. The vote is nonbinding since the assembly has been stripped of most of its power by the Supreme Court.
Opposition leaders are also expected to call for a general strike across Venezuela to oppose the July 30 constitutional assembly measure, although no specific date has been set.
Also on Wednesday, a video surfaced on social media of Oscar Perez, the rogue police investigative official who hijacked a helicopter to protest Maduro's policies on June 27. In the video Perez, who is being sought by Venezuelan authorities on terrorism charges, vowed to continue his fight against "tyranny."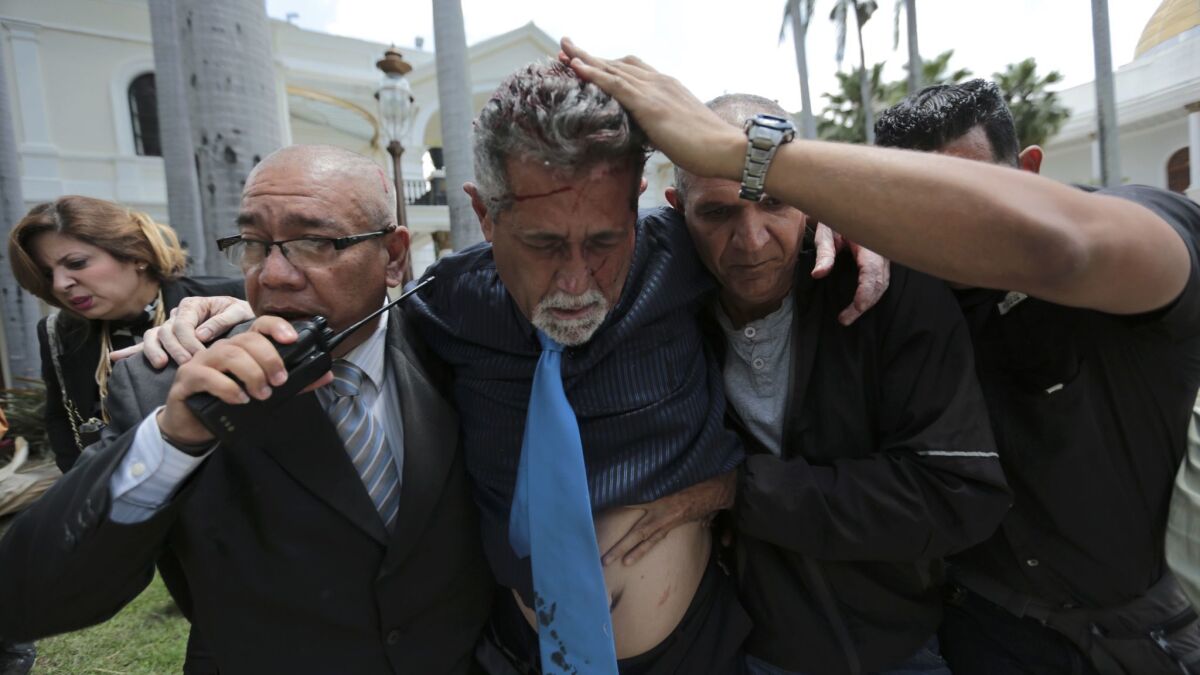 Special correspondents Mogollon reported from Caracas, and Kraul from Bogota, Colombia.
ALSO
U.S. says North Korea's ICBM launch is 'a new escalation of the threat to the United States' and the world
Israel's Labor Party ousts chairman in leadership vote as it struggles to challenge Netanyahu
A schism among Syrian rebel fighters threatens to slow down the battle against Islamic State
---
UPDATES:
3:50 p.m.: This article was updated throughout with Times reporting.
This article was originally published at 12:35 p.m.
---
Must-read stories from the L.A. Times
Get the day's top news with our Today's Headlines newsletter, sent every weekday morning.
You may occasionally receive promotional content from the Los Angeles Times.