A schism among Syrian rebel fighters threatens to slow down the battle against Islamic State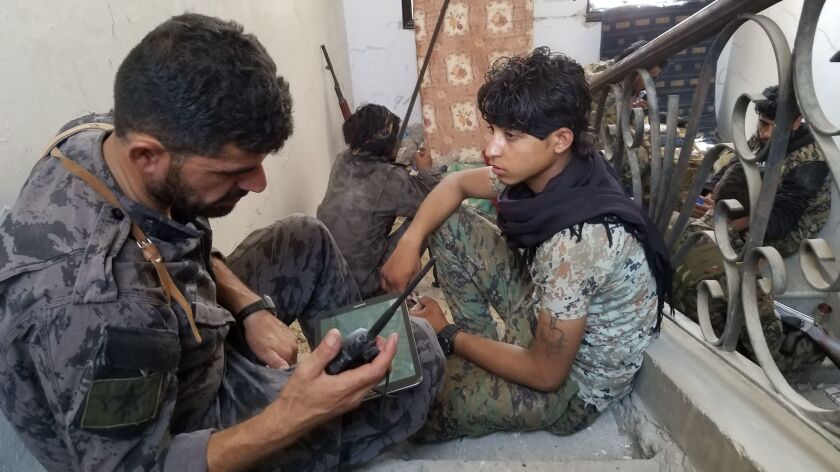 Reporting from Raqqah, Syria —
At a crumbling command post inside a bullet-pocked house, a militia commander was struggling to coordinate the fight against Islamic State in its Syrian capital, Raqqah.
"We entered the Old City yesterday and a group from the Free Syrian Army also came. They said they wanted to be a part of this," Haval Bilind said Tuesday. "As you know, it's a war, there are a lot of mortars and snipers. Now they are saying, 'We don't want this, we are leaving.'"
Using military radio, he tried to persuade the fighters not to withdraw. The conversation was punctuated by distant booms and the crack of nearby gunfire.
A mix of Syrian and Kurdish forces allied with the U.S.-led coalition have been fighting to free Raqqah from militant control since June 6. They have captured one-quarter of the city's neighborhoods and advanced Tuesday into the walled Old City, a stronghold for an estimated 2,500 jihadists.
But even as the U.S.-allied forces advanced, schisms emerged, and it is unclear how much the infighting will delay the battle for Islamic State's Syrian capital, where thousands of civilians remain trapped, or the larger fight to vanquish the group in Syria.
Brett McGurk, the U.S. special presidential envoy for the anti-Islamic State coalition, tweeted that the advance was a "key milestone in campaign to liberate the city." Col. Ryan Dillon, a spokesman for the U.S.-led coalition, also issued a statement praising the advance into Raqqah, noting, "The most humane way to save the people of Raqqah is to swiftly and decisively defeat ISIS."
But commanders said infighting has led to delays.
On Tuesday, Bilind, 34, sat on a staircase with a half dozen of his troops. He is a commander with the Syrian Democratic Forces, an umbrella group of various forces that are arrayed against both Islamic State and the Syrian government of Bashar Assad. A Syrian Kurd, he wore the patch of the Kurdish militia known as the People's Protection Units, or YPG, which is part of the coalition, along with portions of the Free Syrian Army.
The stairs — crumbling, littered with bullet casings —have become his command post.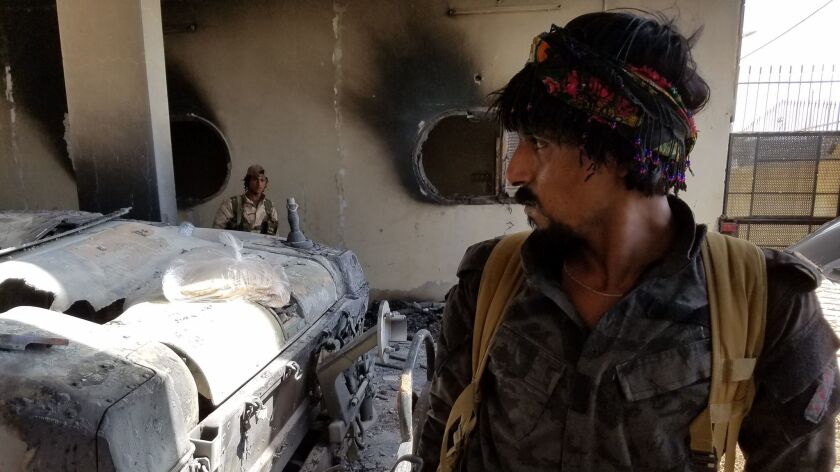 Together, he and his soldiers scanned the Free Syrian Army's positions on his iPad. Yellow dots marked seven posts in a neighborhood near the Old City's Rafiqah Wall, which they had breached that morning.
All but two units appeared ready to flee, he said, and not for the first time since the offensive began.
After about 700 Kurdish forces freed the devastated neighborhood last week, it was recaptured by Islamic State. Militants gained ground after some of the 350 Free Syrian Army troops deployed there lost two fighters to sniper fire and fled, Bilind said. Kurdish forces retrieved the bodies, and launched a new attack.
In the ensuing battle, eight Kurdish soldiers were killed (they had already lost 20 in the fight for eastern Raqqah). The survivors returned to find that the house they had used as a base had been burned by the militants, although their staircase command post was relatively unscathed. Late Monday, Islamic State launched a new mortar attack up the street. Sniper fire sounded nearby Tuesday afternoon.
"They are delaying the liberation of Raqqah," Bilind said of Free Syrian Army forces, after numerous Kurdish overnight offensives. "At night we are controlling and in the day they are leaving. We have two options: Force them to fight, or let them go and replace them."
That morning, combined forces had rescued 150 civilians, he said, but thousands more are still trapped in the city, without electricity and water, and with food supplies dwindling. One Raqqah man called Bilind's unit to report that he had lost more than half his body weight.
"People are suffering a lot, so we are trying to make it quick," Bilind said.
He feared the longer it takes to free the city, the more likely militants who have being fleeing south to the nearby town of Dair Alzour will seize civilians as hostages and human shields. "We don't want to give them the opportunity," he said.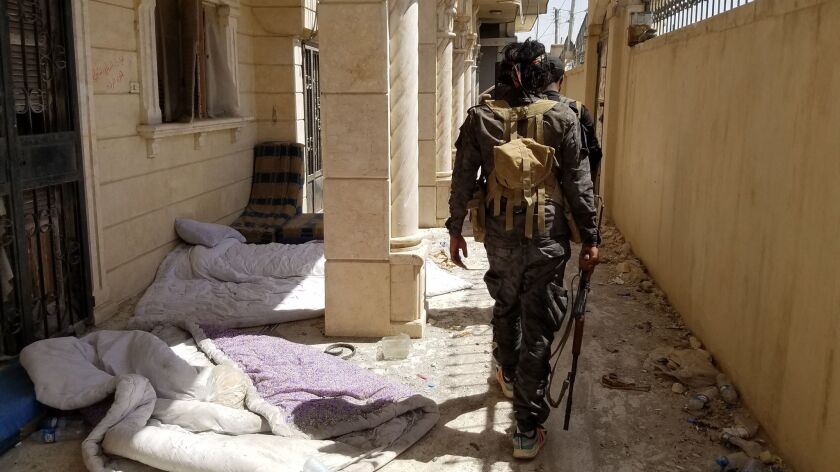 But many Arab Free Syrian Army fighters in the area are from Dair Alzour, and came to help free not just Raqqah, but their city too, said leader Abu Imad. Their faction of the Free Syrian Army is not part of the Syrian Democratic Forces. The regular Syrian army has been fighting in Dair Alzour, with support from Iran and Russia, he acknowledged, but, "We don't know exactly what will happen in the future, if the regime will advance, if the alliances will change."
Asked whether the Free Syrian Army could take Dair Alzour, Bellend, the Kurdish commander, smiled.
"Let's liberate Raqqah first," he said.
On Tuesday afternoon, the Kurdish commander tried to reason with a Free Syrian Army counterpart on the radio.
First, one commander denied his troops were abandoning their positions. Then another arrived at the foot of Bilind's makeshift staircase command post, defiant.
"Why are you withdrawing?" said Bilind, 34, leaning down to look his younger counterpart in the eye.
"You also withdrew. We had a lot of snipers," said the man, known as Abu Mousab, who wore a green tribal head scarf.
"Come on!" the bearded Kurdish commander replied.
But Abu Mousab, clean shaven and a bit sheepish, refused to back down.
"If the work is like this, I will quit," he insisted.
The Kurdish commander reminded his Free Syrian Army counterpart that he brought him supplies Tuesday and the day before. Abu Mousab complained his military radio still didn't work.
"That's not a reason to leave. Call my commander," Bilind said.
"I will call my commander," Abu Mousab said, and stormed off.
Bilind radioed his superior.
"When will they make a sacrifice if not now: When the world ends? I'm afraid the others will say if they withdraw, so will we," he said of the Free Syrian Army units in the area.
The superior was furious.
"I swear by the blood of the martyrs if they withdraw, I will kill all of them," he fumed — not serious, just angry. "Tell them there is an order."
"I told them many times," Bilind said, sounding weary.
"I will tie them up and force them to stay!" the commander shouted.
Abu Hamda and another Free Syrian Army fighter wandered inside the Kurdish outpost, past cars and other debris Islamic State had burned after their forces' last retreat. They insisted their units would stay and fight.
But it was no use. A few miles up the road, several of their fellow fighters were already trying to hitch a ride out of town. At the same time, two Kurdish fighters shot in the head by Islamic State snipers in east Raqqah were brought to a military clinic for treatment. One was wounded, the other died.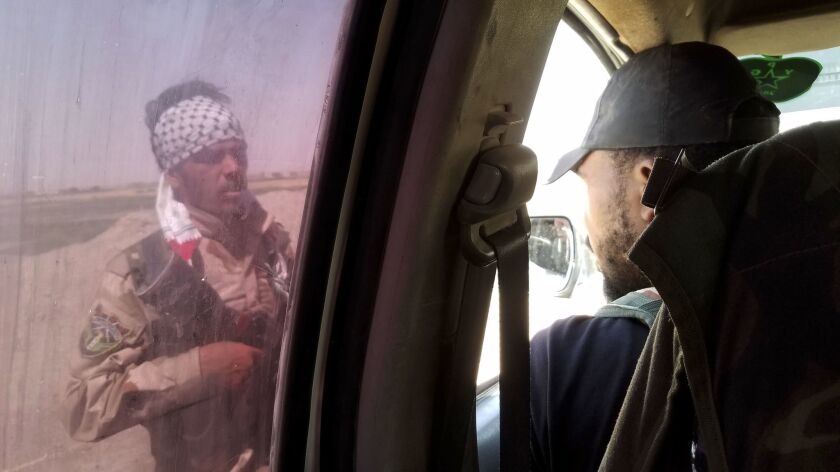 molly.hennessy-fiske@latimes.com
Twitter: @mollyhf
ALSO
'The closer we get, the more complex it gets.' White House struggles on strategy as Islamic State nears defeat in Iraq and Syria
Europe's migrant crisis threatens to overwhelm Italy, even as flows to Greece dry up
Building by booby-trapped building, students work to reclaim Iraq's Mosul University
---
Must-read stories from the L.A. Times
Get the day's top news with our Today's Headlines newsletter, sent every weekday morning.
You may occasionally receive promotional content from the Los Angeles Times.