Millions take part in symbolic referendum rejecting plans to rewrite Venezuela's constitution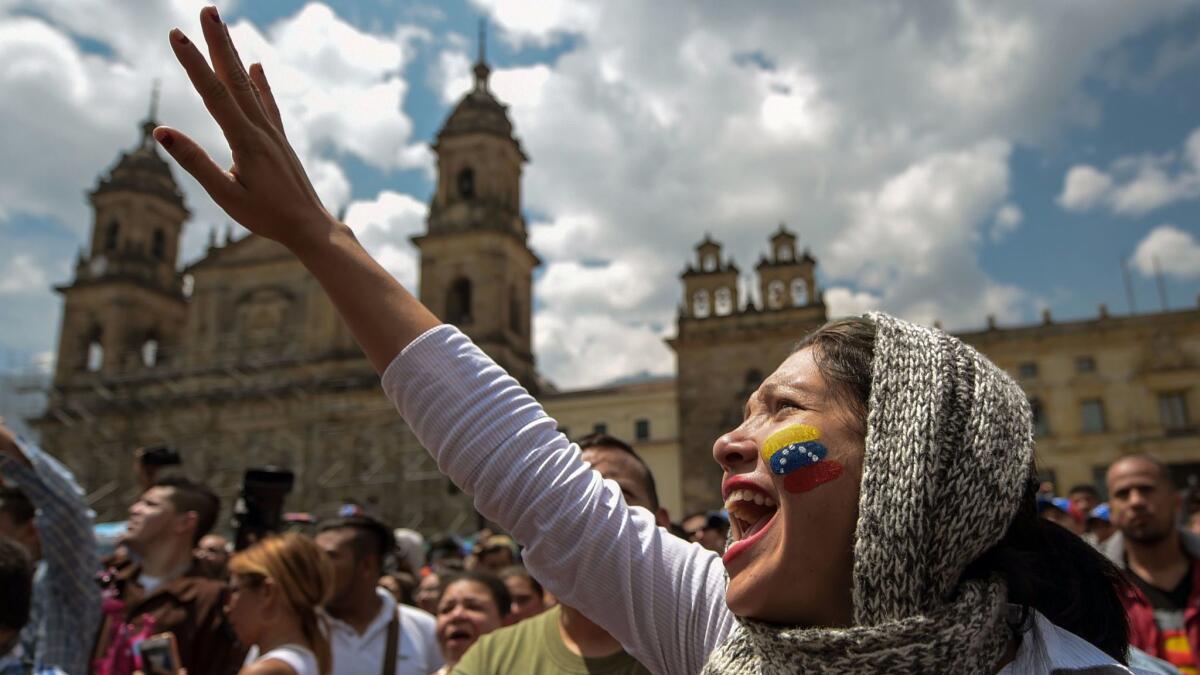 Reporting from Caracas, Venezuela —
Millions of government opponents dealt a symbolic blow Sunday to Venezuelan President Nicolas Maduro, casting votes in an unofficial referendum rejecting his controversial plan for a constitutional overhaul.
The balloting was organized by the opposition and denounced by the government as illegal and seditious. But turnout appeared high at thousands of makeshift voting places set up throughout the country and abroad.
Opposition activists said more than 7 million Venezuelans participated, and that in excess of 98% opposed Maduro's plan for a new assembly charged with rewriting the constitution.
Still, it seemed unlikely that the vote would shift the points of view of many in this long-polarized nation. Government backers denounced the balloting as a public relations scheme meant to sap support from Maduro's embattled administration, which still has substantial support among poor and working-class Venezuelans.
A celebratory mood seemed to dominate as government opponents gathered from early in the morning to cry, "Freedom!" raise the national flag and cast ballots.
"I'm poor but not stupid," said Carmen Garcia, a restaurant cook and 33-year-old mother of three who voted against the government. "We know that the government doesn't work, that they only use us to remain in power, to make us poorer all the time."
Venezuelans who live abroad were also casting ballots. In neighboring Colombia, to which many Venezuelans have fled, there were emotional scenes as expatriates gathered to take part in the anti-Maduro referendum. Voting was also reported to be brisk among the many Venezuelans living in Spain and elsewhere in Europe.
Some unrest was reported in Venezuela, a nation that has been racked with violent protests in recent months.
At least one person was reported killed and three injured in what the opposition termed an attack on a polling site in the poor Catia district of the capital, Caracas, a bulwark of government support. Local media said that assailants fired shots and tear gas as opposition activists scattered and took shelter in a church.
Sunday's symbolic plebiscite came two weeks before a government-backed vote to elect the assembly that will have the power to rewrite the country's 1999 constitution.
The opposition has called for a boycott of the July 30 vote, labeling it a power play by Maduro and his backers. The government applauds the prospect of a constitutional assembly as necessary reform.
Once-wealthy Venezuela has become an economic and political disaster zone, riven by protests and suffering from widespread shortages. About 100 people are reported to have been killed in more than three months of near-daily street demonstrations.
Even some traditionally pro-government districts have turned against the country's administration as shortages of foodstuffs, medicines and other basics have made life increasingly difficult. Venezuelans have become accustomed to lining up for hours to purchase food.
The opposition blames the policies of the socialist government of Maduro, successor to Hugo Chavez, the late left-wing firebrand. The government blames what it terms a U.S. "economic war" against Venezuela, which it says is aided by right-wing collaborators in the country.
Maduro and his allies have long framed the country's crisis as a United States-backed effort to roll back reforms that have benefited poor and working-class Venezuelans at the expense of an elite that dominates the nation. Washington has denied any role in fomenting the crisis.
Falling world oil prices have contributed heavily to the economic difficulties in Venezuela, one of the world's major producers.
Participants in Sunday's informal plebiscite were asked three yes-no questions: Do they reject Maduro's planned constitutional assembly? Do they want the armed forces to support the existing constitution and the decisions of the opposition-controlled congress? And do they want a national unity government to be formed and fresh elections held?
At the end of the day, the opposition said that more than 98% of respondents rejected the planned constitutional assembly; more than 95% said they wanted the military to support the current constitution and congressional decisions, and more than 98% backed the idea of new elections.
Maduro's term ends next year, but the opposition has called for early balloting on a new government.
As the opposition sought to make a point with its unofficial referendum, the government conducted what it called a dry run of the planned vote for the new constitutional assembly sought by Maduro.
The government declared this vote a great success, saying thousands had participated nationwide. Maduro called it a "hymn to peace," according to the official Venezuelan news service.
The president did not comment directly on the opposition's referendum against his plan to revise the constitution. But he said, "I'm calling on the opposition to return to peace, to respect for the constitution, to sit and talk."
Special correspondent Mogollon reported from Caracas and Times staff writer McDonnell from Mexico City.
twitter: @mcdneville
---
UPDATES:
11:15 p.m.: This article was updated with results from the opposition's unofficial referendum.
8:15 p.m.: This article was updated with the counting of ballots stretching into the night and details of the voting in other countries.
This article was originally published at 3:50 p.m.
Sign up for Essential California for the L.A. Times biggest news, features and recommendations in your inbox six days a week.
You may occasionally receive promotional content from the Los Angeles Times.