Egyptian court sentences 23 secular activists to 3-year prison terms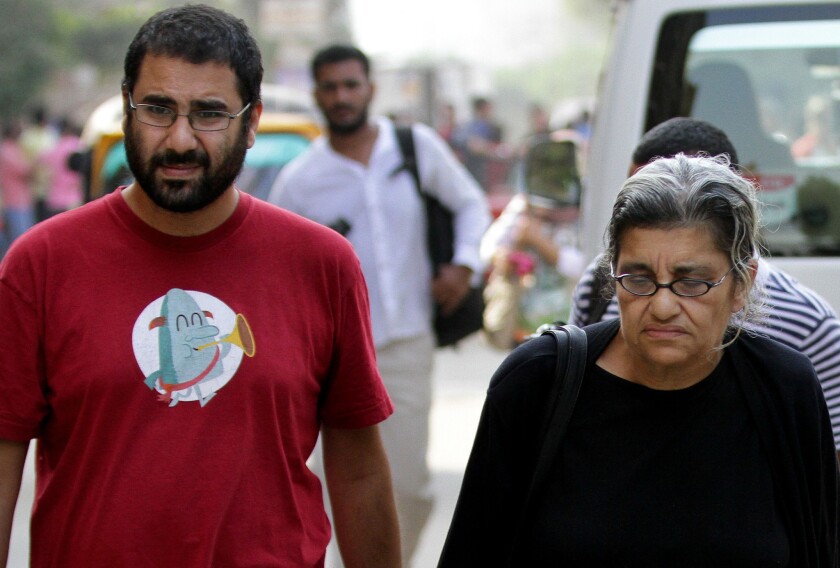 reporting from Cairo —
In the latest blow to freedom of expression and assembly in Egypt, a Cairo court on Sunday sentenced nearly two dozen secular activists to three-year prison terms for violating a law that essentially bans street protests.
The 23 who were sentenced in the closely watched case included several figures who rose to prominence during the 2011 uprising that toppled dictator Hosni Mubarak. More recently, they had run afoul of the authoritarian regime that came to power after a 2013 coup that deposed the country's first elected president, Islamist Mohamed Morsi.
Human-rights groups and Western governments have been sharply critical of the protest ban, which took effect nearly a year ago, saying the measure violates fundamental rights and is being used to quash all opposition to the government, whether by secularists or Islamists. A lawyer for the defense said the court case against the 23 was politically motivated.
Although Egypt claims it holds no political prisoners, thousands have been jailed over the past 16 months for various forms of dissent, including marches and demonstrations but also for views expressed on social media. Academics, journalists and filmmakers have also been targeted.
The defendants in Sunday's case were charged in connection with a peaceful demonstration held in June near the presidential palace. As is common practice by Egyptian legal authorities when people are arrested for violating the anti-protest law, other charges were added on, such as assault, vandalism and possession of weapons.
In addition to their three-year terms, the defendants were fined 10,000 Egyptian pounds, or about $1,400.
The government of President Abdel Fattah Sisi -- a former defense minister who was the main behind-the-scenes power in an interim administration set up after Morsi's ouster and was elected president this year –- initially cracked down on Morsi's Islamist followers in the Muslim Brotherhood. But over the past year, the net was widened to ensnare secular activists as well.
Those sentenced Sunday included a prominent blogger and a photojournalist. Another defendant was 20-year-old Sanaa Seif, who comes from an Egyptian family long known for its activism. Her father, who died while she was jailed, was distinguished human rights lawyer Ahmed Seif al-Islam. Her brother, Alaa Abdel Fattah, is free pending appeal of a 15-year jail sentence of his own.
The verdict, which can be appealed, comes at a time when Sisi's government has signaled that dissent will be dealt with harshly, and nationalist sentiment is running high. Conservative columnists and talk-show hosts cheered Sisi's vow on Sunday to eradicate suspected Islamist militants who carried out one of the deadliest attacks in years against Egyptian troops in the Sinai peninsula, killing 31 of them on Friday.
The Obama administration and European government have pressed Sisi to take steps to restore basic liberties. European Union representatives were in the courtroom for Sunday's sentencing.
Despite government promises of reform, Egypt's courts have continued to mete out a harsh brand of justice, including mass death-penalty verdicts, some of which were overturned, and seven-year jail terms for three journalists for the Qatar-based broadcaster Al Jazeera English, who were accused of aiding the Muslim Brotherhood.
Hassan is a special correspondent.
Follow @LauraKingLAT on Twitter for news from the Middle East
---
Must-read stories from the L.A. Times
Get all the day's most vital news with our Today's Headlines newsletter, sent every weekday morning.
You may occasionally receive promotional content from the Los Angeles Times.