Argentina's Messi won't play in Jerusalem: How a soccer game became a diplomatic disaster
Reporting from Buenos Aires —
It was supposed to be a "friendly" soccer game in Jerusalem — a no-stakes warm-up for Argentina's national team a week before it heads to the World Cup.
Instead, it became a diplomatic disaster.

For the record:
8:50 a.m. June 7, 2018An earlier version of this story said Jibril Rajoub, the head of the Palestinian Football Assn. and a senior Palestinian government official, released a video in which he burned an Argentine flag. Actually, the video shows him encouraging Muslims around the world to deface or burn Argentine team jerseys and photos of soccer star Lionel Messi.
Pro-Palestinian demonstrators wearing Argentine uniforms stained with fake blood marched on the team's training site in Barcelona, Spain, last week with anti-Israel placards demanding that Lionel Messi, the superstar captain, and his teammates boycott the game against Israel.
"Messi, don't go!" they chanted.
Then this week, Jibril Rajoub, the head of the Palestinian Football Assn. and a senior Palestinian government official, released a video in which he encouraged Muslims around the world to deface or burn Messi's picture and team jerseys.
The Argentine Football Assn. relented Tuesday and canceled the game, prompting Israeli officials to declare that terrorists had triumphed.
Claudio Tapia, president of the Argentine association, said at a news conference Wednesday in Barcelona that Messi and other players had received threats on social media and that the decision to cancel the game was made in the interests of their "health, personal safety and the safety of the entire delegation" — and not for political reasons.
"It's nothing against the Israeli community, it's nothing against the Jewish community," he said. "I hope everyone sees the decision I've taken as a gesture for peace."
"Soccer transcends religion, transcends gender, because everyone plays soccer," he said. "We leave open the possibility of taking joint action in the future in Israel or in other parts of the world."
But when it comes to Israel, there is no avoiding politics.
The cancellation comes not only as the World Cup, the most-watched sporting event around the globe, is about to begin, but also as Israeli-Palestinian tensions have risen to a boiling point. In recent weeks, Israeli soldiers have killed more than 100 Palestinian demonstrators protesting near the Gaza Strip border.
Last month, the U.S. moved its embassy from Tel Aviv to the disputed holy city of Jerusalem, after President Trump's decision last year to recognize Jerusalem as the capital of Israel.
The move, which enraged Palestinians and many of Washington's Arab and European allies, reversed decades of U.S. and international policy, which left the future status of Jerusalem, claimed by both Israelis and Palestinians as their capital, to be settled during peace talks.
The soccer game was initially set to be played in Haifa, but the Israeli government moved it to Jerusalem. It was part of an extended celebration this year of the 70th anniversary of Israel's founding.
Tickets sold out in an hour.
Soon, posters with Messi's face appeared in the West Bank city of Hebron with text saying Jerusalem is the capital of Palestine. In Gaza, small protests broke out demanding that Argentina back out.
On Sunday, Rajoub released a letter he sent to Tapia requesting the game be canceled.
"The Israeli government has converted a soccer game into a political weapon," it said.
In addition, a letter signed by 70 Palestinian youths was sent to Messi asking him to not play a game in Jerusalem's Teddy Kollek stadium, which they said was built "over our ancestors' graves" in an area seized by Israel during the 1948 war for independence.
The 30,000-seat stadium sits well within the borders of West Jerusalem, far from any area now claimed by the Palestinians.
Reaction to Argentina's decision was swift.
"Thank you #Argentina!" said a tweet from Hamas, the armed Islamist movement that controls Gaza and has fought three wars against Israel over the last decade.
Rajoub, the Palestinian soccer association president, said that by cancelling, "Argentina refused to be used as a political tool by the Israeli government."
Ordinary Palestinians in Gaza said they viewed the decision as a victory at a time when their enclave has become increasingly isolated.
"We have increased our love for Argentina," said 36-year-old Mohamed Jaser. "… Thanks and appreciation to the Argentine team and to all the supporters of our Palestinian cause around the world for this moral victory."
Naji Naji, 23, said the topic dominated conversation Wednesday night as he and other Muslim teammates on a soccer team for amputees broke their Ramadan fast.
"We all were happy for this decision, because the resistance is not just a gun," said Naji, who lost his left leg during unrest in Gaza in 2007. "We can resist with music, reading and sports."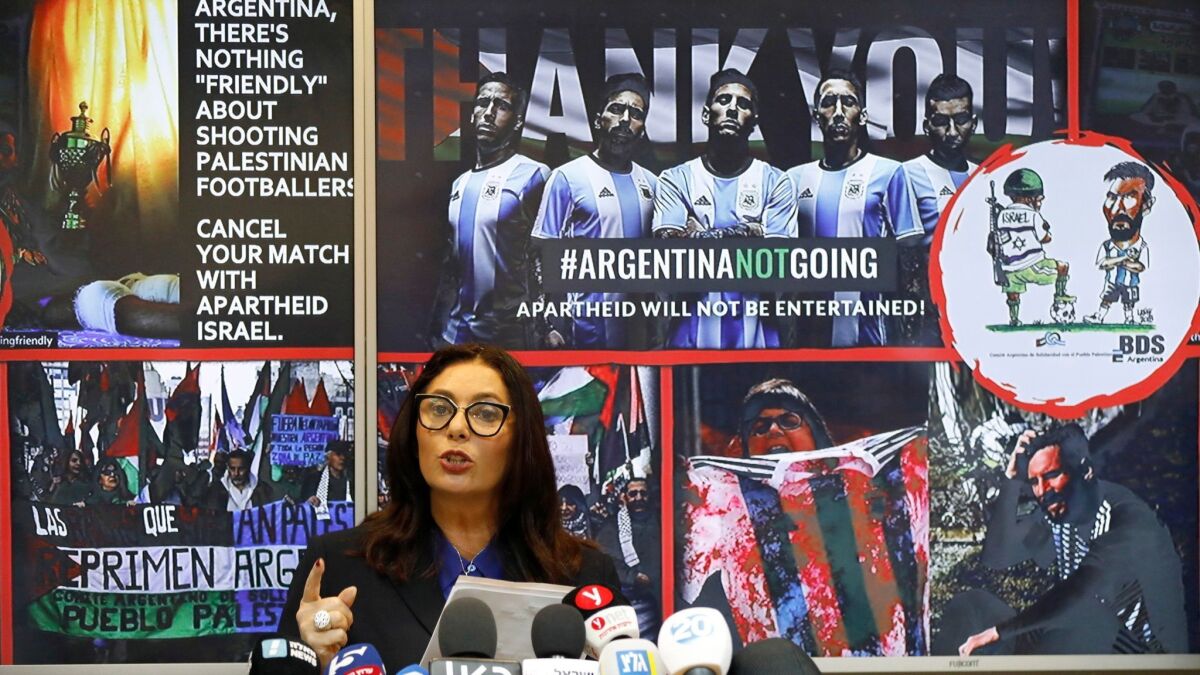 In Israel, Miri Regev, the culture minister, called the threats against the Argentine team "a terrorism incident that intimidates the athletes" — and one that is committed in the same vein as the assassination of 11 Israeli athletes and coaches at the 1972 Summer Olympics by a Palestinian terrorist group.
Israeli President Reuven Rivlin said in a statement that he was concerned about the "politicization" of the Argentine team.
"It's really a sad morning for the fans, including my grandchildren, but there are issues more important than Messi," Rivlin said. "In difficult moments, we have done everything possible to leave non-sports considerations off the playing field, and it's painful that the Argentine team has not been able to do that this time."
In Los Angeles, Rabbi Abraham Cooper, an associate dean at the Simon Wiesenthal Center, said the cancellation sets a dangerous precedent.
"It is tragic that Argentina caved to terrorist-supporting bullies," he said in a statement Wednesday. "They have now opened the door wide open for escalating intimidation and blackmail as the sports world gears up for the World Cup."
Israeli Prime Minister Benjamin Netanyahu said that the Argentine decision could lead to "the possibility that there will be pressure to cancel other events in various areas."
He telephoned Argentine President Mauricio Macri asking him to reverse the soccer association's decision — to no avail.
Argentina's communications secretary issued a statement saying that the country's soccer association is an independent body and that the country supports the resumption of dialogue between Israel and Palestinians to arrive at a two-state solution to their long conflict.
Swiss-based FIFA, which is world soccer's governing body and World Cup promoter, made no comment on the cancellation Wednesday.
Leon Amiras, an Israeli-Argentine attorney, said he plans to petition FIFA to suspend the Palestinian Football Assn. for "burning and defacing the Argentine flag" — an act that he said amounts to a terrorist threat and breaches the federation's statutes.
D'Alessandro reported from Buenos Aires and Tarnopolsky from Jerusalem. Chris Kraul contributed from Bogota and Hana Salah from Gaza City. All are special correspondents.
---
Must-read stories from the L.A. Times
Get the day's top news with our Today's Headlines newsletter, sent every weekday morning.
You may occasionally receive promotional content from the Los Angeles Times.