Egypt's ousted President Morsi sentenced to death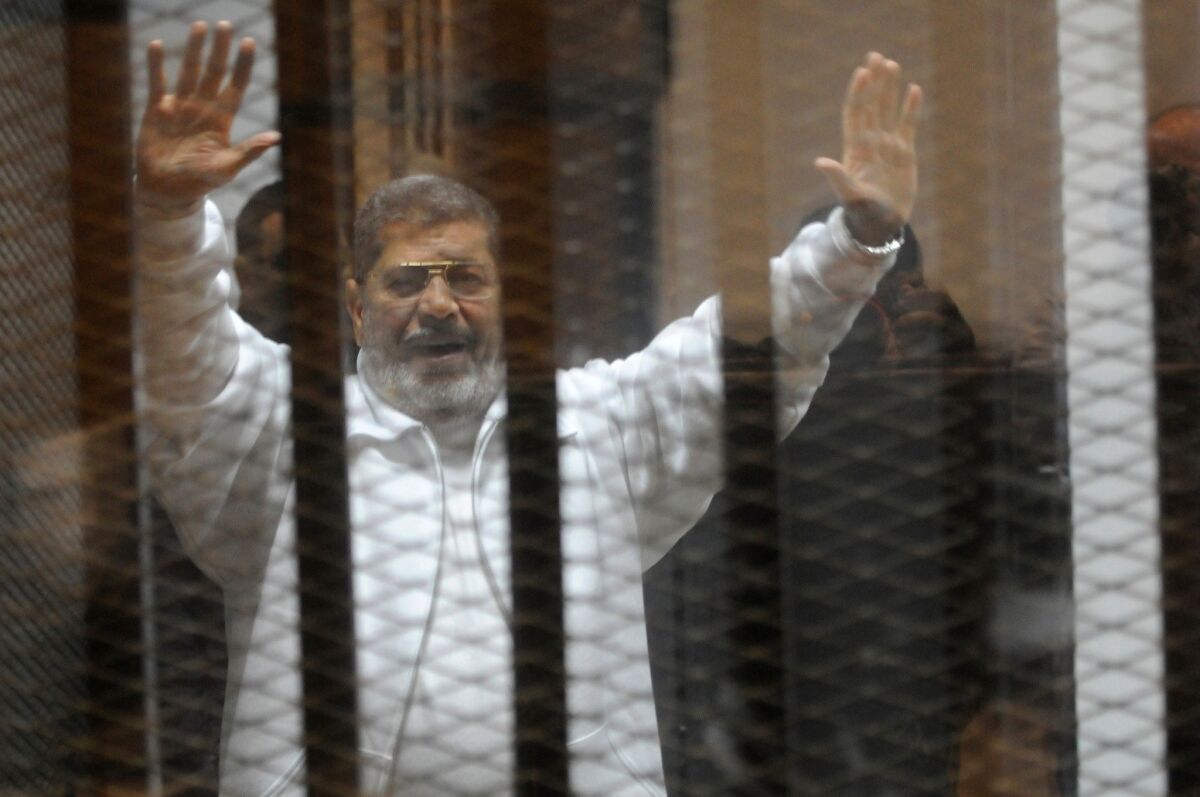 Reporting from Cairo —
An Egyptian court Saturday issued a preliminary death sentence against Egypt's ousted Islamist President Mohamed Morsi, making him the first president in the country's history to face the possibility of public hanging.
The ruling, involving a deadly 2011 jailbreak in which some 20,000 inmates were set free, was sent to Egypt's grand mufti for a non-binding review. The action is a compulsory step under Egyptian law before the court returns its final verdict. The next hearing in the case is set for June 2.
More than 100 other defendants, including fellow former leaders of the Muslim Brotherhood, were also sentenced to death Saturday.
Morsi, selected as president in free elections following Egypt's 2011 revolution, was ousted by military leaders following mass street protests against his subsequent authoritarian rule. In April, Morsi avoided a potential death sentence in a second prosecution when a criminal court handed him a 20-year prison term in connection with a deadly protest episode that took place during his tenure in office.
In the current court proceedings, prosecutors accused members of the Palestinian group Hamas of breaking into several prisons to release Morsi and others during the early days of the 2011 uprising. Several prison guards were killed in the violence and prison weapons were looted.
Hamas issued a statement Saturday condemning the death sentence ruling and Amnesty International termed it "a charade."
The Muslim Brotherhood, now listed as a terrorist group, called the court's action "illegitimate," saying on its website that all such verdicts will be dropped as "the revolution continues."
"The coup and its dogs shall wait for dark days in which we will save Egypt from injustice, corruption, poverty and repression," the Brotherhood's statement read.
"The Freedom and Justice Party, its cadres and members along and across the country won't stand with tied hands before this dangerous development," echoed the Brotherhood's political arm, in a statement. "And the military coup and its leaders will pay a dear price for their crimes against the Egyptian people and their elected leadership."
In a separate trial, referred to as the Hamas espionage case, preliminary death sentences were issued to Brotherhood second-in-command Khairat El-Shater and leading figure Mohamed El-Beltagy, among others, on Saturday. A final verdict will also be returned in their cases after a review by the Mufti; prosecutors charged the defendants with conspiring with foreign Islamist militant organizations, including Hamas and Lebanon's Hezbollah, as well as Iran's Revolutionary Guard.
After Morsi's toppling in July 2013, interim authorities orchestrated a comprehensive crackdown on the Brotherhood and supportive Islamist groups.
The clampdown has continued under the rule of Abdel Fattah Sisi, the former army chief who led the ouster of Morsi and later won a landslide victory in 2014 presidential elections. Since Sisi came to power, mass death sentences have been handed to Islamists in various cases related to terrorism. Other Islamists have been imprisoned and seen their financial assets confiscated.
Protests by Morsi loyalists have significantly decreased in recent months due in large part to the persistent security crackdown. In August 2013, hundreds were killed as security forces broke up a Cairo sit-in.
The Brotherhood and allies have publicly stressed a commitment to peacefulness in their quest to reverse Morsi's ouster. At the same time, video and eyewitness accounts have provided evidence that some Morsi supporters have used firearms, especially in their battles with the police.
Inflammatory sectarian rhetoric also preceded violence against Copts and churches.
In recent months, Egypt has been hit by a wave of bombing attacks. The Brotherhood and its allies have not directly claimed responsibility for any of these attacks; authorities usually point the finger at them.
On Rabaa TV, an anti-military channel that broadcasts from outside Egypt, threats and incitements to violence have become more common in recent months. Within hours of the death sentence ruling Saturday, three judges were killed in the North Sinai region, authorities said.
Tarek is a special correspondent
---
Must-read stories from the L.A. Times
Get the day's top news with our Today's Headlines newsletter, sent every weekday morning.
You may occasionally receive promotional content from the Los Angeles Times.