Hamas fires rockets after Israel strikes militant sites in Gaza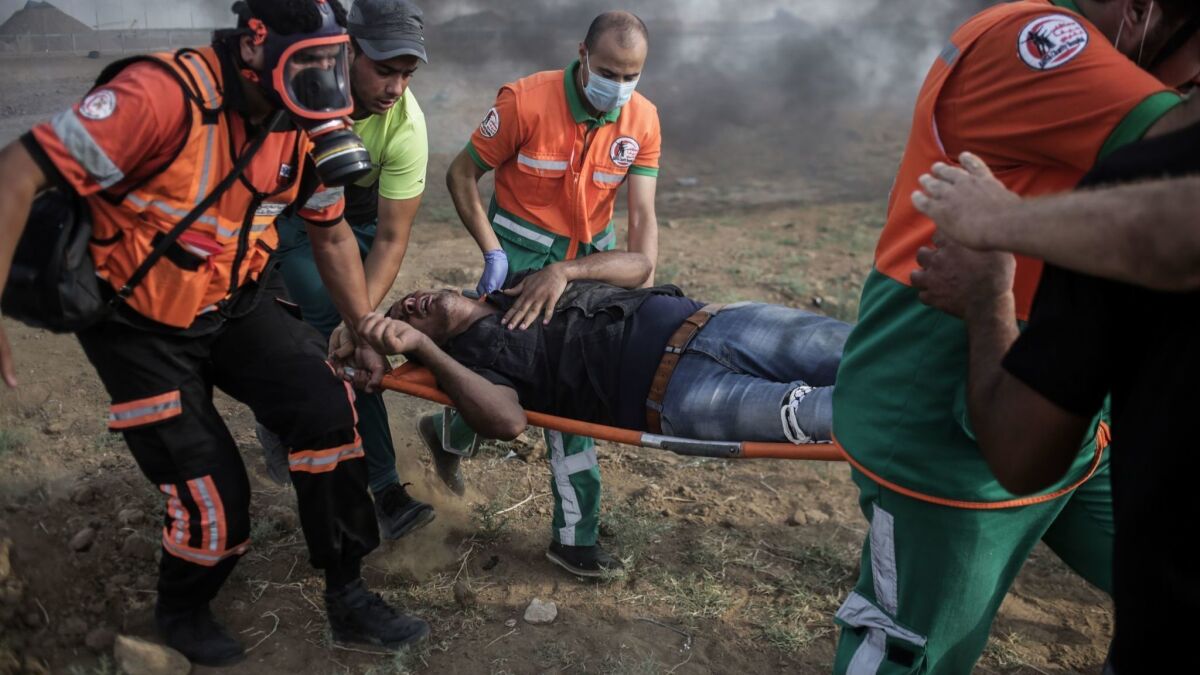 Reporting from JERUSALEM —
The Israeli military struck several militant sites in the Gaza Strip early Saturday in response to renewed violence along the border, after which Hamas militants fired more than 30 rockets and mortars toward Israel.
There were no reports of casualties on either side, but the exchange threatened to spark a further conflagration after weeks of tensions along the volatile border.
The military said its jets targeted two Hamas tunnels as well as other military compounds, including those involved in the recent spate of incendiary kite and balloon attacks. Even as the airstrikes were being carried out, the military said rockets began being fired toward Israel. It said six of them were intercepted by the Iron Dome aerial defense system. No injuries or damage were reported but warning sirens wailed in border communities for much of the night.
In a relatively rare admission, Hamas said it fired the rockets to deter Israel from further action. Most of the recent rockets from Gaza have been fired by smaller factions. Hamas spokesman Fawzi Barhoum said it was an "immediate response" that was meant to "deliver the message."
Israel has been warning Hamas in recent weeks that while it has no interest in engaging in the kind of conflict that led to the sides fighting three wars over the past decade, it would not tolerate Gaza militants' continued efforts to breach the border and its campaign to devastate Israeli border communities with incendiary attacks.
On Friday, thousands of Palestinians gathered near the Gaza border for their near-weekly protest. A 15-year-old Palestinian who tried to climb over the fence into Israel was shot dead. Later the military said an Israeli officer was moderately wounded by a grenade thrown at him.
The Islamic militant group Hamas that rules Gaza has led border protests aimed in part at drawing attention to the Israeli-Egyptian blockade imposed after Hamas took control of Gaza in 2007.
The demonstrations have been fueled in large part by pervasive despair caused by the blockade, which has caused widespread economic hardship.
Over 130 mostly unarmed Palestinians have been killed by Israeli fire since protests began March 30.
Israel says it is defending its sovereign border and accuses Hamas of using the protests as cover for attempts to breach the border fence and attack civilians and soldiers.
In a statement, the military said Hamas' activities "violate Israeli sovereignty, endanger Israeli civilians and sabotage Israel's humanitarian efforts that aim to help Gazan civilians."
Must-read stories from the L.A. Times
Get the day's top news with our Today's Headlines newsletter, sent every weekday morning.
You may occasionally receive promotional content from the Los Angeles Times.