For Hamas, the deadly protests against Israel are a welcome diversion
Reporting from GAZA CITY —
The response from Israel has been harsh: at least 115 Palestinians killed and thousands more injured in eight weeks of protests along the Gaza Strip's eastern border.
Many if not most of the dead were affiliated with Hamas, the armed Islamist movement that controls the squalid coastal enclave and has fought three wars against Israel over the past decade. One Israeli soldier has been injured; no Israeli has been killed.
And yet Hamas leaders seem enthusiastic about continuing a nominally nonviolent form of protest, one which has deflected attention from their governing failures and placed their conflict with Israel back on the international agenda.
In a sermon delivered after 59 people died from Israeli fire in a single day last week, the group's political chief, Ismail Haniyeh, acknowledged the pain of families who were bidding farewell to lost loved ones but said the blood of the martyrs was not shed in vain.
"Your children succeeded in reviving the Palestinian issue in the souls of individuals around the world," Haniyeh told them. "This blood will encourage us and make us more resilient."
Though Hamas did not initiate the protests, it was quick to embrace them. Haniyeh vowed that the weekly gatherings would continue until they achieve their goals: the lifting of a crippling blockade imposed by Israel when Hamas took control of Gaza in 2007 and a right to return to ancestral lands in Israel.
"This is a peaceful way to defend our rights against occupation," Haniyeh said.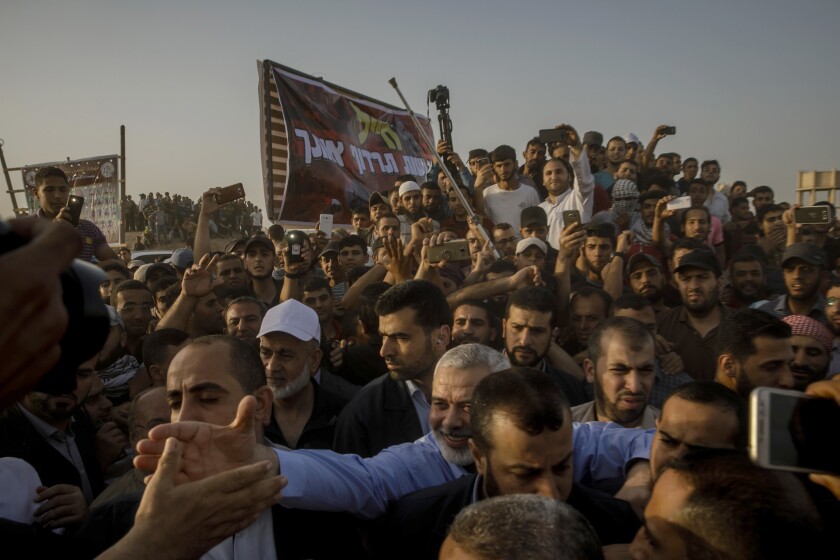 Few analysts suggest that Hamas — which over the years has used suicide bombers, missiles and attack tunnels against Israel — may actually be considering abandoning its long armed struggle in favor of nonviolent resistance. But there is broad consensus that the group doesn't want another war with Israel and sees popular demonstrations as an effective tool, at least for now.
"During those military confrontations between Hamas and Israel, [there was] so much damage, so much killing, so much blood was spilled," said Mukhaimer Abu Saada, a political science professor at Gaza's Al Azhar University. "And at the end of the day, Hamas did not gain anything."
Much of the aid pledged to help Gazans rebuild after the latest conflict, in 2014, has gone unfulfilled, a product of donor fatigue and concerns among a number of Arab nations about Hamas' ties to the Muslim Brotherhood, an Islamist movement they view as a threat.
Israel and Egypt, citing security concerns, still tightly restrict the movement of goods and people in and out of the enclave. The economy, never robust, is now in ruins. Nearly half the population is unemployed; raw sewage is pumped into the sea; tap water is undrinkable, and electricity flickers on for just three or four hours a day.
A tense standoff with Fatah, the secular party that controls the Palestinian Authority but was driven out of Gaza by Hamas in 2007, has compounded the misery. The West Bank-based government has slashed the salaries of thousands of its employees in Gaza, among other punitive measures.
Many Gazans blame Hamas, the de facto government here, for the increasingly dire conditions. Last year, thousands took part in demonstrations against the electricity cuts, a rare public display of anger against Hamas, which has demonstrated little tolerance for dissent.
"By joining the nonviolent protests, Hamas succeeded in diverting this internal pressure from Hamas to the Israelis," Abu Saada said.
The benefits aren't only internal, he added. Israel's response to what officials there fear could turn into a massive breach of security barriers along the frontier with Gaza has allowed Hamas to "play the role of the victim" and "make Israel look really bad in the eyes of the international community."
The United Nations Human Rights Council voted last week to set up a commission of inquiry into what it described as Israel's "disproportionate and indiscriminate use of force." South Africa and Turkey recalled their ambassadors to Israel over the violence; Turkey also temporarily expelled Israel's ambassador, and Israel asked the Turkish consul general in Jerusalem to leave.
Israeli officials maintain that the protests are far from peaceful. Some participants throw stones and launch kites with flaming rags attached in hopes of setting Israeli agricultural fields on fire. Military officials also accuse Hamas of using the gatherings as cover to wage attacks, citing instances of gunfire and the planting of explosives along the border fence.
"We have hard evidence Hamas was encouraging or gave 'orders' to young people to harm or kill Israeli soldiers and take their bodies," said a senior official with the Israel Defense Forces who was not authorized to speak publicly about the intelligence. "They did not call for kidnapping live soldiers because they know that would be war."
A number of protesters were spotted carrying knives and daggers at last week's demonstrations after instructions circulated on Facebook urging them to arm themselves and try to break through the fence. Members of a committee set up to coordinate the protests later claimed that the posts were planted by "spies."
Even some participants, however, accuse Hamas of hijacking the demonstrations for its own ends and using desperate young Gazans as cannon fodder.
In the hallways of Shifa hospital, the main medical facility in Gaza, some relatives of the injured and maimed blamed female demonstrators for encouraging young men to storm the fence on May 14, the bloodiest day so far. Many of those women were affiliated with Hamas, they remarked bitterly.
Gaza's Ministry of Health later removed the name of an infant girl from the list of those killed that day, pending an investigation into her death. The family said she died after being exposed to tear gas, but a doctor at the hospital where she was treated attributed the death to a preexisting heart condition.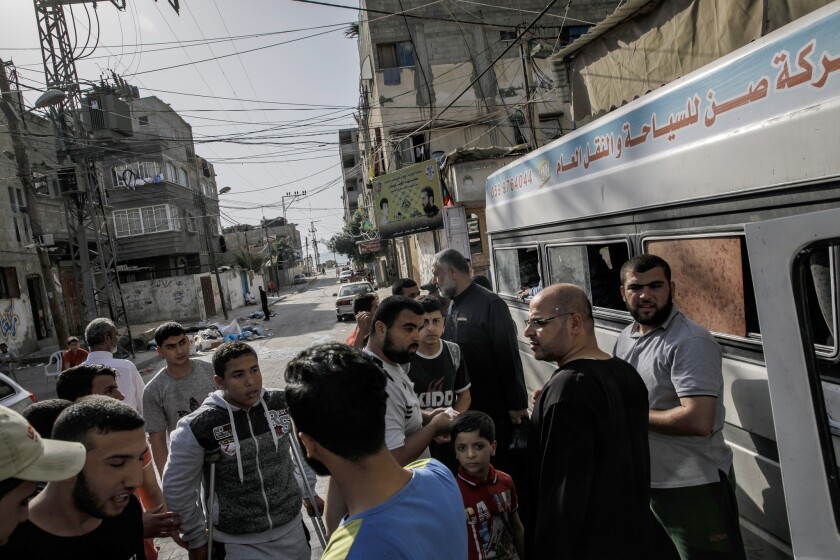 Some of Hamas' critics accuse the group of driving up the casualty toll by providing buses to transport the faithful from mosques to the protest encampments every week after Friday prayers, and by offering payments to the injured and the families of the dead.
Ahmed Abu Artema, a social media activist credited with dreaming up the protests, dubbed the Great March of Return, rejected the criticism.
"There is no respect in these words for the Palestinian martyrs," he said. "They are not robots who can be controlled by others."
Rather, he believes the demonstrations helped persuade Palestinians of the benefits of peaceful protest — something he said "makes me very happy."
Hamas threw its weight and organizational powers behind the idea from the start. The decision appears to have paid off. Last week, Egypt announced that it would keep the Rafah crossing with Gaza open for all of Ramadan, the Muslim fasting month, the longest period in years.
"Hamas was able to get out of its isolation. It was able to become more relevant [and] to show, again, that it can mobilize people," said Omar Shaban, founder of PalThink for Strategic Studies, a Gaza think thank. "That's why Hamas is very happy. Hamas is feeling victorious."
When Haniyeh visited a protest site east of Gaza City with other Palestinian faction leaders Friday, he was mobbed by hundreds of supporters, some of whom hurled rocks at Israeli soldiers with slingshots, burned tires and launched incendiary kites.
Israeli forces responded with volleys of tear gas and gunfire. More than 100 people were injured at multiple sites along the fence, according to Gaza health officials.
Hamas leaders maintain that such protests are peaceful because most participants are unarmed. At a recent news conference, Yahya Sinwar, the Hamas leader in Gaza, acknowledged that members of the group's military brigades have taken part in the gatherings but insisted that they left their weapons at home.
"Not one bullet was fired at the Israeli occupation; not one rocket was fired," Sinwar said.
He did not address the grenades and homemade firebombs that the Israeli military says have been hurled at its soldiers, including as recently as Friday.
While Hamas may be pleased with the protests, the benefits to Gaza's beleaguered residents appear marginal at best.
"Bringing the Palestinian issue into the light again, OK, that's good strategically, politically. But does it bring electricity?" said Shaban, of PalThink.
Hundreds of families who were already struggling must now contend with the death or injury of a breadwinner. Reconciliation talks between Hamas and Fatah remain at a standstill. And Israel and the United States won't talk to Hamas, which they regard as a terrorist group.
Meanwhile, the anger in Gaza continues to build. Already some protesters are calling on Hamas to avenge the many deaths and injuries.
So far, the response from Hamas and other militant groups has been restrained. A series of Israeli airstrikes aimed at Hamas' military installations has not been met with a resumption of rocket fire against Israel. But analysts say it is a fragile calm.
"This is why Gaza needs a fundamental solution," Shaban said. "The situation is not stable at all. … It could explode at any minute."
Salah is a special correspondent. Special correspondent Noga Tarnopolsky contributed to this report from Jerusalem.
Twitter: @alexzavis
---
Must-read stories from the L.A. Times
Get all the day's most vital news with our Today's Headlines newsletter, sent every weekday morning.
You may occasionally receive promotional content from the Los Angeles Times.