'Do you think we will go away?' Islamic State says after attacks in Iran that leave 12 dead
A suicide bomber detonated explosives inside a popular shrine and another blew himself up after a siege inside Iran's parliament building in near-simultaneous attacks in Tehran on June 7, 2017. (Sign up for our free video newsletter here http://bit.
Reporting from Tehran —
Iran suffered its worst terrorist attack in recent memory Wednesday, a bold strike by assailants armed with explosives and assault rifles against the tomb of the Islamic Republic's revolutionary founder and the parliament building. At least 12 people were killed and 43 others injured.
The militant group Islamic State claimed responsibility via its Amaq news agency, saying the near-simultaneous attacks were carried out by "martyrdom-seeking fighters with two explosive vests."
If true, it would be the Sunni Muslim extremist group's first successful attack in Shiite-led Iran, a nation it regards as a leader of apostates.
Iran's powerful Islamic Revolutionary Guard put the blame on Saudi Arabia and the United States, which have stepped up their alliance against Tehran and its nuclear ambitions.
Parliament was in session when four assailants armed with Kalashnikov rifles and explosives stormed the building around mid-morning, said Deputy Interior Minister Mohammad Hossein Zolfaghari. At least one was disguised as a woman, according to witnesses.
Even as that attack was underway, four gunmen and suicide bombers struck outside the shrine of Ayatollah Ruhollah Khomeini, a venerated gathering spot for Shiite faithful on the southern edge of Tehran.
Eleven of the deaths took place at the parliament building and one at the shrine, state-run media reported. All eight attackers were also killed and a number of suspects taken in for questioning, authorities said.
Iran has long been a target of Islamic State. The militant group released a video in March in which it accused Iran of persecuting its Sunni minority and promised to conquer the country.
But the security forces keep a tight grip, and Iran had so far avoided the kind of deadly rampage that the militants have been inciting with increasing frequency around the world as they lose ground in their Syrian and Iraqi strongholds.
The attacks came at a sensitive time in the Persian Gulf, where several of Iran's rivals, emboldened by President Trump's recent visit to Saudi Arabia, severed ties this week with Qatar, the one Arab country in the region that maintains relations with Tehran.
They also came the day after a U.S.-backed alliance of Syrian Kurdish and Arab militias announced the start of a long-awaited assault on the city of Raqqah, Islamic State's self-styled capital in Syria.
The militants released a graphic video of the attacks. "Do you think we will go away?" a narrator asks. "We are here to stay, God willing."
Islamic State is "defending its brand and ensuring Al Qaeda doesn't steal it," said Paul Salem, vice president for policy analysis, research and programs at the Washington-based Middle East Institute.
"We really are in a situation of full standoff between Iran and its friends on one side, and the U.S., Saudi Arabia and its friends on the other," he said. Countries like Qatar, he added, are "caught in that vice."
The Revolutionary Guard noted in a statement that the attacks happened shortly after Trump's meeting with "one of the reactionary rulers of the region," an apparent reference to Saudi King Salman.
It called the timing "a meaningful coincidence," and said Islamic State's claim was further evidence that "the American president and the reactionary ruler are involved in this brutality."
The assault drew swift condemnation and expressions of condolence from countries such as Syria, Pakistan and Russia.
Hours later, Trump issued a two-sentence statement in which he said, "We grieve and pray for the innocent victims of the terrorist attacks in Iran, and for the Iranian people."
But Trump suggested that Iran shared in the blame, warning that "states that sponsor terrorism risk falling victim to the evil they promote."
The Trump administration has made Iran the focus of its anti-terrorism rhetoric and policies, apparently creating a quandary for how to respond when Iran itself is the target of an attack.
The U.S. has long considered Iran to be a sponsor of terrorism outside its borders, pointing to its support of groups such as Lebanon's Hezbollah militia. Yet Tehran has been active in the fight against Islamic State, another stated priority of the administration.
The State Department also issued a brief statement, saying: "The depravity of terrorism has no place in a peaceful, civilized world."
But it pointedly did not express solidarity with Iran's government or offer assistance. Separately, the Senate voted overwhelmingly Wednesday to advance a bill that would impose new sanctions on Iran over its ballistic missile program and supply of weapons to militant groups.
Saudi Arabia's foreign minister, Adel Jubeir, rejected the Iranian accusations of complicity, saying he had no idea who was responsible.
"We condemn terrorist attacks anywhere they occur, and we condemn the killing of the innocent anywhere it occurs," he was quoted as saying by Saudi-owned media at an event in Berlin.
Iran's supreme leader, Ali Khamenei, played down the significance of the attacks, saying, "These fireworks have no impact on the willpower of the people." But experts said they were bound to cause alarm, especially as the country's leadership had assured residents that fighting Sunni militants in Iraq and Syria would keep them from attacking the Islamic Republic.
The militants "have attacked the beating heart, the nerve center of the Islamic Revolution," said Fawaz Gerges, a professor of international relations at the London School of Economics. "For many Iranians, now, they are on our streets."
The body of a terrorist, at background left, lies on the ground while police control the scene at the shrine of late Iranian revolutionary founder Ayatollah Khomeini, just outside Tehran. Several attackers stormed Iran's parliament and a suicide bomber targeted the shrine.
(Ebrahim Noroozi / Associated Press)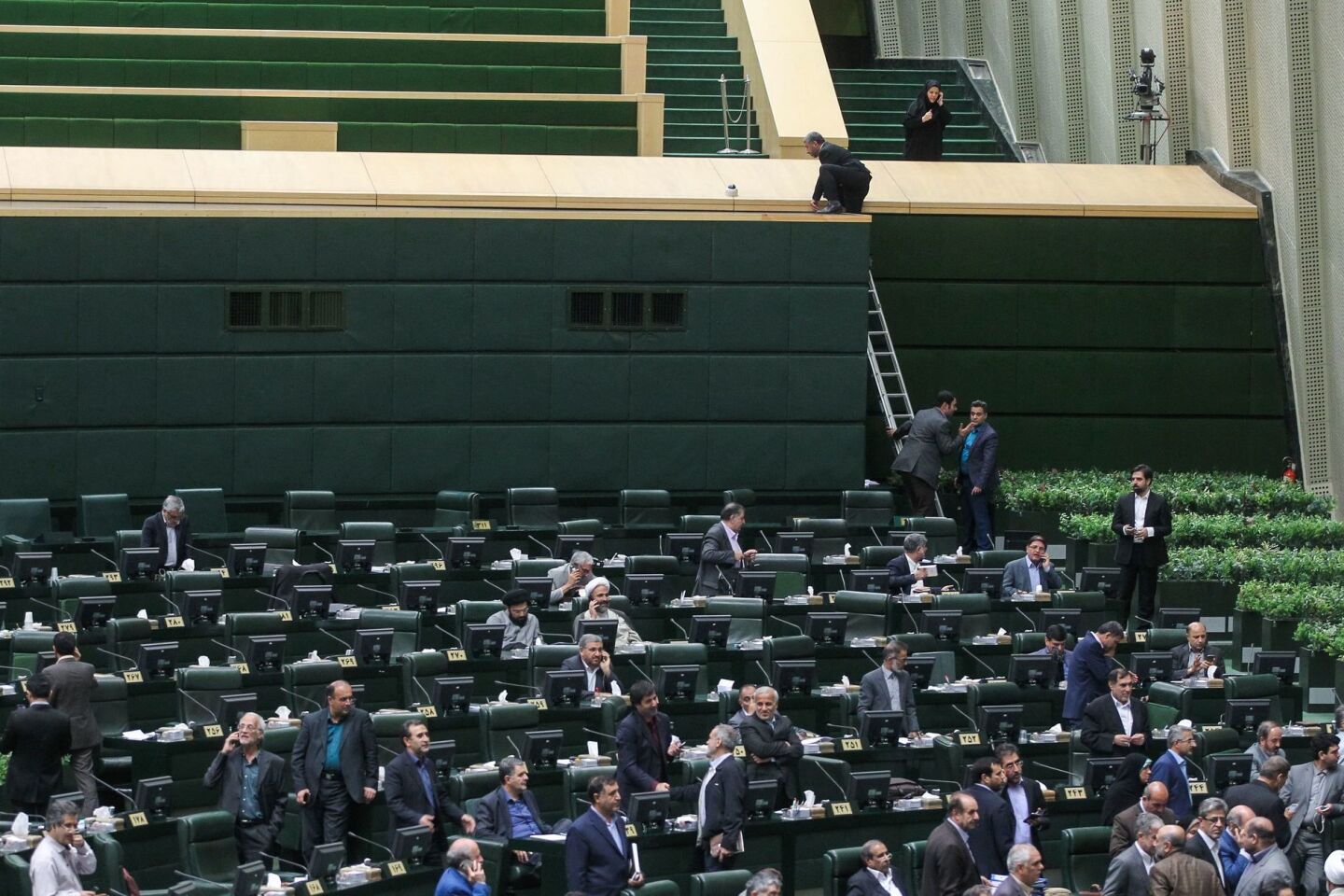 Lawmakers gather inside the main hall of the Iranian parliament on Wednesday.
(Chavosh Homavandi / AFP/Getty Images)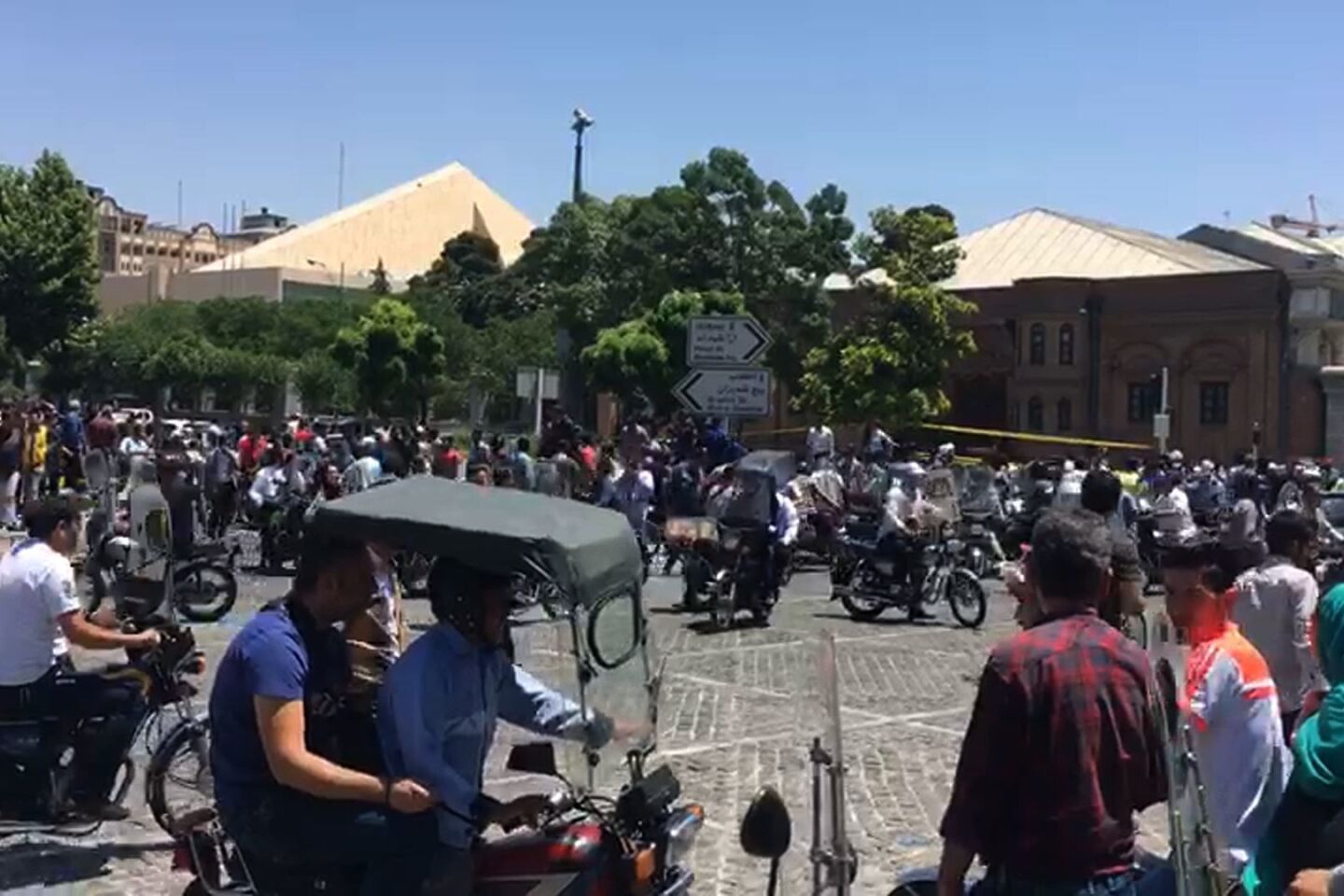 An image grab taken from AFPTV shows the scene outside the Iranian parliament in Tehran on Wednesday during an attack on the complex.
(AFP/Getty Images)
Police monitor the scene around the shrine of late Iranian revolutionary founder Ayatollah Khomeini after an assault by several attackers in Tehran.
(Ebrahim Noroozi / Associated Press)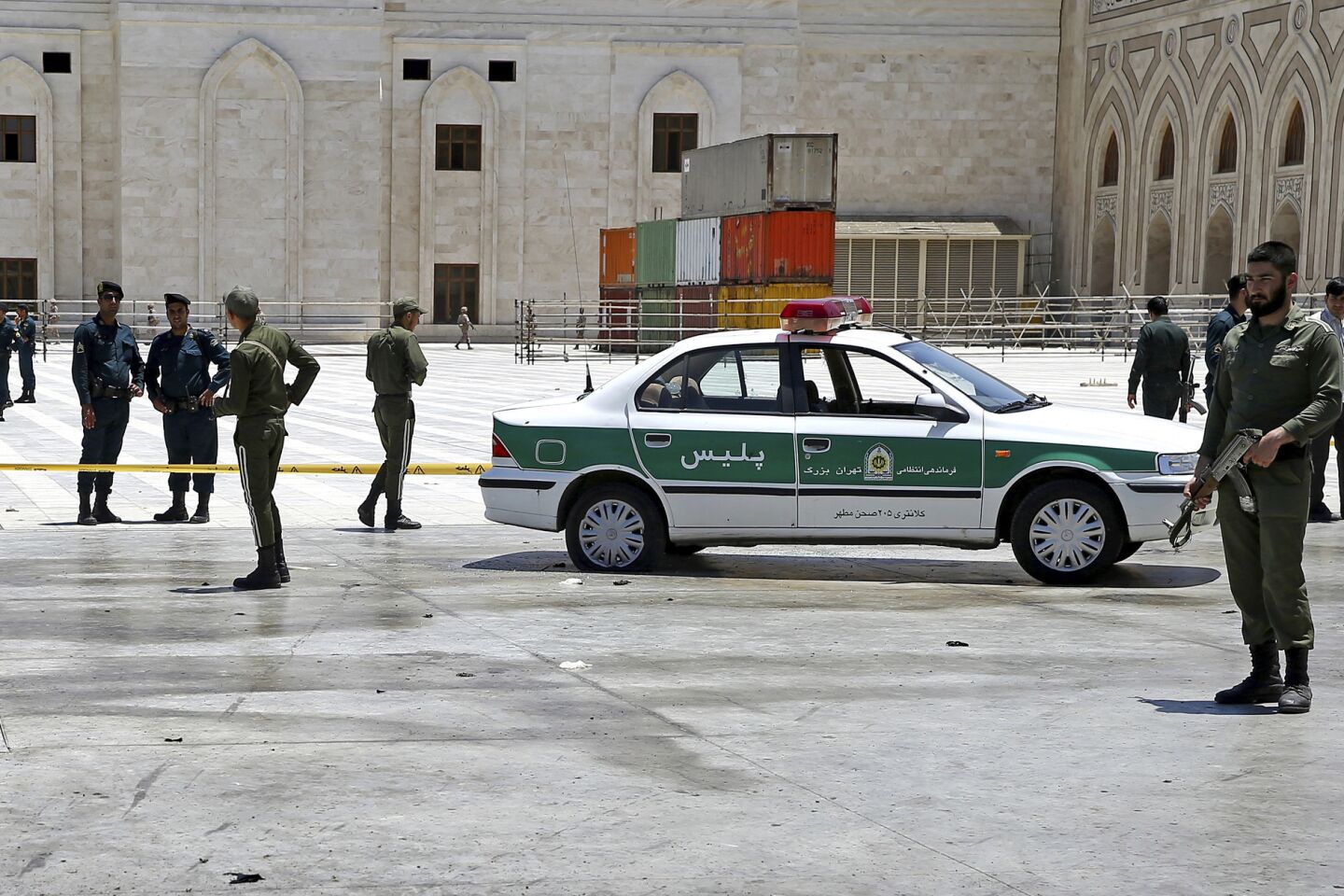 Police officers patrol around the shrine of late Iranian revolutionary founder Ayatollah Khomeini, after an attack.
(Ebrahim Noroozi / Associated Press)
The siege at parliament lasted about three hours, and it appeared that not all lawmakers were aware of the extent of the violence at first.
Heshmatollah Falahatpisheh, a member of parliament, said lawmakers were in regular session when a couple of colleagues arrived about 10:15 a.m. with bloodstains on their clothing.
"Daesh has attacked,'" Falahatpisheh recalled them saying, using a common Arabic acronym for Islamic State. "We continued … discussions until 1 p.m., when we heard the shooting."
He said his bloodstained colleagues told them the attackers had entered the building through the western gate, through which constituents normally enter to meet with members of parliament. At least one of the attackers appeared to be dressed in the traditional black robe worn by many Iranian women.
"The terrorist wrapped up in a black chador and carrying a gun entered, shot the gate guard and opened the gate for his fellow terrorists," Falahatpisheh said. "They started shooting."
After 1 p.m, an elite law enforcement force stormed the building and lawmakers were able to leave through the southern gate, he said.
Mohammad Ali Saki, editor of the English-language Tehran Times, said the assailants attacked an administrative building next to parliament, targeting guards, cleaners, and other employees, but never got near the parliament chamber.
"The main door where parliamentarians enter has not been targeted," Saki said.
Word of the attack quickly spread to the streets outside. Ali Reza Kianpour, a journalist at Shahrvand newspaper in Tehran, said he was near the parliament building when the attack was just starting.
"I heard a sound and someone shouting they needed help," he said in a telephone interview. "And then I heard ambulances coming."
Kianpour saw two people emerge who appeared to be wounded. "Some of the people started to be let out and they told me they were in shock," he said.
Police initially directed the city's 14 million residents to avoid the downtown area and public transportation. Those orders were lifted late Wednesday, but people did not immediately return to the streets.
"The people are both angry and concerned because we are the only country in the region that had remained safe from the vicious acts of terrorism," Saki said, noting that officials disrupted several terrorist networks last year.
"Unfortunately, they succeeded in attacking the symbols of the country, of democracy and what is cherished by the people, the shrine of the founder of the Islamic Republic."
After the end of the siege, Parliament Speaker Ali Larijani made a defiant address to lawmakers.
"This morning a few terrorists committed a cowardly terrorist action, were seriously brought down, and parliamentarians are doing their normal jobs," he said. "Iran is a pillar in fighting terrorism. They want to make a problem, but the problem will be solved."
Special correspondent Mostaghim reported from Tehran and staff writers Hennessy-Fiske and Zavis reported from Beirut and Los Angeles respectively. Times staff writers Melissa Etehad in Los Angeles and Tracy Wilkinson in Washington contributed, along with special correspondent Nabih Bulos in Erbil, Iraq.
ALSO
Arab nations cut ties to Qatar, deepening rift in Persian Gulf
After Iranians' vote for reform, a bigger question looms: Who will be the next supreme leader?
By throwing America's lot in with Sunni Arabs, does Trump miss opportunities with Iran?
---
UPDATES:
5:10 p.m.: This story was updated with Saudi Arabia rejecting Iranian accusations of complicity.
4:40 p.m.: This story was updated with the number of injured increasing to 43.
3:20 p.m.: The story was updated with authorities saying all eight assailants were killed, an additional witness account and an interview with an analyst.
1:50 p.m.: The story was updated with additional U.S. and international reaction.
12:20 p.m.: This story was updated with reaction from Iran's supreme leader, the State Department and an analyst.
10:05 a.m.: This story was updated with witness statements.
9:10 a.m.: This story was updated with Iran's Islamic Revolutionary Guard alleging that Saudi Arabia and the U.S. were behind attacks.
6:50 a.m.: The story was updated with comments from the parliament speaker.
4:45 a.m.: Updated with latest death toll.
4:13 a.m.: Updated to add the siege on the parliament ended.
3:36 a.m.: Updated with new death toll and number injured
2:40 a.m.: This article was updated with claims of the attacks by Islamic State.
2:00 a.m.: This article was updated with information about a suspect blowing himself up.
12:45 a.m.: This article was updated with staff reporting.
12:30 a.m.: This article was updated to reflect the number of wounded.
This article was originally published at 12:20 a.m.
Must-read stories from the L.A. Times
Get the day's top news with our Today's Headlines newsletter, sent every weekday morning.
You may occasionally receive promotional content from the Los Angeles Times.