Iran's latest culture battle: Should women in cars keep their heads covered?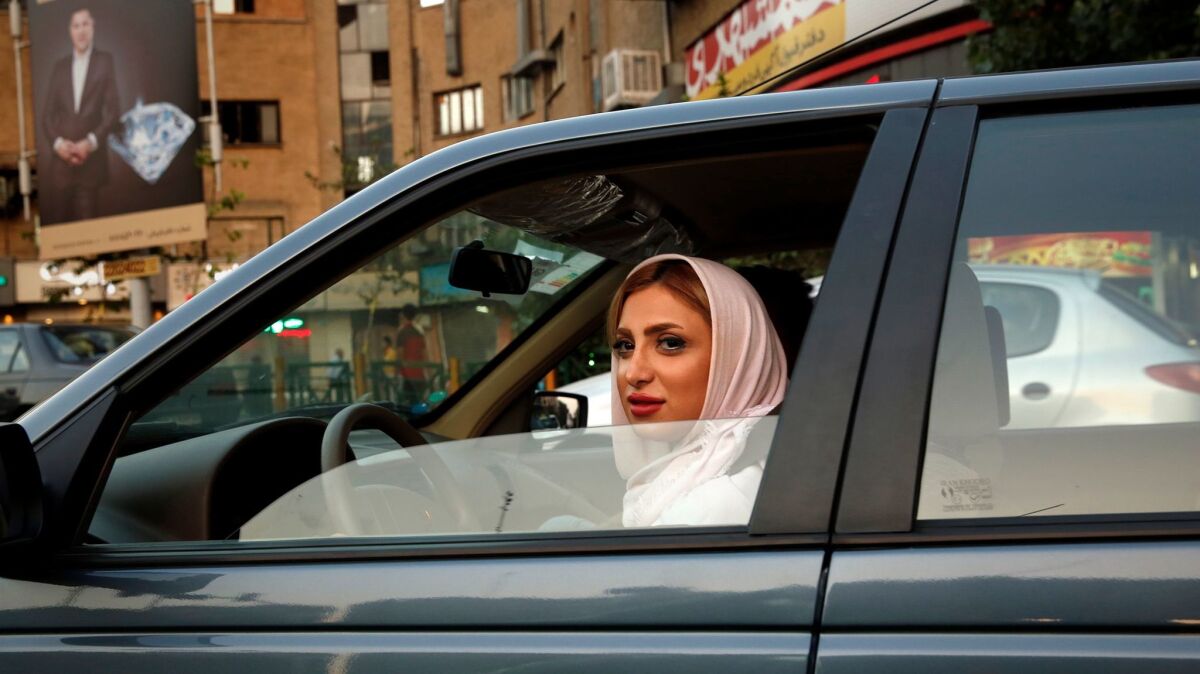 Reporting from Tehran —
Reihane Taravati, an outspoken social media activist, was riding in a taxi the other day when she received a stern reprimand from the driver.
Unbeknownst to Taravati, 26, her headscarf — which Iranian women are required to wear as a show of modesty — had slipped down the back of her head, leaving most of her hair exposed.
"Fix your scarf, or the undercover [moral] police will see it," the cabbie told her. He worried about receiving a ticket in the mail, which would cost him about $30.
As Taravati relayed this story while sipping tea with friends in a Tehran cafe, a debate was raging in the Iranian capital that combines two things that people here obsess over: cars and the way women dress.
Specifically: Is the car a public space, where women must clothe themselves modestly in accordance with Islamic laws, or a private space in which Iran's ruling clerics have tolerated a bit more personal freedom?
In this traffic-choked city, private vehicles are the latest battleground in Iran's ongoing culture wars, which Tehran denizens are watching ever more closely after the May presidential election.
There is growing tension between President Hassan Rouhani, who comfortably won reelection and has said that Iran's police should not be empowered to enforce adherence to Islam, and hard-line clerics who favor a stricter interpretation of religious laws.
"President Rouhani has reiterated over and over in the past year that a police officer is not authorized to poke his nose into people's private lives and enforce what they perceive as God's preferred lifestyle," Taravati said.
Questions over what is often referred to as "bad hijab" — a lax interpretation of the official dress code that requires women to cover their hair and figures — tend to rise in the summer along with Tehran's temperatures, which frequently touch 100 degrees in July.
Last week, in the closely watched Friday sermon at Tehran University, a leading cleric, Ayatollah Mohammad Ali Movahedi Kermani, took on the issue directly, saying: "Private cars are not the private sphere."
Kermani invoked the forcible removal of the hijab in the 1930s by Iran's former secular government, led by Reza Shah Pahlavi, and argued that those who flouted the dress code were thumbing their nose at the ideals of the 1979 Islamic Revolution.
"I have heard that in some cars women do not wear hijab at all," he said. "You who don't have proper hijab, you are violating the country's independence. I thank law enforcement for trying to enforce the Islamic hijab."
In the political Shiite Islam that prevails in Iran, there is no concrete boundary between what is private and what is public. Moral police have been known to break up private parties attended by both men and women and arrest people for posting Instagram selfies because they are seen as immodest.
This month, reformist news sites reported that satellite dishes had been seized from the rooftops of private residences in two districts of Tehran. The dishes are officially outlawed — hard-liners view them as a "weapon of cultural invasion" — but a common feature of middle-class households.
You who don't have proper hijab, you are violating the country's independence.
— Ayatollah Mohammad Ali Movahedi Kermani, Iranian cleric
Since taking office in 2013, Rouhani has insisted that people's private lives should be protected from the regular police force and the moral police. But since May, Iran's judiciary, which is close to the clerical establishment, has tried to further curtail the social freedoms that Rouhani promised.
"The invisible part of the car, such as the trunk, is a private space, but this does not apply to the visible parts of the car," Hadi Sadeghi, deputy head of Iran's judiciary, said this month.
Golnar Ramesh, a 28-year-old tour guide, said the postelection backlash against Rouhani supporters was a predictable turn in the rivalry between conservative and reform-minded Iranians.
"In public, women and men should have the right to choose what they wear," Ramesh said. "That is the meaning of the 24 million votes given to President Rouhani. It has become a repetitive and vicious pattern to crack down on freedom of choice for clothing after elections, whenever the hard-liners lose."
Shiva Ershadi, a 30-year-old interpreter who works with Afghan refugees in Tehran, recalled driving her car one evening in February 2016 after parliamentary elections in which moderates and reformists won a sizable victory. She was stuck in traffic when she heard a loud banging noise — it was a Basij paramilitary soldier, in plainclothes and sporting a beard, warning her to fix her hijab, which had fallen off her head.
"He was mad with rage and saw people like me responsible for [the election] loss," Ershadi said.
"The logic behind [the hard-liners'] argument is flawed and demagogic. The police consider people as potential sinners who must be punished whenever they are caught, rather than regarding them as respectful citizens entitled to the right of privacy."
Not all Rouhani supporters endorse the view that the car is private. Monireh Turkmanazar, a 66-year-old attorney, said anything visible on the streets should be considered part of the public domain — and subject to police monitoring.
"I think the opposition — whether based abroad or inside Iran — are raising a minor, irrelevant issue to raise pressure on reformists and moderates."
A reformist human rights defender, Saleh Nikbakht, said that because both cars and houses have roofs and windows, both should be considered in the private domain. But the frequent raids on houses show that the private sphere in Iran "has been under attack," he said.
"Hard-liners argue that when the police see through car windows that clear crimes are happening, then they can arrest people," said Nikbakht, 61. "They do not want to distinguish between a woman without a scarf and a true criminal."
Taravati — the free-spirited activist who in 2014 was arrested for participating in an online video set to the hit Pharrell Williams song "Happy" — said the enforcement of Islamic dress was an attempt by hard-liners to punish Rouhani supporters.
"Private life in the car, in the house and in the apartment must be respected," she said. "That is what we voted for, and it is time for the president to deliver."
Special correspondent Mostaghim reported from Tehran and Times staff writer Bengali from Mumbai, India.
Follow @SBengali on Twitter
ALSO
American researcher sentenced to prison in Iran, the latest foreigner jailed on espionage charges
Dogs, Deepak Chopra, Instagram weddings and other signs of change among Iran's middle class
---
Must-read stories from the L.A. Times
Get the day's top news with our Today's Headlines newsletter, sent every weekday morning.
You may occasionally receive promotional content from the Los Angeles Times.