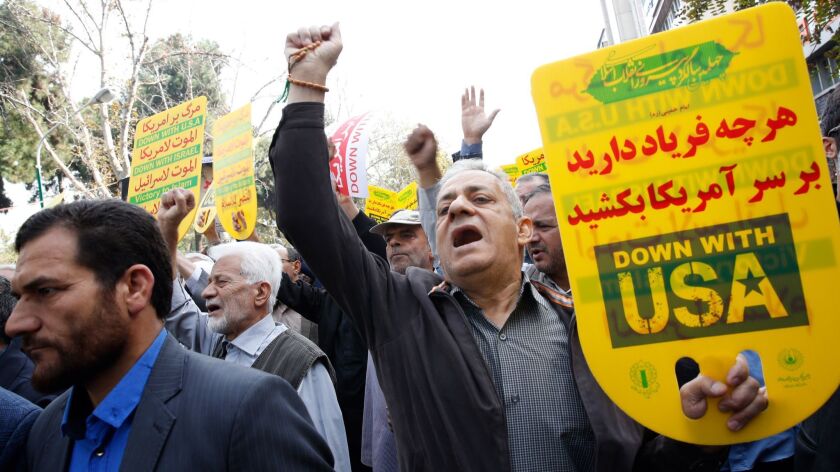 Reporting from Tehran —
Iranians in dozens of cities marked the 39th anniversary of the takeover of the U.S. Embassy in Tehran with government-organized rallies Sunday that doubled as a show of defiance against the renewal of American sanctions.
Thousands of civil servants, high school students, members of the security forces and others gathered near the embassy site in central Tehran chanting slogans against the United States, Saudi Arabia and Israel.
The heavily choreographed annual demonstrations took on an added edge with the Trump administration reintroducing U.S. sanctions starting Monday against Iran's oil, banking and shipbuilding industries.
The oil sanctions in particular are expected to significantly reduce Iran's revenue. The U.S. has granted exemptions for eight countries and territories to continue importing Iranian crude but in reduced quantities.
Some demonstrators carried placards that read, "We welcome sanctions," and said they would be less punishing than those the Obama administration had imposed in concert with international allies before the 2015 agreement on Iran's nuclear program.
"It is more a psychological war and bluff waged against the Iranian people," said Mohammad Nouri, a 26-year-old cleric.
"It can even be a blessing in disguise, if we are clever enough to use the opportunity to enhance domestic industries and wean our economy off of petrodollars."
Others said Iran's economic problems were due more to domestic corruption and mismanagement than unilateral U.S. measures.
President Trump "is saber-rattling and wants to maximize pressure on the people so there will be a gap between the people and our rulers. No way – it is impossible," said Saeed Biagi, 40.
"We have to brace for bad days and get rid of our incompetent managers," Biagi said. "Unfortunately, people from the poorer walks of life will suffer more than ever [because of sanctions], but we have no option but to resist and rely on ourselves."
The demonstrations mark the day that Iranian students raided the U.S. Embassy and held 52 Americans hostage for 444 days in retaliation for U.S. support for the deposed monarch, Mohammed Reza Shah Pahlavi.
Speaking from a platform, the commander of the Revolutionary Guard, the paramilitary force close to Supreme Leader Ayatollah Ali Khamenei, said the U.S. sanctions were part of "40 years of failed plots of American administrations."
"God willing, these new sanctions, which are part of the soft war against the Iranian nation, will fail too," said the commander, Maj. Gen. Mohammad Ali Jafari.
Iran's leaders accuse the Trump administration of reneging on the nuclear deal even after United Nations inspectors said Tehran was complying with its obligations to curb uranium enrichment in exchange for relief from international sanctions.
The Trump administration has said it wants to punish Iran for its other activities in the Middle East, including sending fighters to support Syrian President Bashar Assad and Houthi rebels battling Saudi forces in Yemen.
The sanctions have sent the Iranian currency plummeting to an all-time low against the dollar and caused shortages of goods, including diapers and medicines.
But it is not clear they will accomplish the administration's stated goal of driving a wedge between the Iranian people and their rulers.
"We are suffering from the painful sanctions, and possibly we will suffer more … but honestly speaking, we will tolerate and support our Islamic Revolution," said 40-year-old Masoumeh Khodaverdi.
Her 7-year-old son held a flag bearing the revolution's favorite slogan: "Death to America."
Watching from a sidewalk, a young man who works as a motorcycle courier refused to join the crowd and criticized Iran's establishment for failing to tackle its economic challenges.
"All the speakers on the platform are jerks, and what they say is a joke," said the man, who declined to give his name because he did not want to be identified while criticizing the theocracy. "I think these sanctions will be more painful and these politicians can't do anything to reduce our pain."
Special correspondent Mostaghim reported from Tehran and Times staff writer Bengali from Mumbai, India.
Shashank Bengali covers Iran for The Times. Follow him on Twitter at @SBengali
---