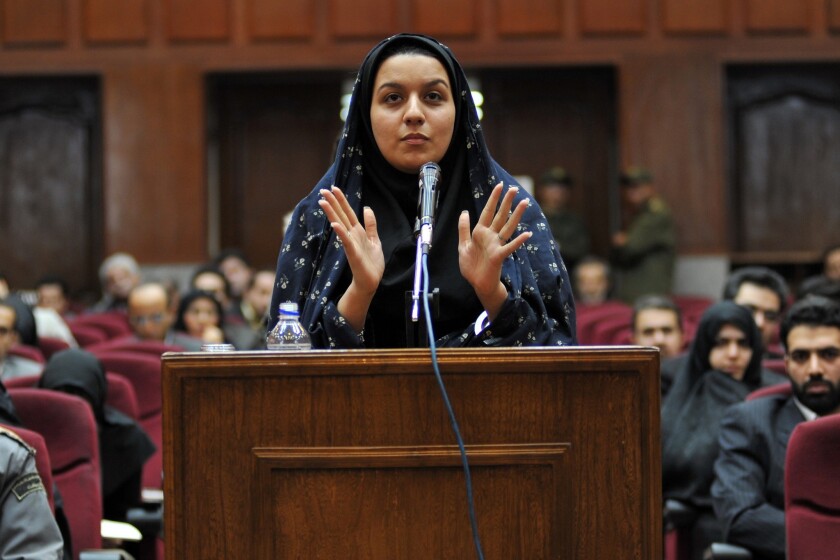 Reporting from Tehran —
Rejecting pleas from human rights groups, Iran on Saturday hanged a woman convicted of murdering a man she had said was trying to rape her.
Reyhaneh Jabbari, 27, was hanged at dawn, the official IRNA news agency reported. In a protracted court case, she had been convicted of premeditated murder in the 2007 stabbing death of Morteza Abdolali Sarbandi, a former employee of the Intelligence Ministry. The court rejected her assertion that she acted in self-defense.
Jabbari was originally convicted in 2009, but the case was appealed to Iran's Supreme Court, which upheld the sentence. She could have escaped the death penalty if the slain man's family had agreed to accept "blood money," a common Iranian legal practice, but relatives refused.
Rights groups including Amnesty International had described the proceedings against Jabbari as fundamentally flawed, but IRNA cited evidence presented in the case showing that Jabbari allegedly purchased a knife two days before the killing and texted a friend about her plans.
Word of the execution spread swiftly on social media, shocking many Iranians, especially since authorities had suggested earlier this month that the sentence might be commuted. But Jabbari's mother had disclosed her foreboding after her daughter was transferred Friday evening from the prison where she had been held to another location.
Mostaghim is a special correspondent. Staff writer Laura King in Cairo contributed to this report.
Twitter: @laurakingLAT
---