Dying Lake Urmia reflects a broader problem in Iran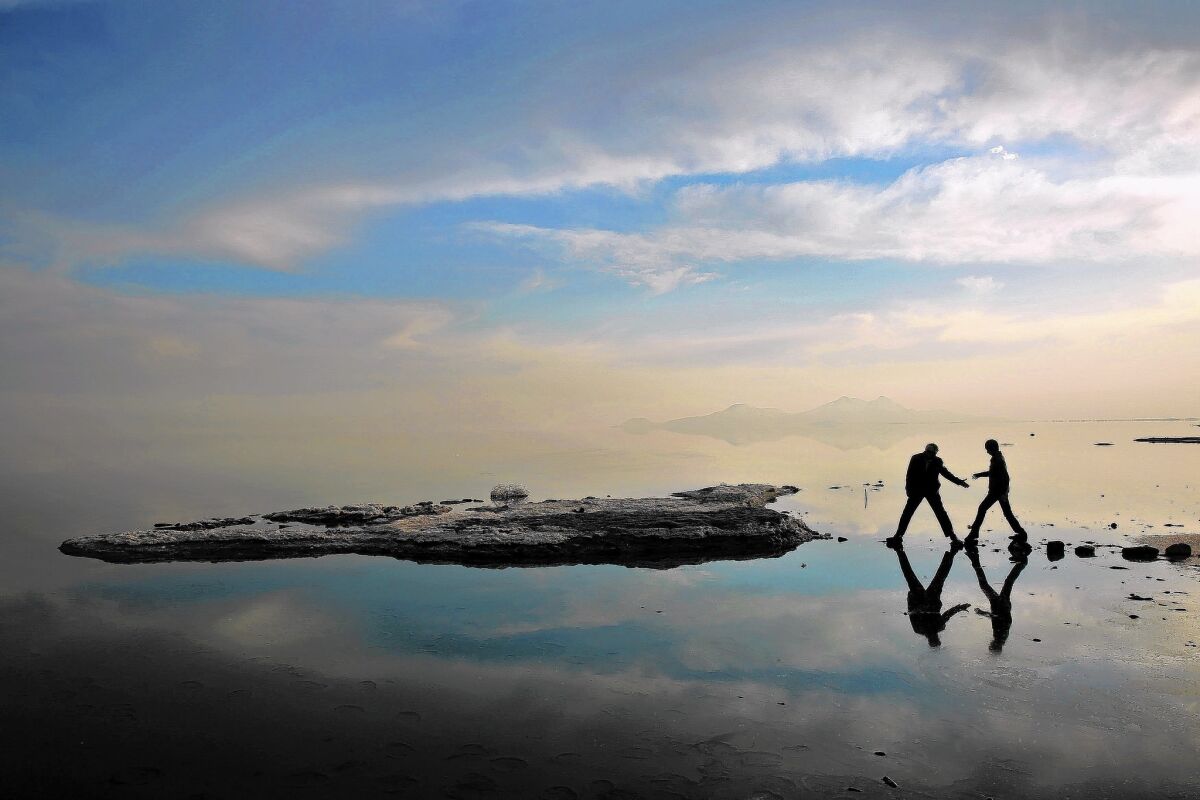 LAKE URMIA, Iran — An eerie and forlorn tableau greets visitors to the arid shores of this once-vast lake in Iran's far northwest. Rusting ships sit wedged in deep black mud. Stray dogs nibble on rotting planks from long-discarded beach chairs and derelict bungalows.
Lake Urmia, long counted among the world's largest saltwater lakes — almost 90 miles in length and stretching 34 miles at its widest point — is today a pitiful shadow of its former self.
Vast expanses of the onetime holiday haven have been transformed into stretches of sunbaked mud so solid that "pickup trucks and tractors can drive on it for miles," said Hojjat Jabbari, a scientist working in the environmental department in Urmia.
In the last two decades, experts say, a toxic combination of wasteful irrigation practices, the damming of feeder rivers, prolonged drought and a warming climate has accelerated the decline of the storied lake, noted in the historical accounts of various civilizations dating back millenniums.
Today, according to experts at Iran's environmental agency, the lake, in a broad plain flanked by steep mountains, contains only 5% of the amount of water it did just 20 years ago.
The decline is part of a broader problem facing the Islamic Republic, much of which is already desert.
Some analysts suggest that water rationing may have to be imposed in Tehran, the densely populated capital and metropolitan area home to more than 12 million people.
In January, the centrist Iranian newspaper Shahrvand reported that 517 of more than 700 cities and towns in Iran were "on the verge of a water crisis" that could result in drinking water shortages, especially during the parched summer.
In recent years, several large Iranian rivers have dried up, as has Iran's third-largest lake, Hamoun, in the southeast.
"Iran is becoming an uninhabitable desert, and do not think it will happen in the future — it is happening already," Iran's former agriculture minister, Isa Kalantari, said in remarks published last year in local media.
With economic and security concerns dominating official discourse, environmental awareness has been slow to take hold in Iran. The Islamic Republic finished 83rd among 178 nations ranked recently on the Environmental Performance Index, which tracks various indicators of environmental, public health and ecosystem vitality. Severe air pollution in Tehran and other cities regularly forces the closure of schools and offices.
Experts say future water shortages are likely to be felt most keenly by Iran's agricultural sector, which accounts for about 13% of the nation's economic output and almost one-quarter of its employment. Environmentalists have warned that toxic salts leaching from Lake Urmia's desiccated shores could taint nearby farmland.
In some instances, water policies and the effects of shortages have fueled public protests, a development authorities eye with dismay. Demonstrators clashed with police in Varzaneh in Esfahan province, in central Iran, during more than a month of protests last year against the government's diversion of water to other regions.
In 2011, police arrested dozens who rallied to save Lake Urmia, a source of pride among many of the 3 million people who live nearby, many of them ethnic Azeris. Officials said the protesters were detained for demonstrating without a permit, but some activists suspected hostility toward the Azeri population.
Two decades ago, Lake Urmia was still a popular destination for vacationers. Tourists marveled at the flocks of flamingos, pelicans and other bird life that gathered on its shores. Bathers immersed themselves in the saline waters and smeared their bodies with its legendary black mud, said to help heal stiff joints. Some called it Iran's version of the Dead Sea.
"I remember how my late grandmother told us that nobody was in danger of drowning as you couldn't sink in the salty water," recalled Ameneh Saeedi, 33, a secretary in Tehran, who vacationed at the lake regularly with her family. "We used to stay up until the small hours laughing and swimming."
Today vehicles can reach many of the lake's more than 100 small islands that were once a signature feature, havens for wildlife and humans on holiday.
Environmentalists are divided as to whether Lake Urmia's fate can be reversed. Mohammad Darvish, an official with the national environmental agency, remains optimistic.
"It may takes 10 years, but the salty lake can be saved," he said in an interview. "If the rain and snowfalls are managed well, we can direct enough water to the lake to be revived."
However, the cash-strapped central government has shown no sign of embarking on a massive, costly campaign to restore the lake to its former glory. Many Iranians seem resigned to its demise.
For some, Lake Urmia's death march serves as a dark allegory for the bleak future facing a generation of young, well-educated Iranians with few viable career prospects. A recent theatrical production in Tehran, "In the Salty Land," compares the "dying salty lake" to fading hope that Iran's moribund economy will rebound, despite vows of better times to come from President Hassan Rouhani, who was elected last year.
Gazing out at the blackened basin of Lake Urmia from its gloomy shores, it's difficult to envision a rebirth anytime soon. The pelicans and other birds that used to enliven the scenery have moved on to more hospitable homes, leaving behind a forbidding landscape and ghostly quiet.
"The migratory birds are taking refugee in the wetlands for now," said Jabbari, the local scientist, who still harbors hope that the shriveled Urmia may one day recover its vitality. "They're gliding over the dying lake less and less these days."
Special correspondents Mostaghim and Sandels reported from Lake Urmia and Beirut, respectively. Times staff writer Patrick J. McDonnell in Beirut contributed to this report.
Must-read stories from the L.A. Times
Get the day's top news with our Today's Headlines newsletter, sent every weekday morning.
You may occasionally receive promotional content from the Los Angeles Times.