Iran's supreme leader calls for parliament vote on nuclear pact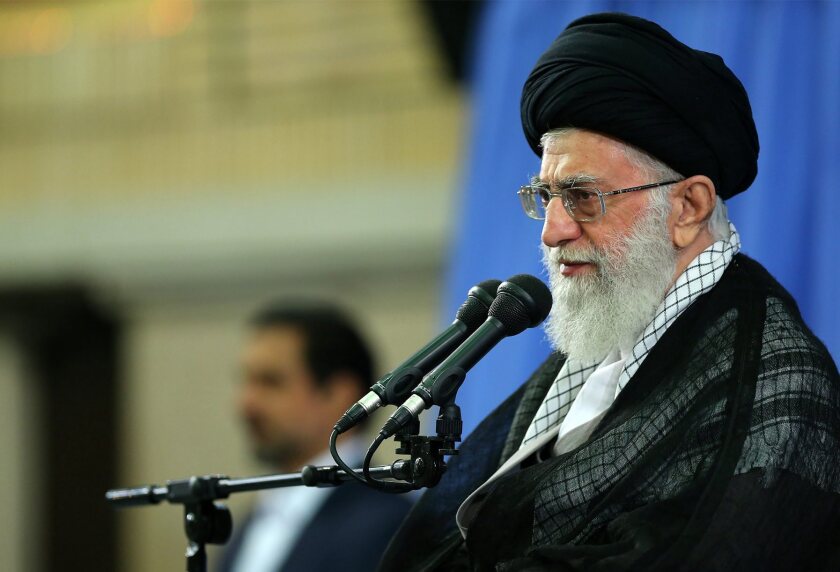 Reporting from Tehran —
Iran's supreme leader, Ayatollah Ali Khamenei, said Thursday that the Iranian parliament should vote on a landmark nuclear accord with Western powers. He also called for a full lifting of sanctions against Iran, rather than a partial one.
"I am not advising parliament to approve or disapprove" the nuclear accord, state media quoted the ayatollah as saying. "It is up to them to decide."
But lawmakers, he added, should not be "sidelined."
The comments came a day after President Obama secured sufficient congressional backing to ensure that the accord will not be blocked by opponents of the deal. Under the terms, sanctions would be eased but not abolished.
NEWSLETTER: Get the day's top headlines from Times Editor Davan Maharaj >>
A reformist analyst, Farshad Qourbanpour, said Khamenei's remarks were consistent with previous statements trying to balance the interests of Iranian hard-liners, who bitterly oppose the deal, and reformists, who generally support it.
"What he said today does not jeopardize" the deal, Qourbanpour said.
Additional Khamenei comments reported by the Fars News Agency pointed to an effort to appease hard-liners with pledges that cooperation with Washington and its allies was limited only to the nuclear issue.
"We should always be vigilant about the tricks of the enemy," the agency quoted Khamenei as saying.
Word that Obama had attained his goal drew mixed reviews from major newspapers, depending on whether they were in the moderate camp backing President Hassan Rouhani. Reformist dailies described the accord as a done deal.
"Given the new situation in America, the [nuclear deal] is definitely implementable," the Aftab daily declared on its front page.
Hard-liners, meanwhile, ignored the news from Washington and concentrated on developments such as fresh anti-American slogans painted on the wall of the former U.S. Embassy in Tehran.
Special correspondent Mostaghim reported from Tehran. Times staff writer Laura King in Cairo contributed to this report.
ALSO
Drowned Syrian toddler embodies heartbreak of migrant crisis
At military parade, Chinese president says nation will cut 300,000 troops
Budapest train station reopens, but migrants still can't get rides to Western Europe
---
Must-read stories from the L.A. Times
Get all the day's most vital news with our Today's Headlines newsletter, sent every weekday morning.
You may occasionally receive promotional content from the Los Angeles Times.