Iran's foreign minister: Business ties will prevent return of sanctions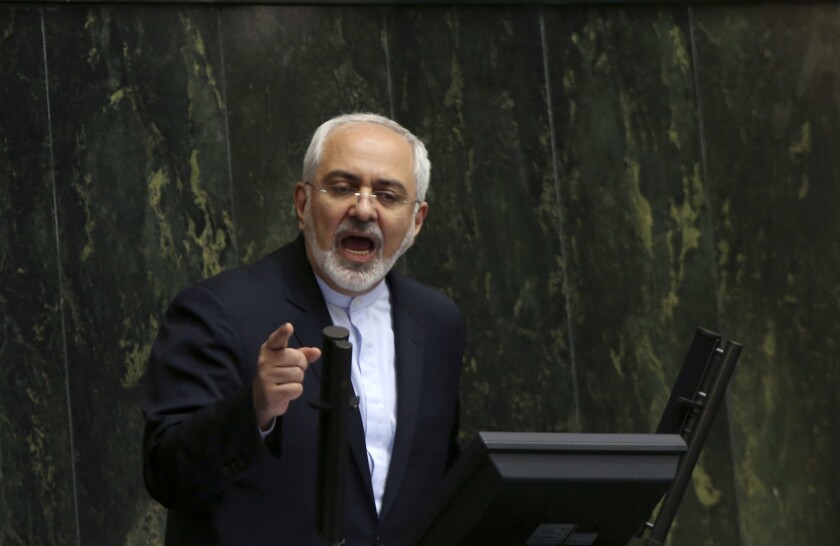 Reporting from Tehran —
Iran's foreign minister told the parliament Tuesday that the surge of foreign businesses into the country would make it difficult for the United Nations to restore sanctions, an option provided under the nuclear deal with six world powers.
Seeking to sell the deal to the conservative-dominated Majlis, Mohammad Javad Zarif told Iranian lawmakers that the "swarming of business for reinvesting their money is the biggest barrier for such an action."
American officials have been "very concerned about this," he said.
The deal, announced last week, would lift international sanctions on Iran if it accepts restrictions aimed at preventing Tehran from obtaining a nuclear bomb. The agreement sets up a mechanism that would restore sanctions if the Iranians are caught cheating.
But Zarif argued that the six world powers -- the United States, Britain, France, Germany, China and Russia -- would hesitate to seek renewed sanctions if the move cut off new and lucrative business ties to the Iranian market.
A business delegation from Germany is scheduled to visit Tehran this month, as is French Foreign Minister Laurent Fabius.
Zarif sought to reassure the Majlis that sanctions can be restored only for a major breach of the deal and not for a small infraction.
Iranian lawmakers agreed to delay their vote on the agreement for at least 80 days, while a committee studies its contents.
The delay would help ensure that the United States would get the blame for an Iranian rejection of the deal if Congress votes its own disapproval after its 60-day deliberation period.
Special correspondent Mostaghim reported from Tehran and Times staff writer Richter from Washington.
Follow @richtpau on Twitter for foreign policy news.
ALSO:
Amid violence, Burundi's election expected to give leader disputed 3rd term
On the trail of the sea bass pirates: High stakes on the high seas
Britain's David Cameron calls for combating 'vicious, brutal' extremists
---
Must-read stories from the L.A. Times
Get the day's top news with our Today's Headlines newsletter, sent every weekday morning.
You may occasionally receive promotional content from the Los Angeles Times.