Iran says no direct talks with Trump unless he rejoins nuclear deal
Reporting from Tehran —
Iranian officials said Tuesday there would be no direct talks with President Trump unless he rejoins the 2015 nuclear agreement.
Since Trump's decision to abandon the agreement Iran's economy has been driven deeper into turmoil and its currency to record lows against the dollar.
A day after Trump said he would meet Iranian President Hassan Rouhani without preconditions, an advisor to Rouhani indicated that the Islamic Republic could not trust an administration that unilaterally withdrew from the landmark nuclear pact.
"Respecting the Iranian nation's rights, reducing hostilities and returning to the nuclear deal are steps that can be taken to pave the bumpy road of talks between Iran and America," said the advisor, Hamid Aboutalebi, according to the semi-official Iranian Students' News Agency.
"Those who believe in dialogue as a method of resolving disputes in civilized societies should be committed to the means," he said.
It was a predictable response by Tehran to a head-spinning reversal by Trump.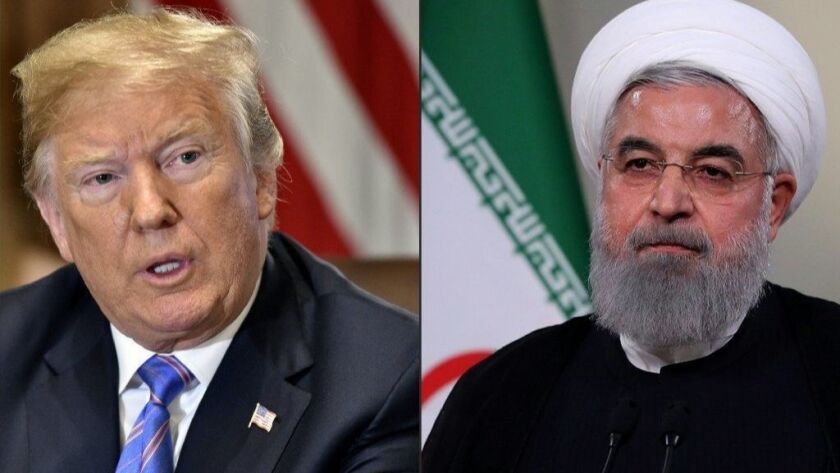 The rhetorical hostilities began last week after Rouhani was quoted as saying, "America should know that peace with Iran is the mother of all peace, and war with Iran is the mother of all wars."
Trump fired back in nearly all capital letters on Twitter, warning Rouhani to "never, ever threaten the United States again," and that doing so would bring "consequences the likes of which few throughout history have ever suffered before."
Then, in a news conference Monday at the White House, Trump said he'd meet with Iranian leaders "any time."
Iran has ruled out one-on-one talks with Trump since he withdrew in May from the 2015 nuclear agreement between Iran and six other countries. The deal granted the Islamic Republic relief from tough economic sanctions in exchange for opening its disputed nuclear program up to international inspections. Trump had long argued the agreement made too many concessions to Iran.
Aboutalebi made reference to a 2013 phone call between Rouhani and Trump's predecessor, Barack Obama, one step in the years-long diplomatic process that led to the nuclear agreement.
"That dialogue was based on the idea of confidence-building measures and the nuclear deal was an achievement of this effort and it must be accepted," Aboutalebi said.
Trump's comments came days before the first U.S. financial sanctions against Iran go back into place next Monday, targeting the automobile industry, the trade in gold and precious metals and other areas of the economy.
Fears of the renewed sanctions have driven the Iranian rial to all-time lows against the dollar as ordinary citizens stockpile cash, pay soaring prices for medicines and cars, and brace for further economic turmoil. At some markets in Tehran, cellphone dealers closed their stores this week due to the instability in prices.
Iranian social media and exile groups have reported fresh anti-government protests in some cities, though they were not mentioned in the tightly controlled Iranian news media.
On Tuesday, the new governor of Iran's central bank, Abdolnasser Hemati, said that volatility in currency and gold markets "is the byproduct of enemies' conspiracies," according to the Financial Tribune, an English-language daily.
Heshmatollah Falahatpisheh, the head of the parliamentary committee on foreign policy and national security, told ISNA: "Trump knows well that America has no power to fight with Iran, while he has no idea of Iran's economic potential."
But Trump's words offered some comfort to Iranians panicked about their economic futures.
Nader Safari, a 47-year-old taxi driver in Tehran, said, "Iran must welcome dialogue with Trump …. What is the use of confrontation with the U.S.?"
Special correspondent Mostaghim reported from Tehran and Times staff writer Bengali from Mumbai, India.
Shashank Bengali covers Iran for The Times. Follow him on Twitter at @SBengali
---
Must-read stories from the L.A. Times
Get all the day's most vital news with our Today's Headlines newsletter, sent every weekday morning.
You may occasionally receive promotional content from the Los Angeles Times.