How the travel ban left a family of Iranian refugees stranded in Turkey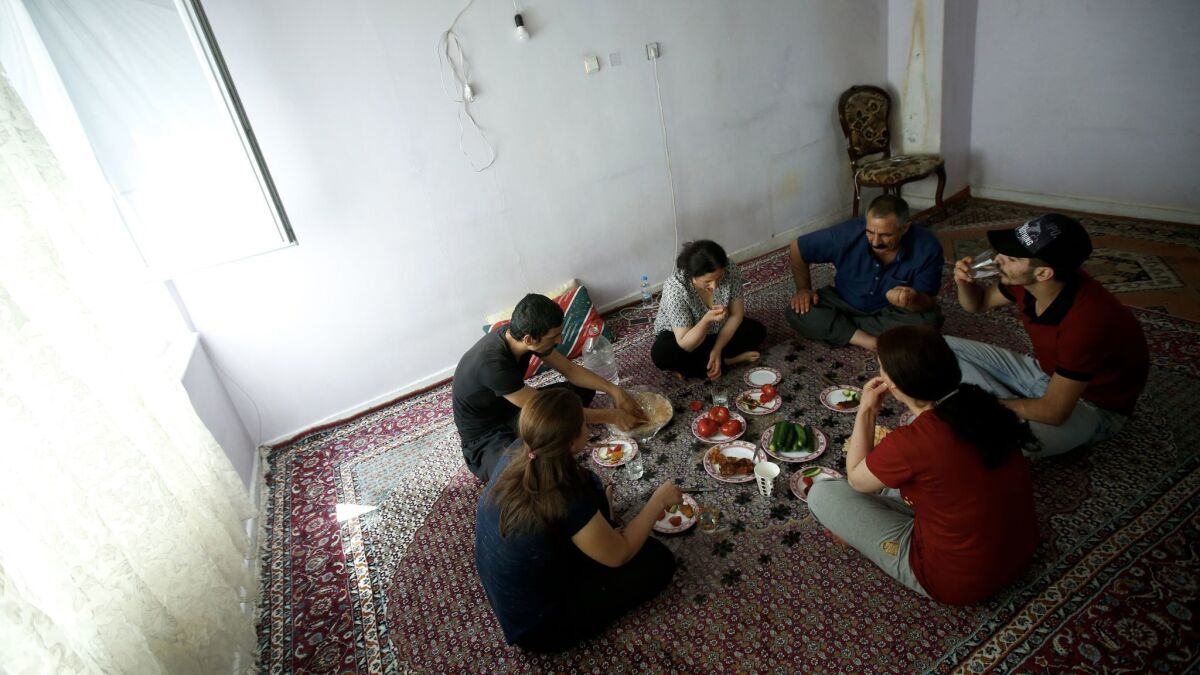 Seid Moradi never wanted to leave Iran. But under threats to his life because of his non-Muslim faith, he saw no choice. Savings in hand, he fled his hometown near the Iraqi border with his family, boarding a bus for the more than 20-hour ride across the country's northwestern border with hopes of starting anew. And for a while, that dream didn't seem out of reach.
In the central Turkish city of Kayseri, the family — father, wife, sister-in-law and three kids — worked delivering groceries and sewing clothes to cobble together rent while undergoing interviews to become refugees.
But three years later, hope is slipping away.
When news arrived this year that the U.S. government would resettle them in Seattle, they moved out of their apartment in June, and sold all but what would fit into seven roller bags days before their scheduled flight.
Then their flights were canceled. Three times.
Weeks before the Supreme Court hears arguments on President Trump's travel ban, the Moradis — who follow the Yarsan religion, a syncretic faith that traces its roots to 14th century Iran — are among potentially thousands of refugees that it has left in limbo. Since it took effect in June, the ban has blocked the resettlement of most refugees who were previously cleared to travel to the United States.
Further complicating the matter: Legal challenges to the ban have produced court orders loosening and tightening it that have resulted in new flight tickets issued to people such as the Moradis that are canceled, reissued and canceled again as court battles go on.
"This is not life, this is hell," said Moradi, 53, who is running out of money and at one point went through dumpsters for food and slept in a city park after vacating his apartment in Kayseri. The Turkish government told him and his family to settle in Kayseri after they initially applied for asylum in Ankara, the capital.
He complained of a heart condition that left him fatigued, and which he wanted to get treated in the U.S. He worried that his children, all in their 20s, would continue to encounter discrimination in Turkey, where feelings against refugees, ethnic minorities and non-Muslims run high. He hoped they could one day go back to school.
"If I wasn't worried about my kids, I would have killed myself by now," Moradi said in a phone interview.
The ban blocks travel to the U.S. by nationals of Somalia, Syria, Sudan, Yemen, Libya and Iran for 90 days, a period that ends Sept. 27. It also stops all refugee resettlement for 120 days, and cuts the annual refugee cap to 50,000 from 110,000.
After the president signed an initial version of the executive order in January, courts repeatedly struck it down. Then, on June 26, the Supreme Court allowed the ban to temporarily go into effect as long as people with "bona fide" relationships to people or entities in the U.S. were exempt. But aside from listing those who had university admission or job offers or spouses and in-law children in the United States, justices didn't say what qualified as "bona fide."
They also didn't say whether resettlement groups could use already established relationships with refugees such as the Moradis to exempt them from the ban.
Immigrant and refugee advocates have since fought with the Trump administration over whom the ban covers, with varied results. Currently, the only refugees allowed in are those who have a close relative in the U.S. The same goes for travelers from banned countries.
The Moradis, who were given the green light to immigrate to the U.S. while President Obama was in office but were not given travel dates until long after he left the White House, have no relatives in America.
Their first flight, scheduled for June 12, was canceled before the travel ban was put into place. Moradi said immigration officials told him three days before the flight that he could not travel because of his heart condition, which they said made it unsafe for him to fly. "But why couldn't my kids and wife come? It didn't make sense," he said.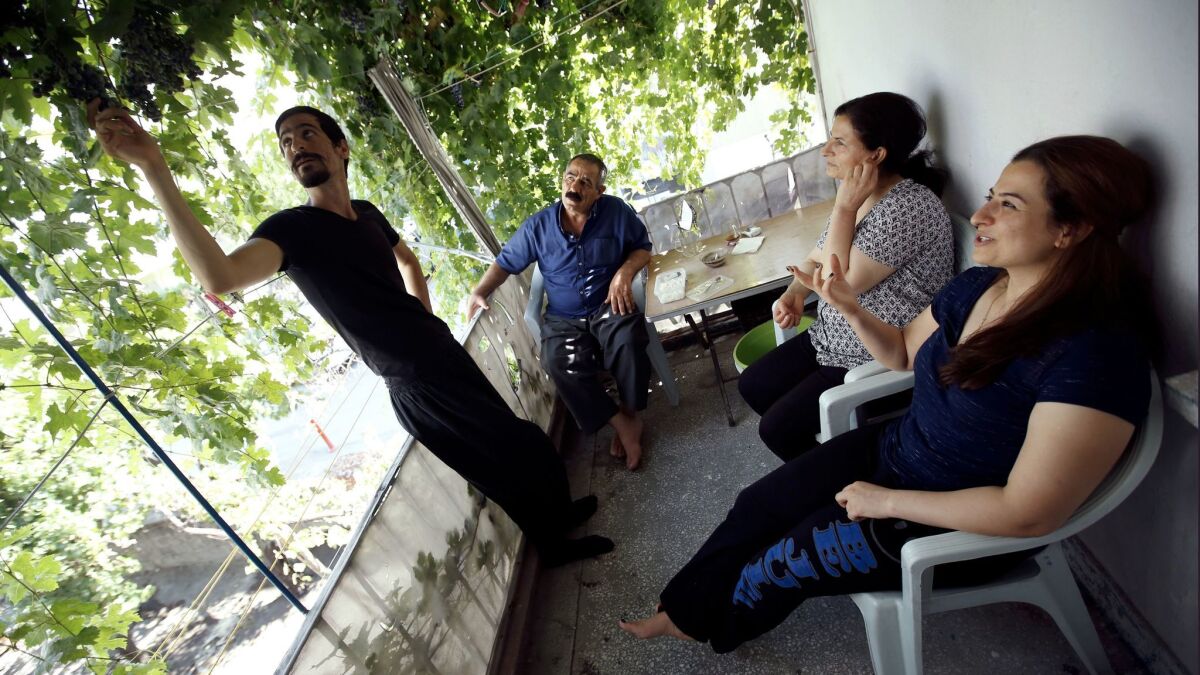 The second and third flights — the last scheduled for July 9 — were supposed to take off amid the travel ban. The family was given less than a week's notice of the cancellations.
"They asked me if I have family in America. I told them, 'No, I don't,'" Moradi said.
According to court filings by the Trump administration and travel ban opponents, there are as many as 24,000 other refugees in similar situations who were approved for U.S. travel but blocked by the travel ban. Nongovernmental groups estimate that 4 out of 10 refugees have no family in the U.S.
"This is the typical refugee family. They fled their country because of persecution, and then their host country, Turkey, isn't safe for them either as a minority. Their only option is to leave," said Nicky Smith, who directs the International Rescue Committee office in Seattle and has prepared for months for the family's arrival. "For this family to have the safety and freedom from persecution in their grasp and have it snatched away like that…. They were promised a new life, and now they have nothing."
"We have asked the Department of State about them, as has the International Organization for Migration, and gotten no answer, so we can only assume it's the travel ban," she said.
A spokeswoman for the State Department would not comment on the Moradis' case. The spokeswoman said that in general, expired medical or security checks or a lack of family connections in the U.S. are among the reasons that delay refugee travel.
For now, the family lives in a small, third-floor apartment lended by a friend in June. Fanoos, Moradi's 42-year-old wife, works odd jobs as a hairdresser. Saman, a 20-year-old son, sews clothing for cash. Another son, Sirvan, 23, a daughter, Delnia, 25, and a sister-in-law, Saltanat, 42, can't find jobs. Oftentimes, all six sleep in the same room, where beds and furniture are few and paint chips fall off the walls.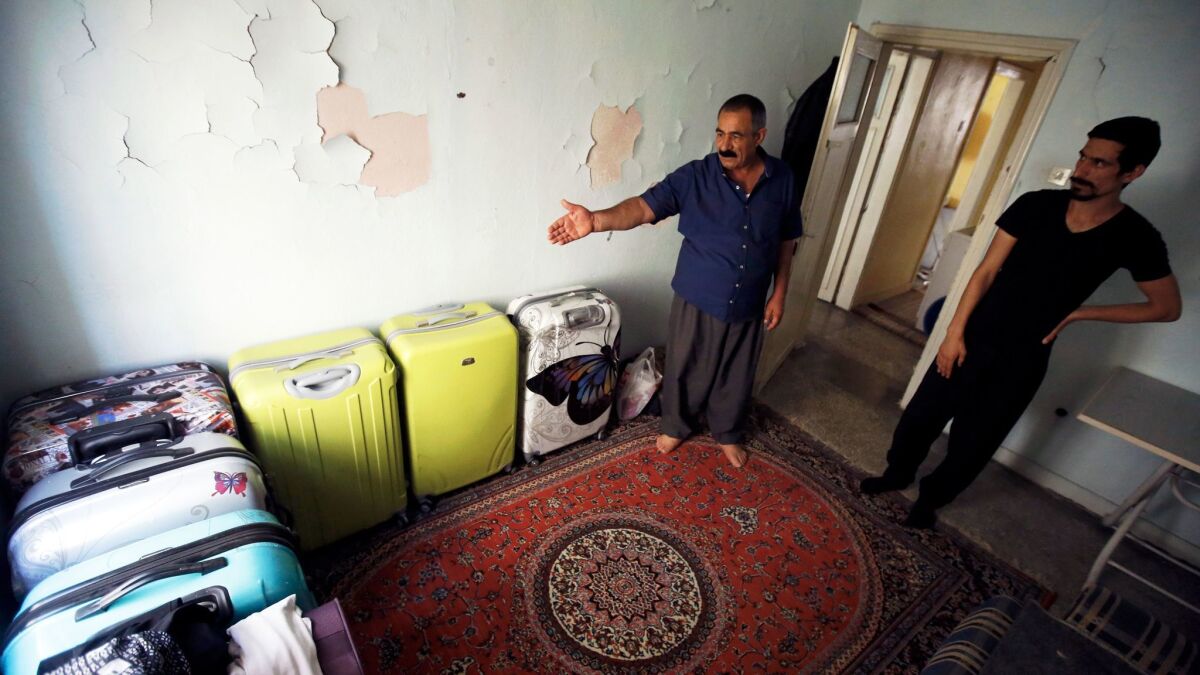 "If we don't work one day, that day we are hungry," said Moradi, who was a part-time repairman at a water and power plant when he lived in the city of Sarpol-e Zahab in Iran. When he asked for a promotion, he said, he was rejected and threatened with jail because of his minority religion. The Iranian government considers followers of Yarsanism to be part of a "false cult."
"If we go and apply for jobs, they ask us, 'Are you Muslims? Do you pray?'" Moradi said of his time in Turkey. "We say, 'No, we are not Muslims and we do not pray. Do my kids have to pray so that they can get a job?' I don't have one or two problems in Turkey. We have way too many problems and difficulties in Turkey."
For America, they have dreams that are simple and those that are grand.
They want a clean, quiet apartment in a suburban neighborhood, and neighbors who don't care about their religion or nationality. Moradi wants to visit the hospital for a better diagnosis on his condition. His wife wants to work at a salon, or perhaps start her own. They want the kids to enroll in universities and take up office jobs.
They also want to be patriots.
"I'm thankful for the people of America and the kindness of American people. I want to come to America to please and serve Americans," Moradi said. "It doesn't matter what country we can go, wherever we can go we will worship their soul."
"What universe does that come from?" Judges criticize travel ban weeks before it heads to Supreme Court
Supreme Court lets Trump administration reinstate travel ban restrictions on refugees but not on grandparents
Must-read stories from the L.A. Times
Get the day's top news with our Today's Headlines newsletter, sent every weekday morning.
You may occasionally receive promotional content from the Los Angeles Times.