American medics try to heal Mosul
Reporting from Mosul —
When an elderly man arrived at a front line clinic this week, right leg burned while fleeing an airstrike, an American medic took one look and knew he needed to get the patient to a hospital fast.
"If he doesn't go, he's going to lose his leg," said Tom Ordway, 32, a firefighter from Lake George, N.Y., volunteering in the war zone with the nonprofit NYC Medics.
Ordway called for the Iraqi commander supervising his trauma station in the carport of an abandoned house minutes from the front line on the besieged city's west side.
Maj. Tarek Gazali of the Iraqi Emergency Response Division explained to the burned man that they would transfer him to a hospital run by another U.S.-based nonprofit on the city's east side for treatment. But they had to act fast, he said, or doctors might have to amputate his injured leg.
The man's family fetched clothes, then helped medics and Iraqi forces load him into an ambulance.
"We are like one team," the major said, praising American medics who built their first war zone trauma unit in a matter of weeks. "They came all this way to save lives and help the people."
As Iraqis face the daily horrors of improvised explosive devices, mortar rounds, snipers' bullets and airstrikes, nonprofit civilian groups from the U.S. and Europe are attempting to provide critical medical assistance.
The medics said the task is often overwhelming, as they're called to treat not only injured soldiers and civilians but families living in surrounding neighborhoods who face shortages of medication, food and water.
Ordway, who arrived last week, had never served in the military, never been to the Middle East before. He was surprised by how welcoming west Mosul families were to strangers, despite shortages and the fighting nearby.
"It's surreal to see kids growing up here with bombs going off and they don't know any different," he said as he prepared to treat patients at the clinic this week.
All you can do is support the family members. But sometimes that doesn't feel like enough.
Kathy Bequary, NYC Medic's executive director
The Mosul offensive started in October, and the field clinic opened as fighting reached the west side in February. Since then, teams of eight to 10 medics have staffed it in 18-day rotations, treating several hundred soldiers and civilians, according to Kathy Bequary, NYC Medics executive director.
All of the medics must be certified to practice in the U.S. or Canada. They receive added training from the group on working in a conflict zone, Bequary said.
As troops advanced, so did they, moving from house to house to remain within a five-minute ambulance ride of the front line.
"It maintains that golden hour," said Bequary, referring to the time doctors have to save those with traumatic injuries. "Intervening in that golden hour saves lives."
Recently, medics were able to stabilize a 5-year-old girl shot in the stomach by an Islamic State sniper as she fled west Mosul, and the girl is recovering at a nearby hospital, Bequary said. The girl's mother, who was also shot by a sniper in the leg as they ran to safety, was also recovering.
Last week, the medics were excited after successfully treating a father and two children injured by mortars as they fled. Then another father arrived with a 12-year-old girl who had been shot in the chest by militants as she slept.
"She was dead on arrival," Bequary recalled. "All we could do was clean her up and make her presentable. And then we had to tell the father."
They treated the father too, although he had only minor injuries.
"All you can do is support the family members. But sometimes that doesn't feel like enough," Bequary said.
The same day, the clinic came under attack by mortars and had to relocate. It reopened a few days later.
Eunice Allen, 38, a nurse who came to volunteer from Hawaii, said she wishes more people in the U.S. understood how many Mosul civilians are caught in crossfire. One day this month, they treated 29 injured civilians.
"War is changing. It blows my mind that they're targeting people as they're running away. They're either walking through land mines or getting shot," Allen said as she sat outside the clinic with fellow medics awaiting patients this week. "What happens next?"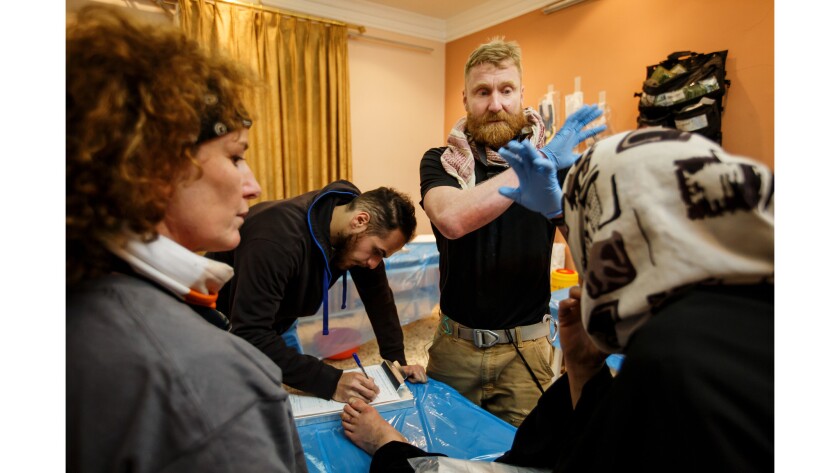 Allen wondered where neighboring families were getting food, water and other staples. Iraqi troops police the streets. They don't allow cars or motorcycles in, so it's difficult for civilians to import staples. That can pose challenges for the medics. Dr. Cornelius "Woody" Peeples, 50, an emergency physician from Bend, Ore., struggled to treat a diabetic woman last week seeking help with an infected toe.
"This is a good example of what we don't have the capabilities to deal with," Peeples said as he examined the woman inside the field clinic.
He would clean the wound and write the woman a prescription for diabetes medication. But the nearest pharmacy was in another town, and even if the woman managed to find transportation, given local shortages, the pharmacy might not be able to fill it.
molly.hennessy-fiske@latimes.com
Twitter: @mollyhf
---
Must-read stories from the L.A. Times
Get all the day's most vital news with our Today's Headlines newsletter, sent every weekday morning.
You may occasionally receive promotional content from the Los Angeles Times.