The underground beauty salon that defied Islamic State in Mosul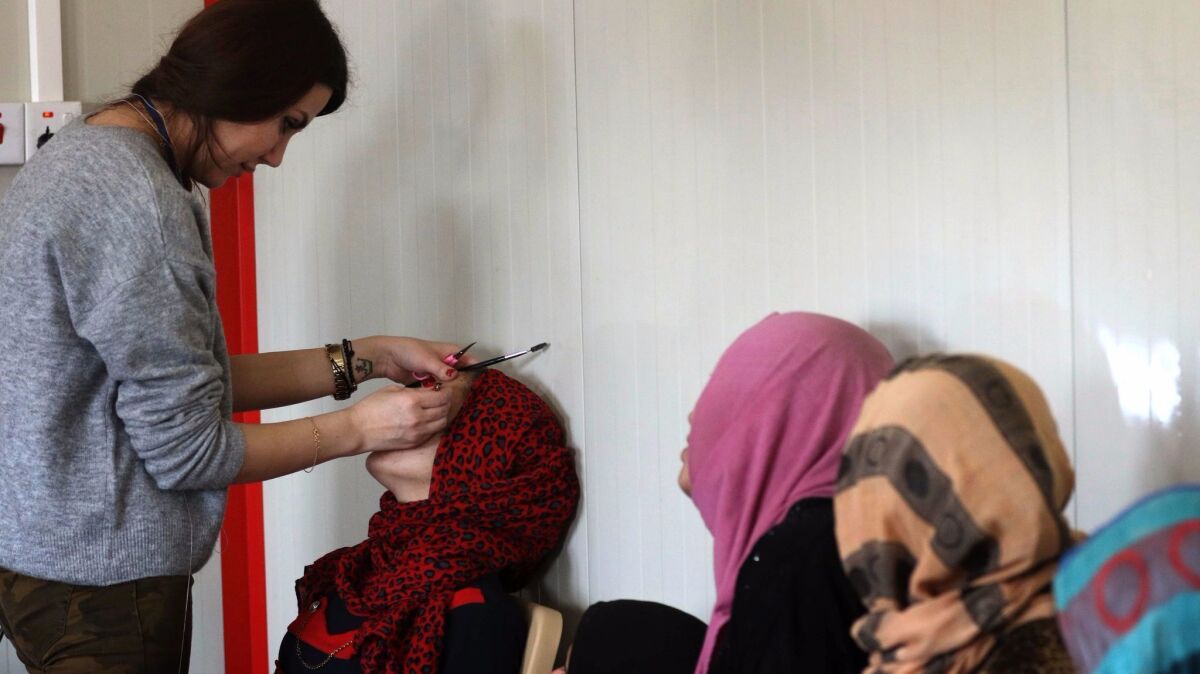 Reporting from Mosul, Iraq —
It was September 2014, three months after Islamic State's blitz takeover of this once vibrant metropolis, when a car from the Hisbah, the group's religious police, drew up to the door of Um Saud's beauty salon.
"It was Abu Ashraf, the head of the Hisbah. He said the caliph had banned all salons as haram [forbidden]" said Um Saud, 25, speaking in an alley near her beauty parlor in one of Mosul's eastern neighborhoods. Um Saud is a nickname that she used for reasons of security.
"He gave us 10 days to remove everything and close the shop. If we didn't, everything would be confiscated."
It was the start of Um Saud's career as an underground hairdresser, a furtive existence in which something as seemingly innocuous as eyeliner could be punished with a lashing and any customer could be a spy.
Iraqi security forces reclaimed the eastern half of Mosul, which is split in two by the Tigris River, in late January. Although a semblance of normalcy has returned in many eastern neighborhoods, suicide bombers and grenade-dropping drones are still a threat.
Iraqi forces have since launched an assault on the western half of the city, which remains under Islamic State control.
When Islamic State initially captured the city, life had continued much as before. Um Saud said her customers still came to the parlor, which had been opened in 1996 by her mother, to get elaborate makeup and hairdos done before important occasions. (Her mother is now trapped in western Mosul, Um Saud said.)
The militants' relative leniency changed after the first month, when they "had established themselves," said Um Saud.
One month into the Islamic State reign, posters were put up saying women had to wear a manteau, a type of loose gown, in addition to their hijab. Soon the edicts went further, making the niqab (a full face covering), gloves and socks mandatory for women when leaving the house.
Then an Islamic State militant, who gave his name as Abu Anas Ansari, visited the salon.
When I first saw him, he was a bit of man and a lot of hair. You could barely tell there was a man underneath it all
— Um Saud, underground hairdresser
"When I first saw him, he was a bit of man and a lot of hair. You could barely tell there was a man underneath it all," joked Um Saud.
He said that the salon's name, which was feminine, was forbidden. So was the picture of a heavily made-up woman with sultry eyes on the sign. They would have to be removed.
"It wasn't a matter of discussion. Of course we said yes," said Um Saud. Also forbidden, under Islamic State's particularly harsh application of Islamic law, were eyebrow plucking, hair dye and tattoos.
Any woman caught leaving the beauty parlor without being fully covered would spur a $600 fine on the salon's owners, said Um Saud. A harsher fate would await the woman's husband. As punishment, he would have to choose between being whipped, digging trenches near the frontline or destroying graves, whose headstones are considered idolatrous by Islamic State.
When the closure order came two months later, Um Saud moved her entire operation to her home, using a tailoring service and beauty products supply shop as a front. (Islamic State decrees allow women to wear makeup and perfume, but not in public and only in front of their husbands.)
"Only my longtime customers knew I was still a hairdresser. If anyone asked, they would say they were coming to mend or alter clothes," said Um Saud, who would import beauty products from Syria, making sure to scribble crayon over any faces printed on the boxes.
"If anyone new came to me, I wouldn't trust them. I was always terrified they would be Islamic State spies."
She spoke of the time a member from the Khansaa Brigade, the Hisbah's all-female group, came to the house.
"She came in wearing full niqab and had a walkie-talkie and had a ghadaarah slung over her shoulder," she said, using a slang term for an Uzi submachine gun.
"She told me 'I know you have a salon and I would like to get my hair done.' I was sure she was there to trick us, so I insisted she had heard wrong and that we didn't operate anything like that anymore."
Um Saud got a steady supply of Islamic State wives who wanted to buy authorized beauty products.
"They would come to us and say the caliphate won't end. It'll continue and that it would reach Rome," she said. The conquest of Rome is central to Islamic State's prophecies regarding the domination of the world by Muslims.
"We got lots of Russians, Syrians, French, Bangladeshis. We were always terrified of them," she said.
Work was only slightly easier for barbers who cut men's hair in Mosul. Their shops weren't closed, but were still subject to heavy restrictions.
"We couldn't trim the sides, define the edges of beards, remove excess facial hair, nothing," said one barber who said he had been imprisoned and whipped three times for violating the jihadists' injunctions on cutting hair. He declined to give his name for fear of reprisal.
"One time a customer insisted I cut his hair. When they caught him, they tortured him until he gave my name up so they got me too. I got 35 lashes for that one," the barber said. He was standing in front of his barbershop in eastern Mosul, where customers streamed in, eager to get the haircuts that had been banned under Islamic State.
But both he and Um Saud are still afraid of Islamic State sleeper cells in the city. Not only did they refuse to give their names, but requested that no information specific to their establishments be mentioned.
Um Saud's husband, a friendly 26-year-old businessman, mentioned My Fair Lady, a well-known restaurant that was struck by a suicide bomber. It had reopened at the behest of authorities shortly after Mosul's eastern half was retaken.
"We know the owner, Hajj Nasser. He was cut down in the attack, and we don't want the same to happen to us" said Um Saud's husband. He took a visiting reporter on a tour of restaurants in the city. Most remained closed.
"They're still here," he said, referring to Islamic State members. "All they did was change their clothes and cut their beards."
He and Um Saud sometimes wonder what happened to Abu Ashraf, the Hisbah chief.
"We really hated him. He would torment us specifically because of the salon," said Um Saud, a little smile on her face as she shook her head.
"I hope he's dead."
Bulos is a special correspondent.
Must-read stories from the L.A. Times
Get the day's top news with our Today's Headlines newsletter, sent every weekday morning.
You may occasionally receive promotional content from the Los Angeles Times.