Reporting from Ramadi, Iraq —
After more than a year away from the war-ravaged Iraqi city of Ramadi, Osama Ismail felt it was safe enough to return to check on the condition of his abandoned home.
The government, after all, had declared the city "liberated" from Islamic State extremists.
Ismail, a father of four, walked through the house last month surveying the damage, eventually reaching the bedroom he shared with his wife. They had left clothes and other items behind in their rush to leave the city and he was curious to see what remained.
Then, an explosion. Family members said the blast threw the 42-year-old teacher against a wall and killed him instantly.
The house, local officials said, had been booby-trapped with an improvised explosive device by Islamic State fighters.
At least there was a body to collect.
Sheik Qahtaan Rashid
"At least there was a body to collect," Sheik Qahtaan Rashid, one of Ismail's distant relatives and the imam of Ramadi's Mohammad Aref Mosque, said in a recent interview.
In the months after the Iraqi government's December retaking of Ramadi, 60 miles west of the capital, Baghdad, about 15,000 displaced families have left camps in Baghdad and elsewhere and trickled back to the city, hoping to resurrect their shattered lives.
But the fate of people such as Ismail, who had moved to Irbil with his wife and children early last year, illustrates the difficulties and danger awaiting Ramadi's residents.
Anywhere from 60% to 80% of Ramadi was ravaged in the fighting between government forces and Islamic State over the last 2 1/2 years, according to the United Nations and local officials. Large sections of neighborhoods appear to be almost pixelated, their edges made jagged by shells and bullet holes. Other parts, especially in south Ramadi, are a sea of gray rubble, with the occasional husk of a building standing off-kilter.
Islamic State left behind thousands of explosive devices as parting gifts as it withdrew from the city, with some hidden in places such as couches, under carpets and -- in one case reported by local media -- the frame of a little girl's bicycle.
"If I walk into a house, I wouldn't even dare to tip this bottle," said Col. Arkan Fadel, a 34-year-old officer with Iraq's special forces, as he gestured to a nearby table in his group's headquarters in the village of Tash, south of Ramadi. His division spearheaded the U.S.-coalition backed government offensive to retake the city.
Los Angeles Times special correspondent Nabih Bulos describes the destruction in Ramadi, Iraq.
Reminders of the dangers of improvised explosive devices are omnipresent in Ramadi, the capital of Anbar province. Banners spread on the remnants of fences in some areas tell people "not to enter [their] homes" without speaking to an official, because "most of the houses are unsecured." A few areas bear a spray-painted sentence from the High Committee to Repatriate the Displaced, saying the "street has been treated and cleansed."
But aside from the severe disruption of basic services such as water and electricity, returning residents complain about the slow pace of bomb removal even as casualties continue to mount.
"Just the other day I heard of four people dying from IEDs, " Rashid said.
The conditions left by Islamic State, an ultra-fundamentalist Sunni movement that views Shiite Muslims as heretics, has resulted in the death or injury of more than 800 people since February, according to Anbar Operations Command, the military body overseeing operations in Ramadi.
The violence forced the government in April to stop displaced residents from returning. Ramadi Mayor Ibrahim Janabi said that people would be allowed to return once the school year is over in June, according to local media.
Many who call Ramadi home have opted to remain in the relative safety of their tent communities.
"We won't go back, not now. What, you start cleaning your house so that you can then die?" said 51-year-old Raed Jiyad Abed, who was living with his eight children in a refugee camp in Baghdad's Ghazaliya district.
A prefabricated hut near his tent sported colorful posters, designed by UNICEF and the Danish Refugee Council, depicting frightened children looking at a mortar shell, with a warning "not to approach strange objects."
"There is no solution other than to wait for engineering crews to go through the city," Abed said.
Ramadi is part of a larger campaign to push back Islamic State. In 2014, the extremist group blitzed through large parts of the country in a stunning offensive that saw it capture cities such as Mosul, the group's self-declared capital in Iraq.
But Iraqi forces backed by a U.S.-led coalition providing airstrikes have since reclaimed territory and on Sunday night launched a military offensive to recapture the city of Fallouja, which has been under the extremists' control since January 2014. Thousands of civilians who remain in the city face severe shortages of food and medicine. The offensive on Fallouja, 35 miles west of Baghdad, followed the recent retaking of the western town of Rutba.
Ramadi, snatched from government control last year, has always been an important prize for the group, which counts the Sunni-dominated Anbar province as its main support area in Iraq.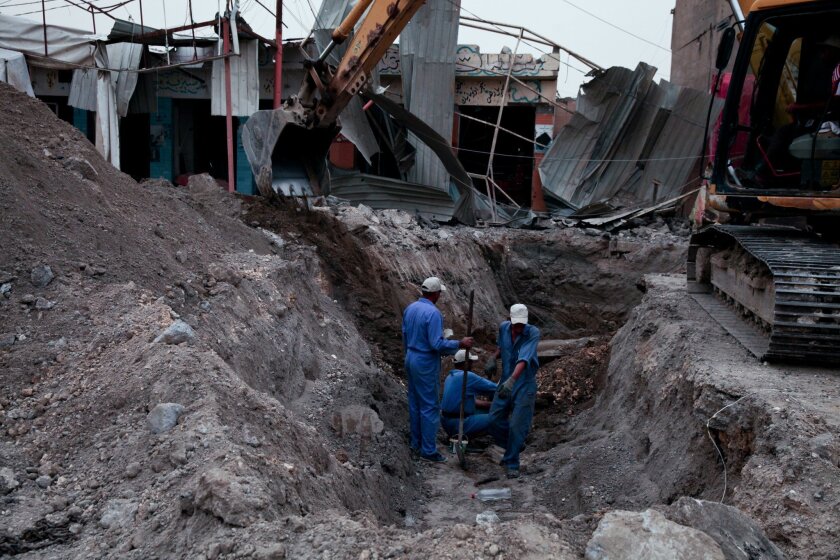 Pushing out extremists is a priority for both Iraqi Prime Minister Haider Abadi's Shiite-dominated government and the U.S. administration. Efforts to do so have added to the destruction, as government forces have pounded their way into urban areas.
Anad Khalaf, who returned to Ramadi from Baghdad recently with his wife and two children, was wrestling with whether to bring the rest of his family back. He said he had no idea when assistance would come, if at all, and decided to examine his house for explosives.
"My neighbor and I took the risk and we just decided to go in," said Khalaf, a preacher employed by the state. "We checked out everything and were extremely careful. What could we do? We need a roof over our head."
The conditions in Ramadi add to the challenges in an Iraq caught in the midst of a budget crisis -- and plummeting oil prices -- that has all but emptied its coffers even as it is saddled with the crippling cost of battling Islamic State.
"No municipality or central government can do anything with the funds we have now. The [Anbar] governor so far doesn't have the money. He barely has any cash," Janabi said in a phone interview last week.
Muhannad Haimour, a spokesman for the Anbar governor, said the "central government is doing what it can to help ... but there is only money for stabilization to restore basic services."
"We're hoping to get funds from different donor countries to move beyond stabilization."
The U.S. State Department in April announced a $5-million grant to help clear explosives in Ramadi, in what it described as "an important first step to supporting Iraqi authorities as they repair key infrastructure and help displaced Iraqi families return home."
The statement added that a U.S. company, Janus Global, would begin initial efforts to survey the unexploded ordnance.
But the scale of the problem is daunting, according to Fadel, the special forces officer, who said the amount of explosives used by Islamic State fighters was "huge, more than you can imagine," with some minefields stretching nearly two miles long.
James O'Neil, a retired Navy demolitions specialist and Janus' Task Order Leader in Iraq, described Ramadi as "an extremely contaminated environment with unique and difficult challenges."
"It's hard to put a number, but there are more IED components and ordnance than you would typically find in any kind of typical aftermath clearance," he said in a phone interview last week. "It just seems there was a purposeful placement of a very large number of IEDs either during the retreat [of Islamic State] or as a defensive posture."
The large amount of debris has exponentially added to the complexity of the problem, O'Neil said.
"You have to take each piece separately, I have no idea what is buried under the piece of debris, each piece is potentially a trigger, or a pressure plate, so it takes a very long time," he said.
But even bomb specialists haven't been able to avoid casualties in their ranks. The work has killed 135 members of the Iraqi army and police since February, Janabi said this week. O'Neil said his teams hadn't sustained any casualties so far.
Since it began work last month, Janus has cleared five schools as well as a water treatment facility, under the company's mandate from the United Nations Development Program. Each school, O'Neil said, took an average of a week.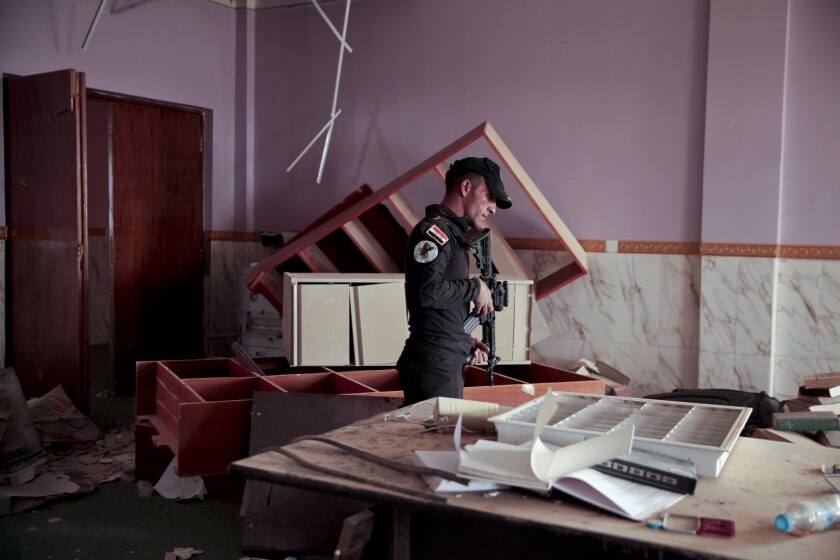 In a visit to Ramadi last week, 700 students had returned to the Hawraa' Girls Primary School to take their end-of-year exams. They sat in classrooms with gaping holes caused by mortar shells in the ceiling. The walls were pockmarked with shrapnel.
"The first day I came back it was me on my own. The security services said there was nothing in the school, but I went in and checked everything," said Karim Shalan, the school's principal. "Better that a bomb gets me than the kids."
Many parts of Ramadi, however, are damaged to the point where removing explosives is no longer feasible.
"Neighborhoods like Al-Malaab, Bakr -- places like these are so destroyed that they're not a priority, you can't use them, you can't bring people to them," said Haimour, the spokesman for the governor. "And there are most likely IEDs there as well, which means you'll need armored construction equipment to safely clear the areas -- and there is just no money for that."
"I think the idea is clear: There are no funds to bring back the city to what it was before [Islamic State] came in. It'll take years before we get to those neighborhoods."
Bulos is a special correspondent.
---