Islamic State hostage Kayla Mueller: 'devoted to the people of Syria'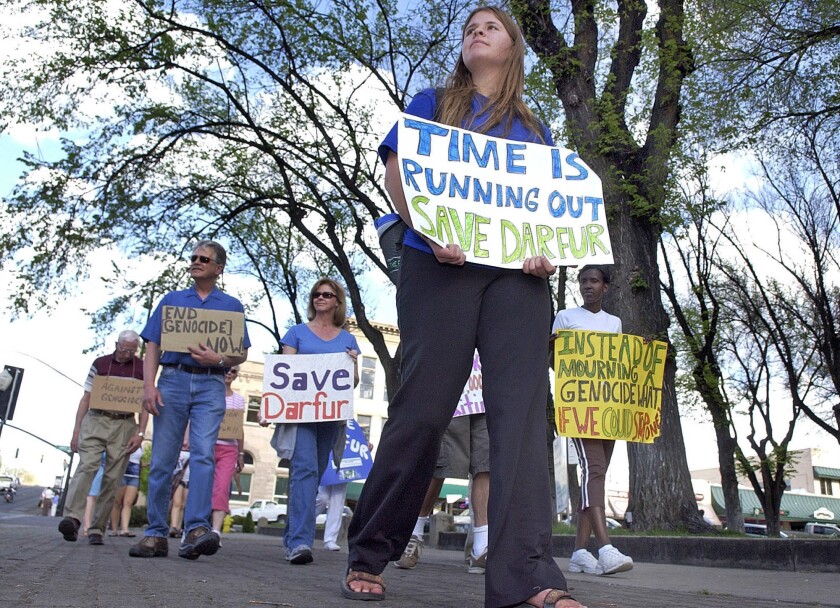 Reporting from Prescott, Ariz. —
At an age when most kids are preoccupied with friends and school, Kayla Jean Mueller devoted herself to helping those in need around the world.
She volunteered with aid groups in her home state of Arizona and later in countries such as India and Turkey. In August 2013, she was abducted in the Syrian city of Aleppo as she left a hospital operated by Doctors Without Borders.
A purported statement from Islamic State militants said Friday that a Jordanian airstrike had killed the 26-year-old Mueller, who was being held in the northern militant stronghold of Raqqa.
MORE: Jordanian airstrike kills U.S. hostage, purported militant statement says
Her parents, Carl and Marsha Mueller, said they remained hopeful that she was still alive and appealed to her captors to contact them privately.
As they awaited verification of the claim, the family shared some details about Mueller.
"The common thread of Kayla's life has been her quiet leadership and strong desire to serve others," a family statement said.
As a high school student at Tri City College Prep in Prescott, Mueller picked up awards for her volunteer efforts with groups such as AmeriCorps, America's Promise and Big Brothers Big Sisters.
She told her hometown newspaper, the Daily Courier, in 2007 that she was interested in world affairs and wanted to work with people in the strife-torn Darfur region of Sudan.
After graduating from Northern Arizona University in 2009, she lived and worked with aid groups in northern India, Israel and the Palestinian territories.
She returned to Arizona in 2011, where she worked for an HIV/AIDS clinic and volunteered for a women's shelter. Late that year, she moved to Provence, in southeastern France, to learn French while working as an au pair in preparation for a move to Africa.
But the plight of families fleeing the violence in Syria drew her to neighboring Turkey in December 2012. She worked with the aid groups Support to Life and the Danish Refugee Council.
"Kayla found this work heartbreaking but compelling; she is extremely devoted to the people of Syria," her family said. "When asked what kept her going in her mission, she said, 'I find God in the suffering eyes reflected in mine, if this is how you are revealed to me, this is how I will forever seek you.'"
Mueller shared some of her experiences with the Prescott Kiwanis Club in late May 2013, including a story of trying to reunite a father with his 6-year-old son after a bombing at a refugee camp in Turkey. She eventually found the boy as he came out of surgery at a hospital, but the man's wife had been killed.
"This story is not rare in Syria," Mueller said, according to an article in the Daily Courier. "This is the reality for Syrians two and a half years on. When Syrians hear I'm an American, they ask, 'Where is the world?' All I can do is cry with them, because I don't know."
She made a promise that day:
"For as long as I live, I will not let this suffering be normal," she said. "It's important to stop and realize what we have, why we have it and how privileged we are."
Two months later, Mueller accompanied a friend on a trip to Aleppo. Members of the Spanish chapter of Doctors Without Borders were surprised to see her show up at one of their structures with a technician sent by a company it contracted to perform repairs, the group said in a statement Friday.
The repairs took longer than expected, and the pair were harbored overnight at the hospital in Aleppo for their safety, the statement said. The next day, Aug. 4, the Doctors Without Borders team organized transportation for them to the Aleppo bus station -- from which they planned to depart for Turkey.
Mueller never made it. She was captured during the drive.
Times staff writers Duara reported from Tucson and Zavis from Los Angeles.
For more national and international news, follow @nigelduara and @alexzavis on Twitter
---
Must-read stories from the L.A. Times
Get the day's top news with our Today's Headlines newsletter, sent every weekday morning.
You may occasionally receive promotional content from the Los Angeles Times.