Israel is said to be on the verge of relaxing sanctions against Gaza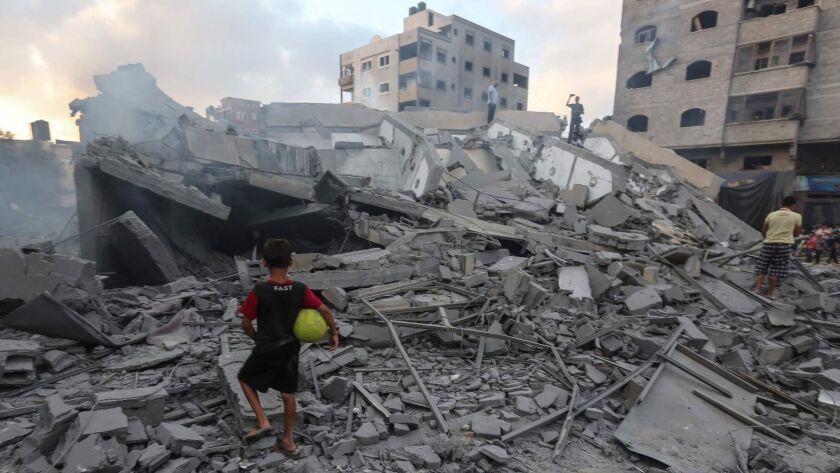 Reporting from Jerusalem —
After over a month of suffocating sanctions that left many Gazans on the brink of economic collapse, relief may be on its way.
Israel's Defense Ministry said Monday that two days of "complete quiet" on its border with Gaza have led Defense Minister Avigdor Lieberman to consider easing the closure it imposed on the sole commercial entryway into the Gaza Strip on July 9.

For the record:
10:15 a.m. Aug. 14, 2018An earlier version of this report inadvertently dropped the word "daily" in reference to the dozens of kites and balloons launched into Israel.
A senior Israeli official familiar with the negotiations who was not authorized to speak publicly told The Times that the deal with Hamas, the Islamist militia that rules the Gaza Strip, is "virtually done."
Also Monday, Nickolay Mladenov, the United Nations special coordinator for the Middle East peace process, announced two new programs to help Gaza. One will provide 4,400 new short-term jobs; the other will help 200,000 "extremely poor Palestinians" buy food for the next six weeks.
For Gazans of every social class, the relief can't come soon enough.
At nightfall Sunday, Abu Karam Bourno, 60, sat on the step of his darkened electronics shop and contemplated an evening without a single customer. Traffic was busy on Omar Mukhtar Street, one of Gaza's liveliest thoroughfares, but many shops appeared to be empty.
Gaza has been partially blockaded by Israel and Egypt since Hamas took over the territory in 2007. More recently, Israel shut down any possibility of importing or exporting consumer goods. The extreme measure was taken after months of sometimes violent protests at the border and as Gazans launched dozens of flaming kites and balloons daily into Israel, incinerating acres of agricultural fields.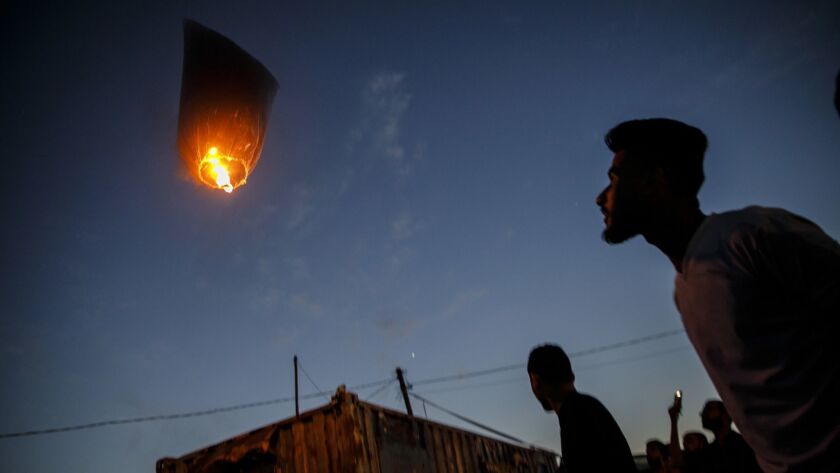 On Wednesday and Thursday, about 200 rockets were launched into Israel from Gaza, prompting Israel to respond with a similarly heavy bombardment. On Friday, three Palestinians were killed by Israeli fire during border demonstrations.
But on Monday, Israel said that it had detected only one blaze and that it was "not caused by a balloon."
Gaza business owners have become very adaptable over almost a dozen years of limitations on their ability to engage trade freely and move outside the Strip. But the last year has been brutal.
In January, President Trump announced the United States would withdraw its usual contribution to the U.N. Relief and Works Agency, which runs schools and provides food, medical care and employment for thousands of Palestinians across the Middle East.
In April, UNRWA head Pierre Kraehenbuehl said the U.S. paid only $60 million of a promised $365 million for the year, leaving a gaping shortfall for the neediest Gazans.
In July, Israel closed the Kerem Shalom crossing, where hundreds of trucks loaded with goods usually rumble daily in and out of Gaza, and limited the ability of Gazans to fish off the Mediterranean coast. It made an exception for humanitarian necessities such as food and medicine.
Even the supply of fuel and gas has been intermittently halted.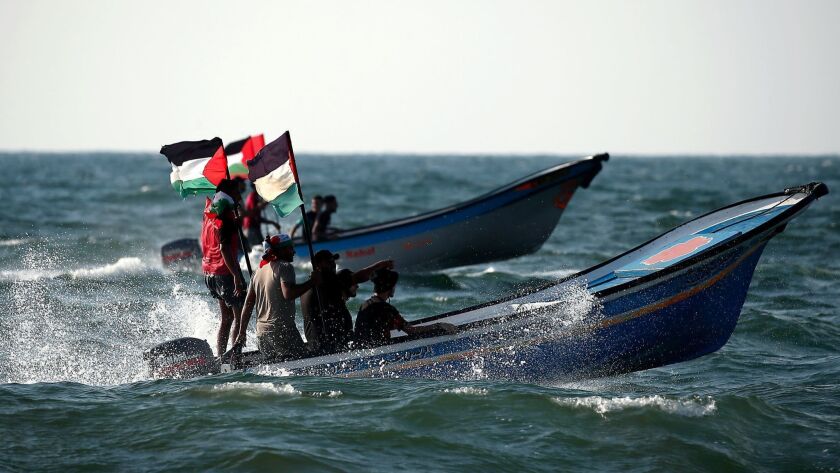 Bourno's Lamar laptop shop supports a family of seven, including Karam, his 34-year-old son, who is single and works in the store. In recent weeks, they started stocking cellphones and phone accessories and offering telephone repair services for clients who could no longer afford to buy the few laptops still on the shelves.
On Saturday, the Bournos scrambled and briskly tried to fix the phones of people who couldn't afford to upgrade or who couldn't find new devices to replace broken ones.
All the shops along Omar Mukhtar Street have been hurt. Gazans who managed to thrive despite the blockade and the cutbacks to UNRWA also had to contend with sanctions imposed by the Palestinian Authority. To punish its rival faction, Hamas, the authority slashed the salaries of government employees and imposed cutbacks on the supply of electricity.
On Sunday, few electronics shops had light. On the sidewalk in front of the Bournos' store, a young man tried to sell shirts he'd folded on a sheet on the pavement. Clothing shops, mini-marts selling foodstuffs and household appliances, perfumeries — all showed signs of the inability of Gazans to buy and the inability of the shops to sell.
Faced with over a month of stasis, the elder Bourno said: "'I can't further reduce my level of income. We're all used to a certain standard of living, and now I sometimes request loans, as it is the only way I've found to move ahead with life until economic conditions improve."
It's not just him. Everyone he does business with, he said, "depends on credit now."
Osama Nofal, director of planning and policy at Hamas' Ministry of National Economy, said in an interview that 75% of Gaza's 650 construction-sector factories have been shuttered since July 9 and that an additional 15% are operating at less than half capacity.
"Gaza's economy is on the verge of collapse," Ali Hayek, chairman of the Palestinian Businessmen Assn. in the territory, said last week. "Commercial and financial activities has stopped almost completely since Israel's decisions to tighten the siege on the Gaza Strip."
He said the recent sanctions had cost 75,000 people their jobs, "an unprecedented rate of unemployment and poverty, even in the Gaza Strip."
Exporters have also been hurt. Ibrahim Bashir, owner of Bashir Co., said he lost $30,000 because he can't sell most of the sweet potatoes he purchased from local farmers for export. Sweet potatoes are considered a luxury in Gaza, and those who buy them tend to do so in winter rather than summer, he said.
Now Bashir is afraid that his Jordanian and Saudi Arabian clients will cancel their contracts because they no longer have confidence in his ability to deliver their orders.
Tahseen Saqqa, general manager for marketing at the Gaza Ministry of Agriculture said the halt in fruit and vegetable exports was costing the enclave about $100,000 in daily losses.
"Israel is preventing the export of potatoes, tomatoes, cucumbers, eggplants, zucchinis, cauliflowers, grapes, all of which are in season now," he said.
Even if Israel loosens the barrier to commercial exchange and money flows in from new international aid programs, not everyone believes that Gaza will be able to recoup its losses.
If Israeli Prime Minister Benjamin Netanyahu "agreed to open all crossings and allow all goods to enter … you won't feel any economic improvement," said Mohammed Abu Jayyab, editor in chief of the economic newspaper Eqtisadia. "The disease is the absence of money and liquidity in the hands of Gazan citizens and in the private sector. Without an inflow of money and regular disbursement of salaries, nothing will have a significant effect on the lives of people in Gaza."
Special correspondents Tarnopolsky and Salah reported from Jerusalem and Gaza City, respectively.
---
Must-read stories from the L.A. Times
Get the day's top news with our Today's Headlines newsletter, sent every weekday morning.
You may occasionally receive promotional content from the Los Angeles Times.