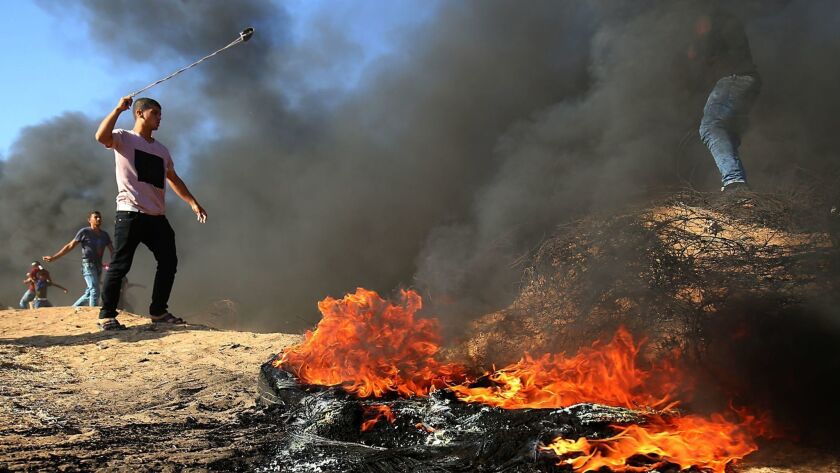 Reporting from Gaza City —
After an intense two-day flare-up of violence, Israel and Hamas — the Palestinian militia that rules the Gaza Strip — appeared to back away from the brink of all-out war, but there was no official cease-fire.
Thursday night, the Al Jazeera television network quoted Egyptian sources as saying a truce had been achieved between the two sides, but Hamas did not confirm it and the Israeli government sent local reporters an unsigned text message reading "the report on a supposed cease-fire is not correct."
A meeting of Israel's Security Cabinet concluded with a statement that it had "directed the Israel Defense Forces to continue taking strong action against the terrorist elements."
Despite the denial, all the restrictions imposed by the Israeli army on Israelis living near the Gaza border were lifted Friday. On Wednesday and Thursday, about 200 rockets were launched from Gaza into Israel. In the exchange, Israel bombed a similar number of sites in Gaza.
Hamas' Al Aqsa TV channel on Thursday said peace would hold "on the basis of mutual calm," claims that have been repeatedly made in recent weeks, to no significant effect.
It remained unclear if Friday's pause in attacks was because of ongoing Egyptian and United Nations efforts to mediate or signaled an end to the two-day burst of violence, in which at least three Palestinians were killed. On Friday, at least two Palestinians were killed — one of them a medic — and 242 wounded during protests along the border with Israel, according to Palestinian authorities.
Several thousand Palestinians demonstrated along the border after Hamas called for mass participation, saying Israeli "aggression" was an "incentive to continue their popular protest."
Contradicting recent reports that Hamas was stepping away from violence, a statement said, "Palestinians will continue resisting the occupation by all means possible until their rights are regained."
Gaza has been under a blockade imposed by Israel and Egypt after Hamas took control of the territory in 2007.
Alon Davidi, the mayor of Sderot, a city that repeatedly has been struck by rockets launched from Gaza, where a woman was gravely injured by a rocket this week and one house suffered a direct hit, said on Friday that the unconfirmed cease-fire was a mistake.
"I understand the desire of the government to enter into negotiations, but Israel must end the terror with the help of the military," he said. "This on and off war is unhealthy."
---