Israeli Prime Minister Netanyahu received mixed verdict in Likud party primary vote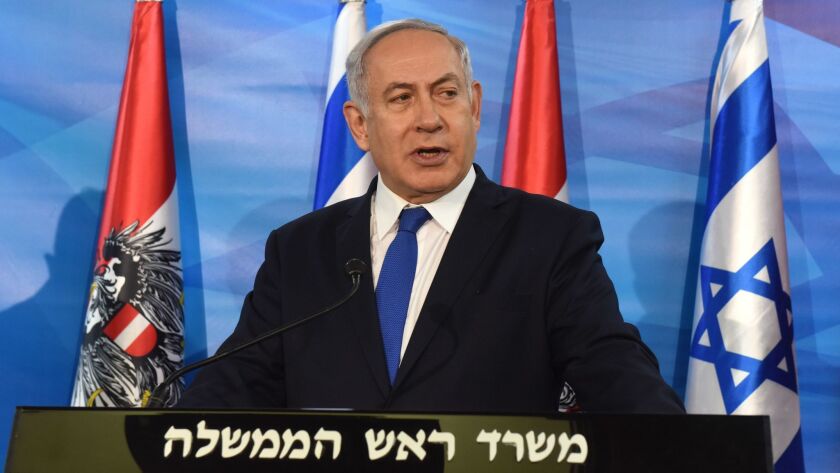 Reporting from JERUSALEM —
Embattled Israeli Prime Minister Benjamin Netanyahu, dogged by corruption allegations, received mixed results Wednesday in a primary election for fellow Likud Party candidates.
After almost 24 hours of vote counting, Netanyahu, who was reelected party leader four years ago and was not a candidate on Tuesday, now finds himself with as many rivals as allies in his party's top leadership.
The top slot in this week's balloting was won by the independent-minded Yuli Edelstein, speaker of the Knesset, Israel's parliament, who has made his name as a flag-bearer for decorum and good government and has not shied away from public disagreements with Netanyahu.
Other successful candidates serve even more clearly as barometers of a Likud base that may support the prime minister but is not afraid to back those who oppose him.
Gideon Saar, returning to the political arena four years after resigning as minister of education and announcing his plan to run, at some point, for prime minister, came in fourth out of the 30 candidates who are considered realistic choices for parliament.
His placement in the top five serves as evidence of significant support despite a campaign led by Netanyahu to remove him from contention for the top 10 posts. Netanyahu accused Saar of conspiring with Israel's president, Reuven Rivlin, another disgruntled Likud leader, to plan a putsch against him should he win the April election while facing criminal indictment.
Basking in what he called "the most significant victory in my political life," Saar slyly taunted Netanyahu in a tweet congratulating Edelstein, to whom he wrote, "There is value and recognition for statesmanship!"
At stake in the vote were the positions after Netanyahu's on the party list, to be filled by candidates for parliamentary seats. In April, Israeli voters will choose a party, not a candidate, to lead the country, with each party's leader serving as its contender for the post of prime minister.
Afterward, Israel's president normally invites the party that won the most votes to form a government.
On Wednesday, a Likud spokesman issued an announcement attributable to "people in Netanyahu's circles" that read "Netanyahu didn't want Gideon Saar in the top spot — and he succeeded."
Former Jerusalem Mayor Nir Barkat, one of at least five top contenders who have openly spoken of their ambitions to become prime minister, proved a successful vote-getter in his first try at national, partisan elections. Barkat, a tech millionaire who may be the wealthiest politician in Israel, enters the political fray with few allegiances and 10 years of well-publicized, successful stewardship of Israel's most complex city.
The imminent legal imbroglio engulfing Netanyahu threatens to strain loyalties in Likud, the leading right-wing party in Israel and one that will need coalition partners to form a future government if its support holds at current levels.
Likud now controls 30 of the Knesset's 120 seats.
Netanyahu announced early elections when Defense Minister Avigdor Lieberman quit his post in protest of measures taken to alleviate the humanitarian crisis in the Gaza Strip and Naftali Bennett, the education minister, made a boisterous bid for the Defense Ministry before relenting.
On Tuesday, as he left Jerusalem's central voting place, located in a convention center, Moshe Pinchasi, a longtime Likud member in his 60s, seemed to reflect party members' mood.
Pinchasi said that loyalty to Netanyahu was "absolutely" an important factor in his choice, but that he had "absolutely voted for Gideon Saar" too.
Asked how he justified the seemingly contradictory votes, Pinchasi explained that "loyalty to Netanyahu as prime minister is important, and the more allegations he faces, the more we'll vote for him."
"I believe him when the prime minister says he is innocent of the accusations against him," Pinchasi said. "But I don't believe what he says about Gideon Saar."
In a statement issued Wednesday evening, Netanyhu said he was "very pleased that Likud members have chosen a strong, impressive list good for Israel in a precise and democratic way."
Tarnopolsky is a special correspondent.
---
Must-read stories from the L.A. Times
Get all the day's most vital news with our Today's Headlines newsletter, sent every weekday morning.
You may occasionally receive promotional content from the Los Angeles Times.