Netanyahu, under pressure, dissolves Israeli parliament and calls for new elections in April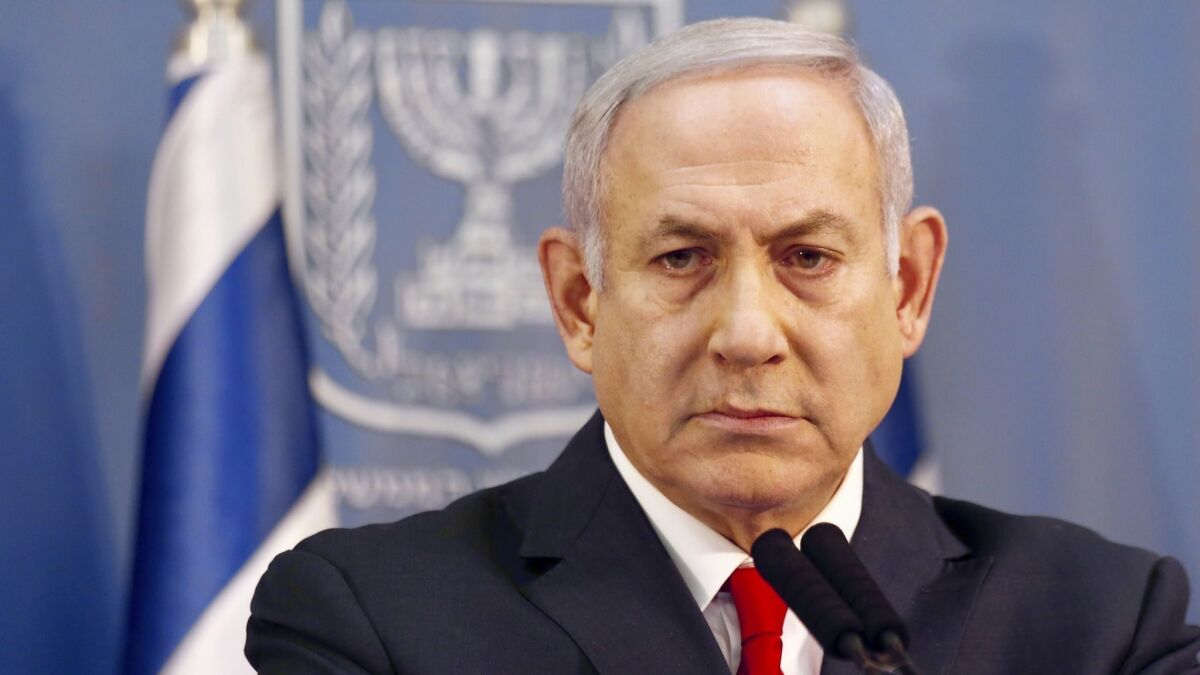 Reporting from JERUSALEM —
Israeli Prime Minister Benjamin Netanyahu, facing a collapse of his coalition and looming legal problems, on Monday announced the dissolution of Israel's current parliament, with elections set for April 9.
Under Israeli law, elections would ordinarily have been held by November 2019, when Netanyahu's current four-year term is to end. Early elections, however, had appeared likely ever since Netanyahu's coalition was left hanging by a parliamentary majority of a single vote following last month's resignation by Defense Minister Avigdor Lieberman.
Netanyahu, who remains by far the most popular party leader in Israel's rambunctious multiparty polity, faces several steep challenges in the coming months.
The highest hurdle may be his own legal predicament. He appears sure to be indicted following police and state attorney recommendations that he be prosecuted on several corruption charges.
Avichai Mandelblit, the Netanyahu-appointed attorney general, whose decision is anticipated in the coming months, recently said he had not yet determined whether a sitting prime minister could stay in office while indicted. This is a situation that has not yet presented itself in Israel, where both a president and a prime minister have resigned when facing almost certain indictment.
Both later served jail sentences.
Netanyahu, who has tried to delay elections, was forced to accept the inevitable when he failed to muster the votes necessary to pass a controversial new law on drafting Orthodox Jewish seminary students into the army.
Netanyahu's ultra-Orthodox coalition members opposed the law, which would have strengthened current legislation forcing religious young men to participate in the nation's otherwise universal draft of Jewish 18-year-olds. They have long received exemptions so long as they were studying the Torah in the seminaries, known as yeshivas. There was broad popular support for the measure, but two opposition parties that had originally indicated support for the bill withdrew on Monday.
Speaking to his fellow Likud party activists at a hastily arranged gathering at the Knesset, Israel's parliament, Netanyahu foresaw victory in the upcoming elections and stated that his current coalition — the most right-wing in Israeli history and one of the most volatile — will serve as "the seed" for his next government.
Netanyahu made no mention of his upcoming legal woes and ignored the instability in the financial markets that followed President Trump's unforeseen decision to withdraw American troops from Syria, where they supported Israel's efforts to repel Iranian entrenchment. Rather, he described "four full years of achievements."
He praised his government's achievement as "a growing power, with flourishing diplomatic ties" with nations including India, Australia and Brazil, and extolled an alliance "with the United States that has never been stronger, with the historic decision made by President Trump to recognize Jerusalem as Israel's capital and move the embassy to Jerusalem."
"Israel has the eighth most powerful military on earth," he told his followers. "It is hard to believe, Israel is not a large country, but serious institutions rank us that high."
Tarnopolsky is a special correspondent.
---
Must-read stories from the L.A. Times
Get the day's top news with our Today's Headlines newsletter, sent every weekday morning.
You may occasionally receive promotional content from the Los Angeles Times.