Israel's Netanyahu acknowledges that he is likely to be indicted soon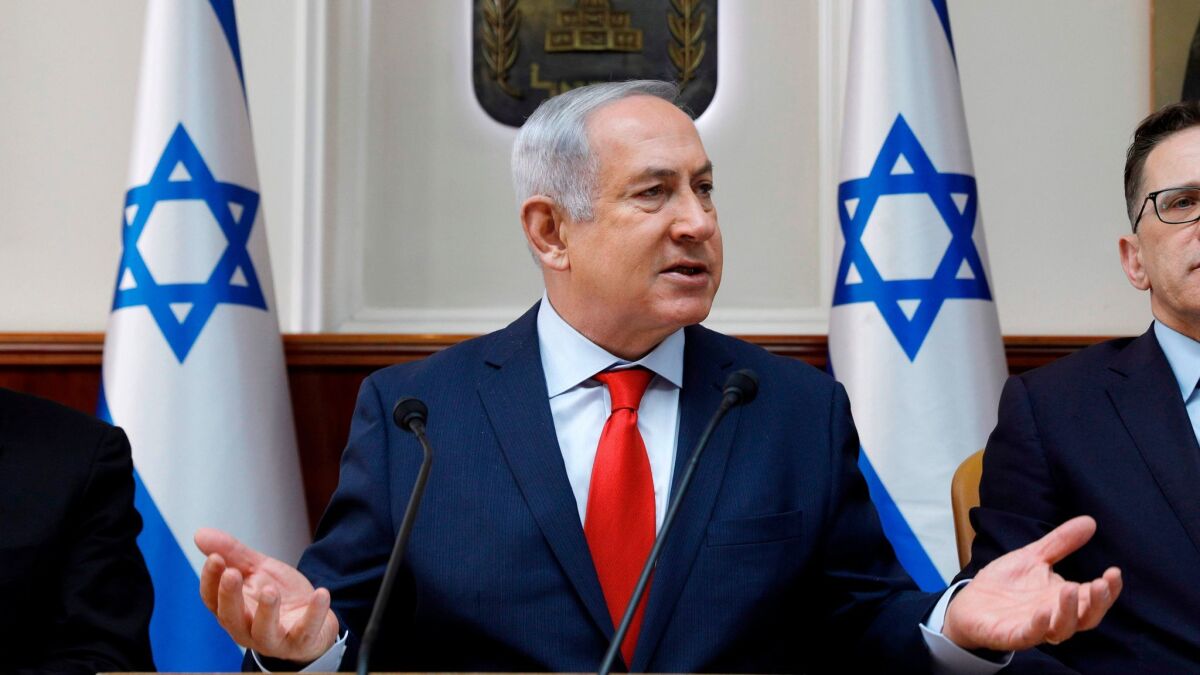 Reporting from JERUSALEM —
Israeli Prime Minister Benjamin Netanyahu remained defiant Thursday in the face of reports — which he acknowledged — that police are expected to recommend his indictment for demanding and receiving gifts from businessmen, including cases of champagne and Cuban cigars, in exchange for personal favors.
Responding to numerous Israeli media reports, Netanyahu posted an angry video to his Facebook page agreeing that the recommendation he be indicted appears imminent.
"Many of you are asking — what will be [in the future]?" the prime minister said. "I want to reassure you, there will be nothing because I know the truth."
Netanyahu laid out a case diminishing the importance of any police recommendations, and over the course of the day cast heavy aspersions on the team investigating him and, most harshly, against the nation's police commissioner, Inspector General Roni Alsheikh.
"According to the law, the only person qualified to determine whether there is evidence against the prime minister is the attorney general," Netanyahu said in the video, "and he discusses the matter with the state attorney…. The state of Israel is a state of law, and the law in Israel says that the person to determine whether there is alleged evidence against the prime minister is the attorney general, and he consults with the state attorney."
On Facebook, Netanyahu, who is known by the nickname Bibi, insisted he wasn't concerned. "No worries," he said sarcastically. "There will be [police] recommendations, there will also be posters saying 'Bibi is guilty until proven otherwise,' and there will be inappropriate pressure, too. But I'm sure that at the end of the day the legal authorities will arrive at one conclusion, at the simple truth: There is nothing."
The police report is expected by Tuesday. Netanyahu is a criminal suspect in two corruption cases.
According to Israeli media reports, the police team investigating Netanyahu, nominally headed by Alsheikh, has concluded that Netanyahu should be indicted for bribery, fraud and breach of trust in "Case 1000," which involves the allegations that Netanyahu and his wife, Sara, inappropriately accepted expensive gifts.
One of the businessmen is believed to be Hollywood producer Arnon Milchan, an Israeli citizen for whom Netanyahu reportedly pressured then-Secretary of State John F. Kerry for a green card.The police have reportedly not made a firm recommendation regarding "Case 2000," in which Netanyahu is also suspected of having negotiated a quid pro quo with the publisher of Israel's most widely distributed tabloid newspaper. According to recordings held by the police, Netanyahu negotiated for favorable coverage in exchange for a law that would have weakened Israel Hayom, a free daily owned by Las Vegas billionaire Sheldon Adelson.
Netanyahu is a central figure, but not a suspect, in "Case 3000," a police inquiry into Israel's questionable multibillion-dollar procurement of German-made naval vessels and submarines. Numerous close associates, including senior aides and his personal lawyer and cousin, have been questioned or arrested.
In a rare television appearance, Alsheikh, the police chief, said that his senior detectives had been pursued by "private investigators collecting information against police officers involved in ongoing investigations into the prime minister."
"We're not talking about a conspiratorial mind here," Alsheikh said, "these are facts." He said the private investigators had been hired by "powerful figures."
In response, the prime minister uploaded a Facebook post denouncing the police chief, who is a Netanyahu appointee. Netanyahu said he was shocked by the "outlandish and false claim," adding that "every decent person will ask himself how can people saying such outlandish things regarding the prime minister then question him objectively and be impartial when it is time to reach a decision about him?"
"A dark shadow has been cast over the police investigations and recommendations," Netanyahu added, calling for "an immediate and objective inquiry into the matter."
A close Netanyahu ally, governing coalition Chairman David Amsalem, called Alsheikh "smug and full of himself" and said the criminal investigations amounted to "an attempted coup by the police. They see the prime minister as a personal enemy and are trying to topple him."
Gideon Rahat, a Hebrew University professor of political science and an expert on Israeli politics, said in an interview that "Netanyahu's attacks resemble President Trump's against the FBI and [former Italian Prime Minister] Silvio Berlusconi's against the magistrates who investigated him."
Rahat said this sort of condemnation of the police hadn't been seen in Israel since the late 1990s, when Aryeh Deri, who is now the interior minister, was facing trial on corruption charges. He eventually served three years behind bars.
"Of course Rabin resigned over much less," Rahat said. In 1977, then-Prime Minister Yitzhak Rabin resigned when his wife was discovered to have an American bank account, which at the time was not permitted under Israeli law.
Ehud Olmert became Israel's first former prime minister to serve a term in jail when he was convicted in 2014 of fraud and bribery in a real estate case. He served 16 months of a 27-month sentence.
Netanyahu aides recently implied that he is likely to do what none of his predecessors has done: Remain in office even if indicted. Noting that Netanyahu is unlikely to resign "after what happened to Olmert," Rahat said that "by law, he can remain prime minister until he is convicted of a crime, and even then parliament has to vote him out."
Such a circumstance, he added, would cause an unprecedented legal crisis in Israel.
Tarnopolsky is a special correspondent.
Must-read stories from the L.A. Times
Get the day's top news with our Today's Headlines newsletter, sent every weekday morning.
You may occasionally receive promotional content from the Los Angeles Times.