Iraqi Kurds vote on creating an independent Kurdistan — but big obstacles stand in the way
Reporting from Beirut —
Sometimes, in the fractious world of Iraqi politics, no means yes.
That was the central message from Kurdish leaders Monday morning when Iraq's Kurds cast their ballots in a controversial independence referendum, despite repeated entreaties and threats from regional and world powers to stop the vote.
The referendum was to decide whether the semiautonomous Kurdish enclave in northern Iraq will separate from the central government and become its own country.
Kurdish leaders say a vote in support of independence (the most likely result) will allow them to begin secession proceedings with Baghdad — a so-called Kexit that, like its British counterpart, will not spur any immediate changes but will lead to independence in one or two years.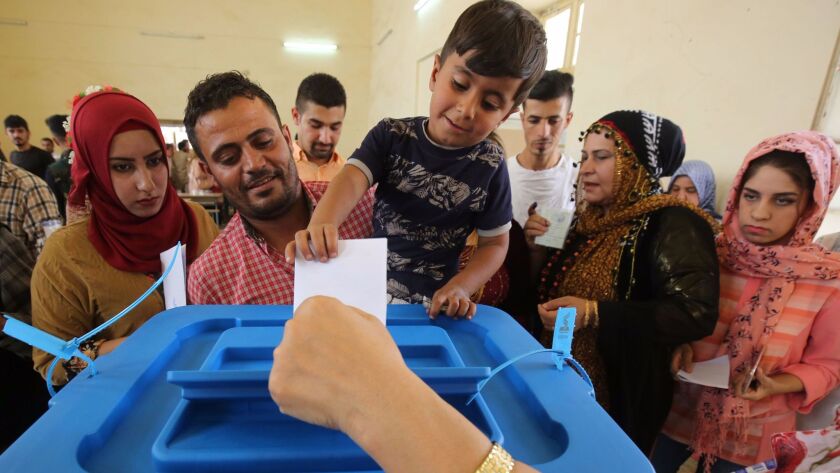 "This referendum is a peaceful and democratic process with which the people of the Kurdistan region can express their voice and desire," said Nechirvan Barzani, prime minister of the Kurdish regional government, in a news conference in the Iraqi city of Irbil. He added that the referendum was not a threat to neighboring countries.
"Should the 'yes' vote win with a clear majority, it does not mean that we will declare independence the very next day. Nor will it be used for drawing new borders," Barzani continued. "We will engage in serious negotiations with Baghdad."
Voting stations opened at 8 a.m. in the four provinces that make up the Kurdish regional government as well as disputed areas that both the Kurds and the central government claim as their own. More than 5.3 million people were eligible to vote, accounting for about 15% to 20% of Iraq's population, according to the referendum's commission, including 1.9 million people in disputed areas.
The voting ended at 6 p.m. Preliminary results were to be released within 24 hours of the polls' close, said the commission.
For those living in Kurdish-controlled areas, it appeared to be a moment of celebration.
Activists flooded social media with photos of men and women smiling as they raised an index finger covered in purple ink, indicating their participation in the vote.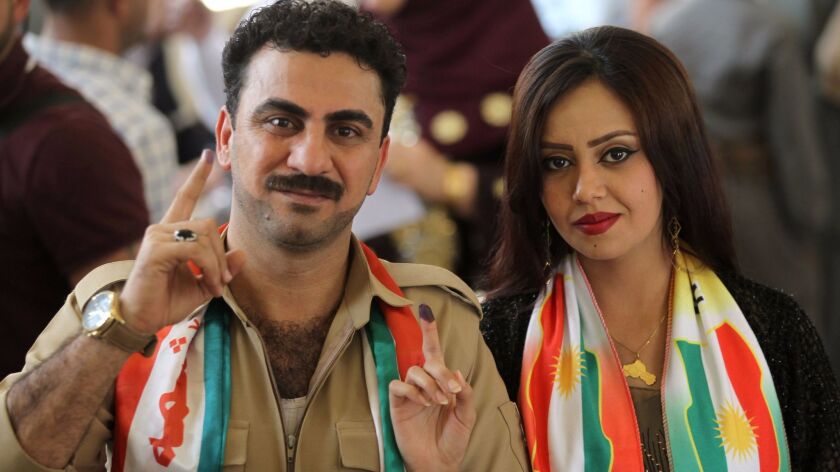 Another photo showed a bride and groom, decked out in a tuxedo and bridal gown, casting a ballot before their nuptials. Rudaw, a TV station affiliated with the regional ruling party, broadcast images of long lines at voting stations. One balloting station in the oil-rich province of Kirkuk featured a two-man band playing traditional instruments.
A day before the referendum, Iraqi Prime Minister Haider Abadi launched a verbal broadside at Kurdish leaders, accusing them of attempting to divide Iraq and taking it back "to the time of darkness … and dictatorship." He added that most of the issues in the Kurdish region were internal, and the fault of corrupt politicians.
"We confirm today that we will not give up on our Kurdish citizens…. We have refused and refuse the sectarian state, just as we reject the racial state," he said in the televised speech.
"This [referendum] is against the constitution…. We will [take] steps afterward to preserve the unity of the lands."
Later on Sunday, Baghdad directed the Kurdish regional government to hand over control of all border crossings, even as it exhorted other nations to deal exclusively with the Iraqi central government on issues of ports and oil, according to a statement from Abadi's national security council.
A secession could devastate Iraq's economy, given the Kurdish region's significant oil assets, its agriculture and even tourism revenue.
The request found a willing audience in both Iran and Turkey, the Kurdish region's two top trading partners. Both countries worry that calls for an independent Kurdish state would encourage their own Kurdish populations to follow suit.
Iran said Monday that it condemned "any measure against the territorial integrity of Iraq," while the Iranian foreign ministry said it closed its land border with the Kurdish region on a request from Baghdad. A day earlier, Tehran blocked all flights to the Kurdish enclave.
Turkish President Recep Tayyip Erdogan, speaking at a news conference in Istanbul on Monday, called the referendum "illegitimate" and said his country would support Iraq's territorial integrity, according to a report from Turkish state news agency Anadolu.
He added that the border crossings between northern Iraq and Turkey would be closed.
"Let's see how and where the northern Iraq local authority sells petroleum," he said. Turkey is the only pathway for Kurdish oil to reach world markets.
"The [oil] valve is ours. If we shut off the valve, it will be over," Erdogan said.
Both Iran and Turkey are holding military exercises near their respective borders with the Kurdish area.
The Trump administration has been adamant in its opposition to a Kurdish independence referendum. U.S. officials insist the Kurds can achieve a better deal, not to mention international support, by negotiating with Baghdad on an alternative to the referendum.
The already fragile balance of alliances the U.S. has formed with Kurdish fighters in the wars against Islamic State in Iraq and Syria and, until recently, against the government forces of Syrian President Bashar Assad, could be irreparably disrupted if the referendum goes through.
Opposition from Turkey, which dreads few developments more than a Kurdish independence movement, would be especially damaging to the alliance.
Turkey has grudgingly tolerated U.S. ties with Kurdish fighters, but all bets will be off if the referendum succeeds in promoting Kurdish independence.
If the U.S. loses its Kurdish allies, who find themselves under attack from Turkey, its war against Islamic State will be weakened. Further, such operations could bring the U.S. and Turkey, two NATO allies, into potentially closer confrontation.
"The referendum just carries an awful lot of risks and that's not something the United States can control," Brett McGurk, the U.S. presidential envoy in the fight against Islamic State, told reporters. "In terms of the consequences … it's not something we can fully control."
White House Press Secretary Sarah Huckabee Sanders, asked Monday about Kurdish independence, said the White House continues to prefer a "unified Iraq to fight ISIS" and to counter Iran. She was referring to Islamic State by an acronym.
In numerous briefings, State Department spokeswoman Heather Nauert has reiterated what she called "strong" U.S. opposition and warned that the Kurds could lose aid and the limited political power they have now. The priority, she said, must be the eradication of Islamic State.
"We respect Kurdish desires," she said in a tweet late last week. "Want to keep eye on the ball & eradicate ISIS so they never terrorize your land+people again."
Special correspondent Bulos reported from Beirut and Times staff writer Wilkinson from Washington. Special correspondent Ramin Mostaghim in Tehran contributed to this report.
Twitter: @nabihbulos
---
The Latinx experience chronicled
Get the Latinx Files newsletter for stories that capture the multitudes within our communities.
You may occasionally receive promotional content from the Los Angeles Times.